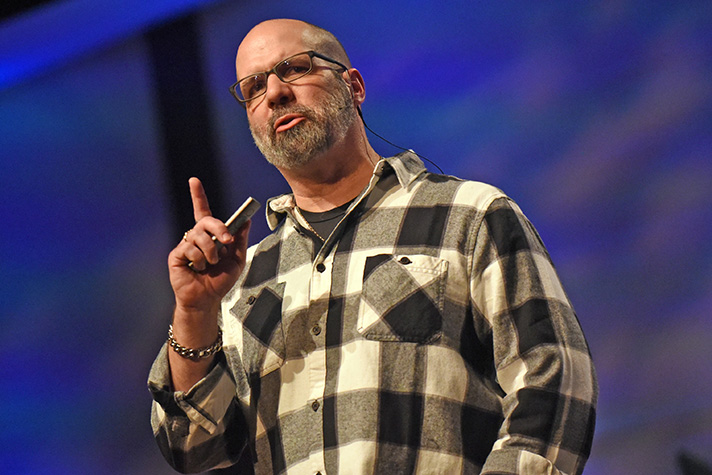 "The Lord is good to those whose hope is in Him, to the one who seeks Him; it is good to wait quietly for the salvation of the Lord."
—Lamentations 3:25-26
Liberating.
It's a word that Stephen Parker just can't shake when it comes to Law Enforcement Appreciation retreats.
The Charlotte-Mecklenburg (North Carolina) Police detective said he felt liberated in 2014 after he attended the first retreat at the Billy Graham Training Center at The Cove with his wife Cheryl. That's when—for the first time—the Parkers realized they weren't alone in the spiritual hardships that law enforcement officials face.
Six years after that first retreat, Parker drew upon the same word. Only this time he dressed it a little differently. This time it was more personal. He rubbed his already red eyes and sat down in The Cove's auditorium where he had just shared his testimony, including excerpts from his journal, for the first time.
"It's painfully liberating," Parker said, leaning back into the seat. "It was really hard for me to talk about this, and I put it off for a long time."
>>Help more officers find refreshment at a Law Enforcement Appreciation event.
Parker is now in his fourth year as a speaker for the Law Enforcement Appreciation retreats, hosted by the Billy Graham Rapid Response Team. Many law enforcement officials find his messages relevant because he often teaches Biblical truths as if they were a police case review. One time, his message centered on "If Jesus Were a Cop." He uses hilarious, somewhat safe, personal anecdotes to drive his messages.
But during the kickoff for this year's retreat, Parker shelved his usual approach in favor of sheer vulnerability. He didn't want to. In fact, he had something else planned until this past June. Earlier this year, his wife Cheryl pointed out that nobody really knew his story. And ultimately, God made it clear it was time.
So on Monday night before hundreds, Parker dug deep and shared his testimony. The highly decorated detective talked about his downward spiral and hitting bottom around 2012. That's when he considered eating his gun simply because he had lost hope. He especially highlighted how Cheryl suffered through his period of darkness. They had begun to live separate lives. He stayed in his darkness. She worked, took care of the kids and ran the house. She felt somewhat blindsided by how deep in the pit he had gotten until he just couldn't hide it anymore. That was 2013, the year he also began journaling thanks to the advice of a close, faithful friend.
He read some excerpts aloud for the first time, pausing frequently to collect himself.
March 2013: To fix me, I must fix us … two lonely people walking together.
May 2013: I really believe there is no difference between being alone and being dead. Pink Floyd was right, I have become "comfortably numb."
July 2013: My God and my Father, I have nothing to offer you but myself. … Help me Father.
October 2013, while awaiting the trial of a three-year case: I'm proud of my accomplishment, but was the price I paid worth it? … I'm sorry for all I missed, the tears I have caused, and for what I became. Now, at the end, I reflect and see what a terrible life it was. Forgive me Lord and lead me home.
November 2013: I have learned so much this year, Jesus is the answer for everything. … I hear Him say, 'Stay focused on Me, stay focused on Me.' Help me Lord to love You more.
"Parker knows it's not about me. It's about the God that saved me, the God that healed me, the God that gives me hope," emcee and fellow Rapid Response Team chaplain Kelly Burke later said. "It's about the God that gives me capacity to be a great cop.
"All the arrests and all the accolades, that's all going to burn. But what [Parker is] doing now in reflecting God's hope, God's light through that broken vessel, is showing these other officers that there's at least one person who understands where they are."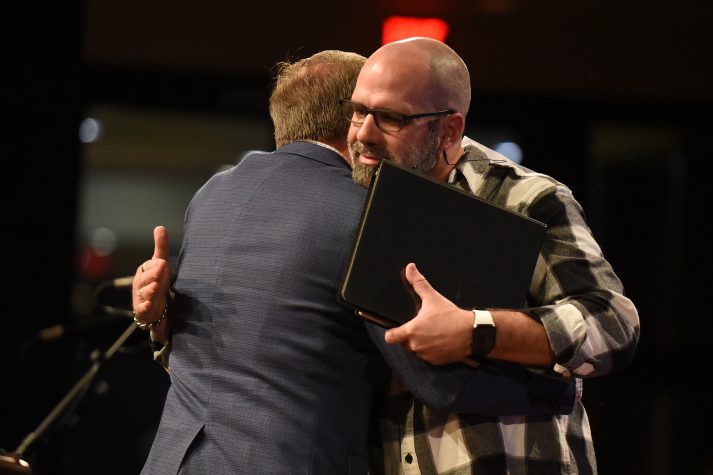 Colleagues who knew Parker before Jesus got a hold of his heart admit he was a great cop, but man was he hard to be around. That changed once Parker surrendered to the Lord. Now others gravitate toward him.
"He's genuine, and he loves the Lord," said Biblical counselor and fellow speaker Denise Molatch, who first met the Parkers at the 2014 retreat. "He reminds me a lot of my [late] husband because he taught self-defense and literally he could hold his own with anyone, yet he had the softest, sweetest spirit.
"That attracts a lot of police officers. They see that spirit within him, so they're amazed by that."
Parker's message didn't trigger too many laughs this time around. Yet his raw, authentic approach resonated. Men and women wiped their eyes. Some affirmed Parker with an "Amen" here and there as he illustrated with God's Word how God meets us where we are. He shared several passages of Scripture, but particularly focused on Lamentations 3 where the prophet Jeremiah believed he dwelled in darkness, out of God's earshot. But that same man, Parker said, goes on to say God's steadfast love never ceases.
That truth is one that he and Cheryl came to focus upon during what they now call their years of misery, Parker said. Now, his prayer every day is "God, show me Your glory."
"It's only through the love and the steadfast mercy of Jesus Christ that we can say it is well with me," Parker said in closing, citing a popular worship song the audience sang just before his message. "I know there's pain in this room. I know there are marriages that need help, and I know there are people sitting here that feel walled off and forgotten by God. You have not been forgotten. He's waiting. For you."