It was 4:19 on a Thursday morning. Bernard Carvalho Jr., who for years had called himself a Christian, was finally committing his life to Jesus.
It started with a reporter's question a couple days earlier.
Carvalho serves as mayor of Kauai, part of the Hawaiian Islands, and the reporter was in his office to talk about an upcoming men's conference where Carvalho was slated to speak. The conference was held at a church and it wasn't long before the subject of Carvalho's faith came up.
"This reporter asked me a question: 'Are you born again?'" Carvalho remembers. Of course he was, he told the reporter; "that's how I was brought up."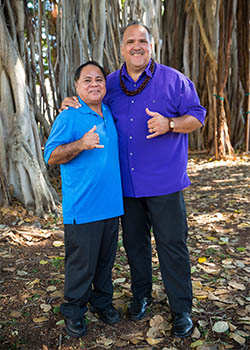 Shortly after, the reporter's story appeared in the paper. According to the article, Carvalho had always been a spiritual guy—ever since he started going to church with his grandmother as a boy—but the story stated matter-of-factly that Carvalho was not born again.
That's when the mayor went online to research what "born again" really means.
"That's what started my journey," he said.
Carvalho soon found himself on a web page called PeaceWithGod.net, part of BGEA's Internet evangelism ministry. He read through the simple steps of the Gospel and realized he'd never had an actual relationship with Jesus.
"I heard but I didn't believe," he said. It wasn't the faith of his grandmother that would save him, he said, but his own decision to follow Christ.
He made that decision right then.
That was in October, and shortly after, he heard about Franklin Graham's Decision America Tour, calling Christians nationwide to pray for America. Carvalho flew to Honolulu in February to be part of it, and it was there that he shared the past four months of his faith journey.
"Billy Graham ministries walked me through the steps [of the Gospel]," he said, remembering that early Thursday morning months earlier. "I was so thankful. I felt connected."
That connection was more than a website that laid out answers to Carvalho's questions. Once he indicated online his decision to follow Jesus, he received a series of 12 weekly emails about growing in his faith. He read each one and made a special email folder so he can refer back to them.
As a political figure and former football player—he played for the Miami Dolphins in the mid-80s—Carvalho is used to being in the public eye. But the huge smile so often spread across his face is no façade. It comes from the pure joy and excitement he finds in his awakened faith in Christ.
"You all know me as Mayor Carvalho," he said, standing under a shady banyan tree on a hot February day in Honolulu. "But do you have a personal relationship with me? That's what it is. It's a personal relationship with God. It took me all this time to realize that's what it is … to be a born-again Christian."
The same reporter who got Carvalho thinking about his faith was in the audience days after the interview when the mayor got up to speak at the men's conference. Carvalho pointed him out as the muse for his message that day, which tied in his newfound faith.
Today, Carvalho says he's stronger and more confident in his faith and understands "how important it is to stay faithful [to Christ]," especially as a community leader.
"The decisions that we make have to have spiritual guidance," he said.
Now that he has a personal relationship with Jesus, he knows he can turn to Him for any and everything.
Watch a 1-minute clip from Mayor Carvalho about his decision for Christ: