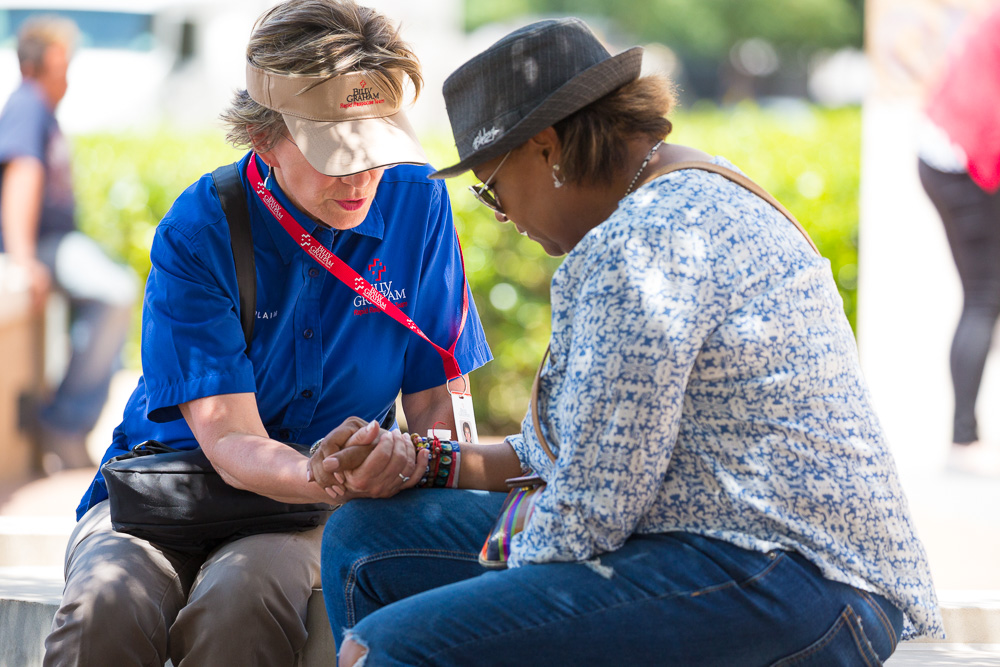 "Watch over your heart with all diligence, for from it flow the springs of life."
—Proverbs 4:23
Turn on the news on any given day and you'll see tragedy. Shootings. Kidnappings. Wildfires. Tornados. You've likely watched footage of survivors recounting terrifying incidents, or seen raw images on social media.
Whatever the case, receiving firsthand accounts of another's traumatic experience can leave a lasting impression. It's called secondary trauma, and it can be damaging if left unchecked.
"Trauma can affect us in multiple different ways—physically, emotionally and spiritually," said Jack Munday, international director of the Billy Graham Rapid Response Team. "And [we must] recognize that many times the effects that we see or the symptoms we see are normal."
It's normal to have a response to trauma. But it's not healthy to ignore the associated emotions. Munday, who oversees the nationwide network of crisis-trained chaplains that makes up the Rapid Response Team, offered the following suggestions when it comes to coping with secondary trauma:
Talk about it.
Secondary trauma is real—whether acquired by hearing a firsthand account in person or via social media—and shouldn't be dismissed. Munday said chaplains are susceptible to this type of trauma when listening to emotionally raw people share their stories.
Take Newtown, Connecticut, for example, site of the Sandy Hook Elementary School shooting in 2012. Chaplains responded to the scene so quickly that they were able to minister to officers who still had blood on their uniforms. Hearing their vivid stories was tough. "That can give you a visual impression that's hard to get rid of," Munday said.
Protect Yourself
Social media, which offers the ability to post raw images in the moment, can blindside users and become a catalyst for secondary trauma. Scrolling through your feed to find a graphic video can be jarring in the least. Facebook, Twitter and Instagram let users turn off the platform's autoplay feature. This means you get to choose what videos you watch.
As a result of these types of interactions, Munday urges his chaplains—and anybody experiencing secondary trauma for that matter—to reach out. They need to talk with a trusted person, ask for prayer and study the Bible routinely.
Grieve with God by your side.
Have you ever heard the expression "Good grief"? Munday asks this question during Sharing Hope in Crisis training, and he points out it's more than a common saying. It's key to the healing process. "There is good grief if we can grieve God's way, and that's through His Word, through prayer and the counsel of godly people," he said.
Additionally, don't buy into the lie that you shouldn't grieve when trauma doesn't impact you personally. "All of us are subject to grieving over the tragedy and suffering of others, and I think we should," Munday said, noting that's a Biblical approach. "We weep when they weep. We cry when they cry. Jesus wept over the death of a friend. Just because we don't know them doesn't mean we can't grieve with them."
Don't isolate.
One of the biggest dangers is distancing yourself from people and choosing not to share your feelings with them. Debriefing is a required component of chaplaincy, and because the chaplains come from a nationwide network, Munday said he also strongly encourages them to have someone local they can confide in.
Express grief your own way. For some, that means visiting a memorial, even if you have no personal attachment to that particular tragedy. Munday noted one woman drove from Ohio to Florida in 2016 just to place a bouquet of flowers at the Pulse nightclub memorial in Orlando. She didn't know any of the victims, but this was how she grieved. "Grief is like a fingerprint," Munday said. "We all grieve differently."
Show grace.
Munday encourages people not to have expectations of others during times of grief. Those who love us most can sometimes deliver the most unintentional, yet piercing blows. "Guard your heart against the things people might say," Munday cautioned. "People can love you deeply and still not know what to say or say the right thing. And that's normal."
Get involved.
Good training is a prerequisite for anybody interested in chaplaincy, but it's also not a bad idea for navigating this crazy world. Sharing Hope in Crisis, a training created and conducted by the Rapid Response Team, offers real-life application for people by explaining things like what to say and what not to say when others are experiencing trauma. These training sessions are available in a classroom setting and online.
Whether you're ministering to family, friends and coworkers, or pursuing a role as a chaplain, the training can help empower you to make a lasting difference in this world.