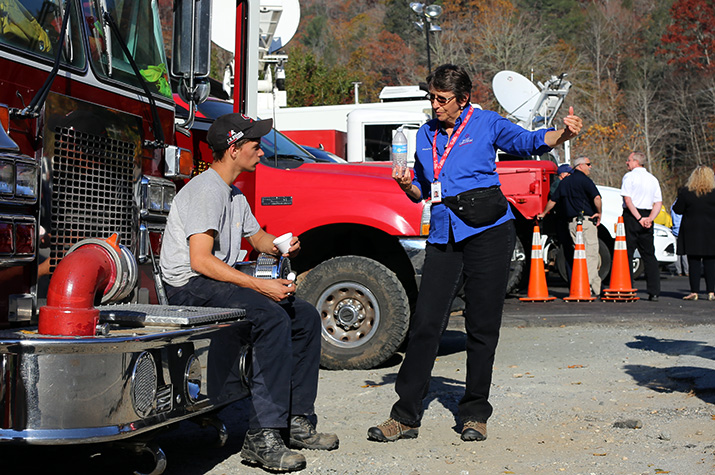 Randy Clements Sr. couldn't explain it, but something tugged at his heart as he walked by the Billy Graham Rapid Response Team's Mobile Ministry Center not long ago. He had to stop.
He struck up a conversation with crisis-trained chaplain Jeff Naber.
From behind his dark shades, Clements shared that he was a firefighter from New Mexico, one of many who had accepted the call to come east and fight wildfires in Western North Carolina. It was a good gig and it would bring some much-needed money into his household. But he had no idea how hard it would be to leave his four kids in Roswell. His eyes were full. His heart was broken.
"I didn't realize how long I'd be away from my kids, but at the same time, I hope my kids are proud of me," said Clements, who expects to spend as many as two weeks helping the effort in North Carolina.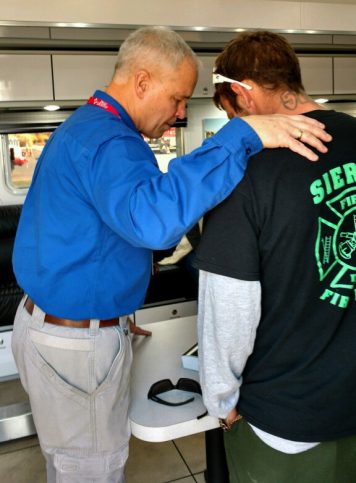 Clements shared that he accepted Christ in 2011, but had fallen away. With the smoke of the wildfires heavy in the distance over the nearby mountains, Naber led Clements in a prayer to rededicate his life to Jesus.
"You know how people say, 'God works in mysterious ways?'" Clements asked. "He's taken me all the way to North Carolina to wake me up. I thought I didn't need Him. I thought I was OK. But apparently not."
Holding his newly issued Billy Graham Training Center Bible, Clements said he plans to use that during his deployment. He'll start in the Gospel of John.
"It will be great to see his progress while our chaplains are here," said Naber, manager of chaplain development and ministry relations for the Rapid Response Team. "That's the great thing about these deployments. Even if it's only for a week, but to be able to see a young man like that every day for a week."
As the chaplains set up the Mobile Ministry Center, many people stopped by for a moment of prayer or just to say hello.
"It is amazing how much calmness and peace—God's peace—they can bring into a chaotic environment," said Sheriff Chris Francis of the Rutherford County Sheriff's Office. "It's always a pleasure to be around them, even though when they're usually around, it's in unpleasant environments.
"To have those guys praying with the fireman, praying with the law enforcement officials and eventually as more of the citizens are coming back, it is truly a blessing."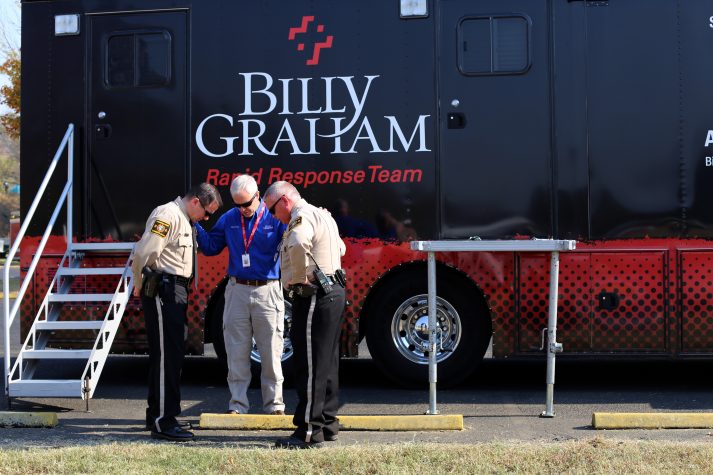 Just up Route 9 from Lake Lure is neighboring town Bat Cave, and that's where Sean Currie sat on the front of his firetruck with his fellow firefighters. This group, which has been working the Party Rock fire, drove 10 hours from the Jacksonville, North Carolina, area to help out. Their assignment was to be ready at a moment's notice to help other teams.
"We've got a truck out there right now wetting down and mopping up, hitting hot spots on Route 9," Currie said. "If they see anything outside of their man power, they'll radio down here."
So what's it like fighting fires on the mountain? For Currie, the challenge of it all, the science behind fighting wildfires, makes it exciting.
"It's what we do," Currie said. "It's what we train for so we're really good at it. It's also been a learning experience because we're from the eastern part where it's flat. Out here, it's mountainous, higher elevation, it's a learning operation.
"We have to adapt and overcome really quickly to where we can operate out here. It's more of a challenge-accepted kind of thing."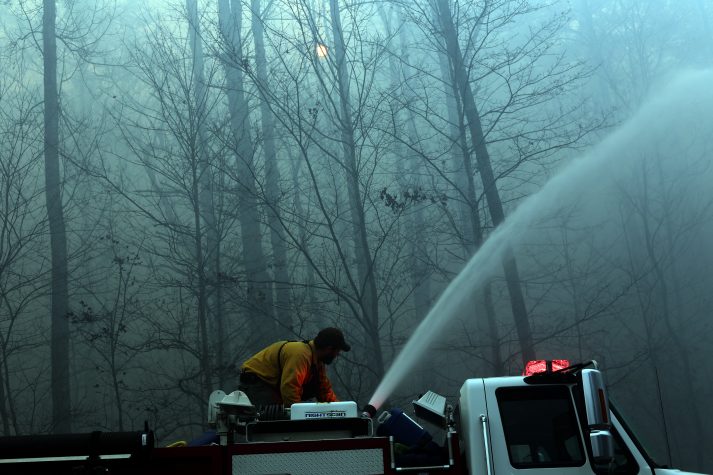 Crisis-trained chaplains talked with Currie and his team, sharing their stories and learning more about each other. That is until the call for ice cream came from the Bat Cave Volunteer Fire Department, just across the road.
"Y'all are spoiling us!" one of the Piney Green firefighters mock-protested with a big smile.
"It's melting so you better hurry up," came the reply. The firefighters happily made the trek. Overhead, the bright sun had broken through the smoky haze and, thanks to the wind, it was shaping up to be a breathable 70-degree day.
Just down the road, North Carolina Gov. Pat McCrory squinted in that sunlight while fielding questions from reporters. He focused on sharing the latest in the ongoing firefight that has spread to almost 6,000 acres in Rutherford County alone. He also lauded volunteers, including the Billy Graham Rapid Response Team.
"Where I've had flooding, where we've had fires, the Graham ministry, the Baptist men and other volunteer groups have stepped right up with no hesitation," McCrory said. "But the part I really like is they have immediately helped our first responders."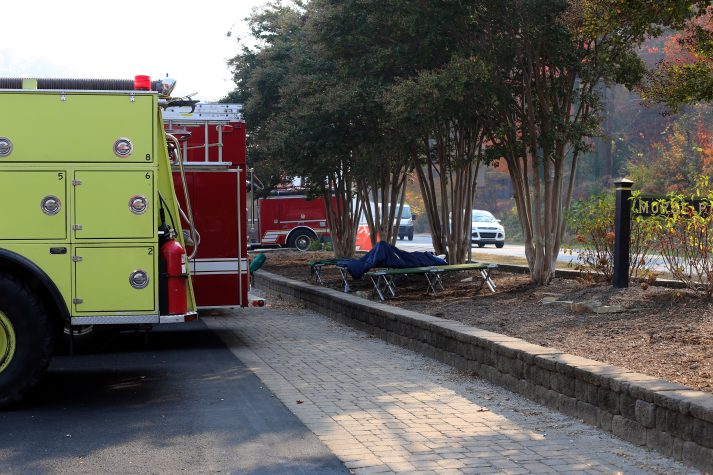 On the way back from Bat Cave to Lake Lure where the Mobile Ministry Center is set up, Naber reflected on the day. Chaplains prayed with more than 20 people and visited with even more, offering emotional and spiritual care as they went. This ministry of presence will continue for at least a week.
"It's hard to describe or put into words that God would choose someone like me to do this kind of ministry, that I'm able to do this and to share my faith with other people," Naber said. "That's what we're here for and that's our goal, is to provide the hope that only comes from Christ."
Please keep these first responders, particularly the firefighters, and the entire Western North Carolina community in your prayers.