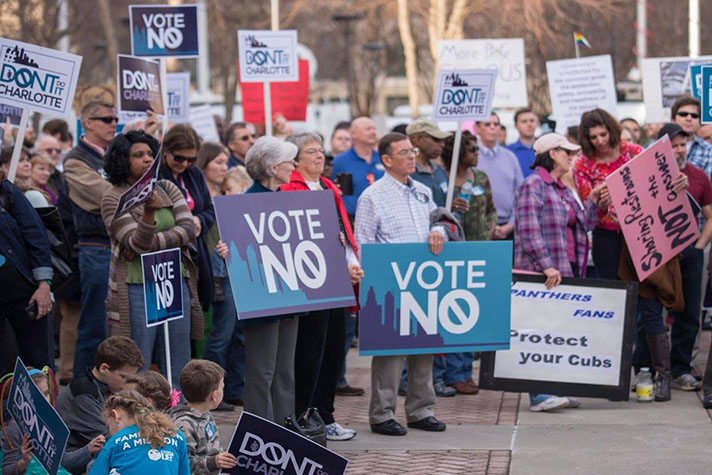 Quickly, Big Corporations Mount Campaign to Oppose N.C. Law
North Carolina Gov. Pat McCrory signed a nondiscrimination law late Wednesday during a special session that invalidates Charlotte's controversial "bathroom bill" and enacts a set of statewide nondiscrimination standards that bar sexual orientation and gender identity as recognized classes.
By Thursday morning, large corporations and organizations were threatening to boycott the state if the state's General Assembly doesn't reverse course—much like what happened as Indiana and Arkansas considered similar bills last year.
The North Carolina law overrides the entirety of Charlotte's nondiscrimination ordinance, passed by its city council on Feb. 22, and those of other North Carolina cities where nondiscrimination laws recognize sexual orientation or gender identity as protected classes. Instead, the new state law will prohibit discrimination based on "race, religion, color, national origin or biological sex" at businesses and other "places of public accommodation."
The law preempts North Carolina cities and counties from being able to enact nondiscrimination laws that expand on the state's protected classes.
In Charlotte, the nondiscrimination ordinance allowed, among other things, individuals to use public bathrooms and changing facilities based on gender identity—a source of emotional public debate before its passage.
American Airlines, Wells Fargo, Dow Chemical and the NCAA were among those that sounded warnings.
Dow's public policy arm tweeted, "Dow opposes #NCGA attempt to undermine equality in Charlotte. Let's focus on policies that make #NC stronger and more competitive. – KK."
According to a press statement given to the Charlotte Observer, American Airlines said such laws "go against our fundamental belief of equality and are bad for the economies of the states in which they are enacted."
The NCAA's interest stems from North Carolina being scheduled to host men's basketball tournament games next year and in 2018, according to the Charlotte paper.
Thus far, statements from corporations supporting the LGBT agenda haven't addressed concerns about public safety in bathrooms or changing facilities.
In a press statement before passage, state Rep. Dan Bishop (R-Mecklenburg), who introduced the House version of the bill, said: "If the City of Charlotte's illegal actions are not corrected, city councils all across our state will come under pressure by this narrow interest group intending to bully businesses and citizens into compliance with a radical agenda—to mow down their very right to disagree." In his criticism, Bishop seems to allude to the Human Rights Campaign and other gay activists who have pushed such ordinances nationally.
Bishop cited a poll that "66 percent of likely voters statewide want this ridiculous Charlotte overreach dealt with by the General Assembly." Republican Gov. Pat McCrory had signaled before the special session that he would sign a law invalidating at least the bathroom portion of Charlotte's ordinance.
The bathroom and locker room provision in Charlotte was the most embattled part of an ordinance that extended employment, housing and public accommodation rights for homosexuals and transgendered people.
In February during the public hearing over the Charlotte measure, resident Eliana Smith told the city council that transgendered men weren't her primary concern, but rather "countless deviant men in this world who will pretend to be transgender in order to gain access to the people they want to exploit."