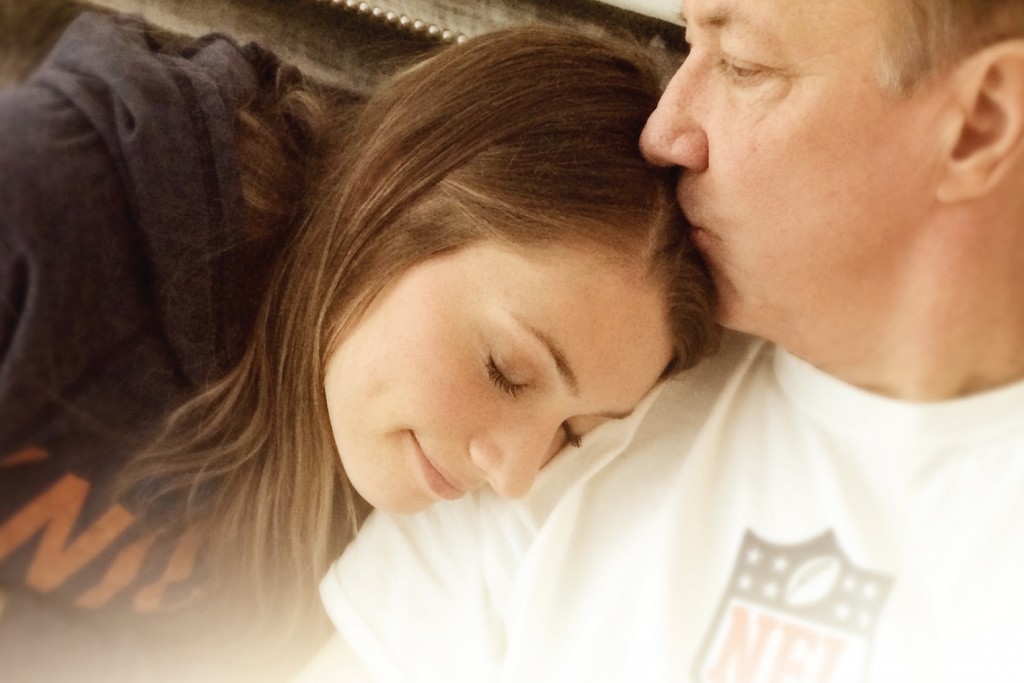 Hall of Fame quarterback Jim Kelly, a former player for the Buffalo Bills, brought his family to the Billy Graham Library on March 5 to sign copies of Kelly Tough, a book co-written by his wife and daughter about his battle with cancer. The phrase "Kelly Tough" is about finding strength in weakness and joy in the midst of suffering. It's about a story of a father's love for his daughter and an even greater love our heavenly Father has for us.
It was just a simple journal entry that day—one of thousands Erin Kelly would scribble in countless notebooks over the years.
Sitting in a New York City hospital, watching your dad suffer through cancer treatments would be hard enough on anyone. But when your dad is former Buffalo Bills Hall of Fame quarterback Jim Kelly, a man known for his toughness, the reality hit home hard.
In late March 2014, Erin penned two words in her Choose Joy diary that turned into somewhat of a rallying cry for the Kelly family. They were two words Erin had heard from her dad so many times but never did they apply more than now.
Kelly tough.
"Being 'Kelly tough' was something my dad always told me growing up," Erin said. "But that phrase took on a whole new meaning when my dad was so weak from the chemo and radiation."
'There Was Nothing Musty in the House'
It started off with a smell. Jim couldn't shake it.
The problem is, it followed him everywhere he went—yet nobody else could verify it.
"He just kept smelling this musty smell," Jim's wife, Jill Kelly, said. "It was weird, because there was nothing musty in the house."
Turns out, that smell was originating from Jim's mouth.
"He was getting all these root canals at the end of my senior year," recalled Erin, now a junior at Liberty University. "One day he called me and my sister Camryn into the living room. And he had a hard time telling us."
The diagnosis of oral cancer called squamous cell carcinoma in June 2013 was the beginning of some of the hardest years of the Kelly family's life. Although this wasn't the first excruciating challenge they would go through.
In August of 2005, the family said goodbye to Hunter Kelly, a sweet 8-year-old boy who died of Krabbe Disease, a fatal nervous system disease with no known cure. His memory lives on with Hunter's Hope.
"Watching [Erin], as a mother, what she's had to endure with losing her brother," Jill said. "I think it's an encouragement, especially to other young people, that God will use the struggles of your life to impact someone else's."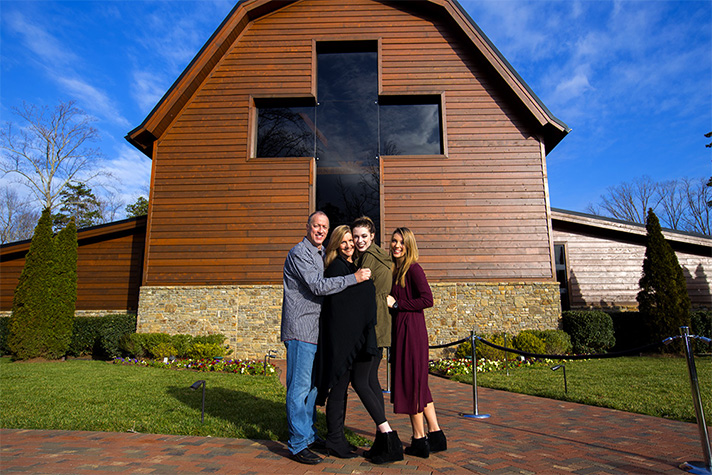 'We Didn't Know it Was That Kind of Pain'
On June 7, 2013, Jim had his left jaw and teeth on that side of his mouth removed at Erie County Medical Center in Buffalo, New York. He was fitted with a prosthetic jaw and false teeth.
But after a storied career with Buffalo, including four straight Super Bowl appearances, Jim had no idea of the pain he would endure.
Within nine months of the surgery, Jill Kelly's phone lit up while walking through the streets of Jerusalem with her daughter, Erin, on a Liberty study tour trip.
"I got a call from Danny [Jim's brother], which was odd," Jill said.
Jim, who had been dealing with massive headaches and migraines, had driven himself to the hospital. The pain was intolerable.
"After he told me, I was stunned," Jill said. "We knew he was in pain, but we didn't know it was that kind of pain.
"He couldn't even tolerate the pain or function anymore."
The cancer had returned.
'His Faith Has Grown So Much'
There was no clear diagnosis at the time, but after a multitude of tests and specialists who were brought in to examine Jim, the prognosis was not good. The cancer had spread.
"It was in a precarious place, at the base of his skull at his brain," Jill said.
Surgery was deemed not a viable option so radiation and chemotherapy were Jim's only hope. And so far, it's saved his life.
But the process was grueling. Erin's tough father—who had already endured double hernia surgery, along with other procedures that put two plates and 10 screws in his back, and a plate and six screws in his neck—had a new fight. An unknown challenge. His faith in Jesus Christ would certainly be tested.
"I think his faith has grown so much," Erin said. "I've seen his countenance change, not just because he lost a lot of weight [70 pounds at one point], but God has done so much through him."
In some ways, Erin says, she can hardly remember what her father was like pre-cancer.
"We don't really remember how he was before, because he's so different now," she said. "He looks at life through a completely different lens."
#prayersforJK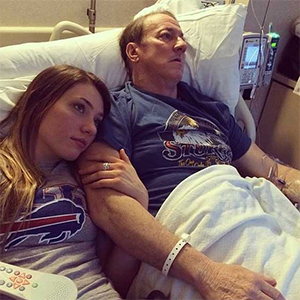 The "Kelly tough" story has captured the heart of America. Like most viral events, it started with a simple picture that was posted on Instagram.
Erin and Jim were watching basketball together—"daddy/daughter time," Erin calls it. Syracuse was playing in March Madness and Erin just wanted to spend some uninterrupted time together. She crawled in his hospital bed and clutched his arm.
"It's something we always do," Erin said. "We'll watch football together, we'll watch basketball together, we'll watch ESPN together.
"I just remember that he just wanted to sit there and soak up that moment. It was never intended to pull at the heartstrings of people."
But it did. And shortly after, #prayersforJK started trending on Twitter. From NASCAR driver Carl Edwards to Dolphins great Dan Marino, from ESPN analyst Chris Berman to Packers quarterback Aaron Rodgers, there was an outpouring of support for Jim to beat this cancer.
But so often, it's been just the Kelly family behind closed doors as God has worked through trials to bring them even closer to each other—and Himself.
"I've always been close with my dad," Erin said. "But oh my goodness, we're so much closer now. Since this has happened, I treasure and cherish my relationship with him."
'Our Pain Wasn't Wasted'
The book Kelly Tough released on May 1, 2015, and shortly thereafter landed on the New York Times best seller's list.
But if you ask Erin and Jill, the book's authors, if having a best-selling book was their goal, they would scoff at the idea.
"It's really what God is doing," Erin said. "But it's encouraging that our pain wasn't wasted.
"To see how writing our story, letting it out for the public to see … it's amazing to see what God has done."
That "Kelly tough" journal entry two years ago, with encouragement from Jim to share it with the family, suddenly turned into a blog post, which quickly turned into a book once word got out.
"We were writing the story as it's happening," Jill said. "It's not like we were writing about it after it happened. It was in the midst of it all."
Nine months later, the book was published and the Kelly family found their faith on display, with appearances from Fox and Friends to ESPN's Mike and Mike and everything in between.
And every step of the way, Erin and Jim have given God the glory.
"She's just been willing," Jill said of her daughter's impact. "God says 'Who can I send?' And you raise your hand and then He uses you in a way that blows you away."