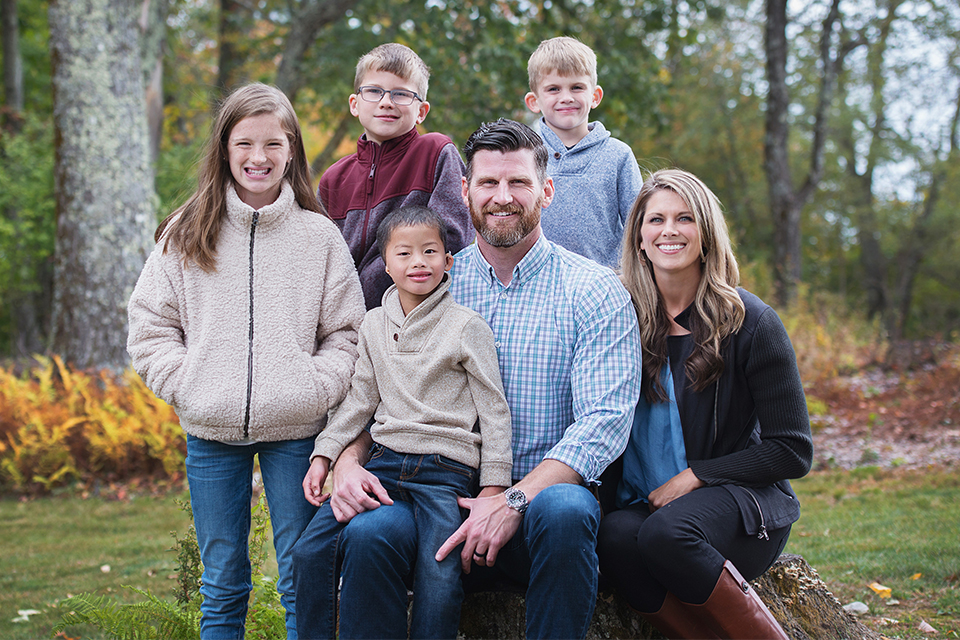 During National Adoption Awareness Month, Edward and Kristy Graham are sharing the adoption story of their son from China. Also parents to three biological children, the couple has a heart for the millions of orphans worldwide and were led by God to adopt Levi three years ago. 
Q: How did you know you wanted to adopt?
A: (Kristy) Early on in our marriage, I got to volunteer at an orphanage in Thailand for a couple of weeks while Edward was deployed in the military. I watched these orphans in action, and it became real. I knew we would adopt one day. It was just a matter of when, not if. It was always on our hearts.
Q: How did you decide between adopting domestically or internationally? 
A: (Kristy) We prayed, "Lord, what do You want us to do?" There's obviously a need either way, domestically or internationally, but we realized internationally a lot of these kids have no hope, no opportunity to hear about Jesus.
With Edward's grandmother growing up in China and because I had worked in Thailand, Asia captured my heart. Edward has fond memories of his grandmother, Ruth, loving that nation. She prayed for those people very specifically throughout her life, and maybe that prayer was putting a burden onto our heart to love those people—so we're excited to see what Levi's life does.
Q: What would you tell others about adoption?
A: (Edward) Anybody can do this. Scripture tells us to care for the orphans and widows. It doesn't mean you have to go out and adopt. We can do better as the church to love on these kids, especially in this country with foster care. If the church doesn't step up and do this, we're failing the children, the least of these.
(Kristy) It isn't easy, but it is joy-filled. Like Peter stepping out of the boat with Jesus, he could still see the waves and was scared, but he was in His presence—and that is better than safety. We have seen the Lord and heard Him in more depth than we ever have by saying a simple yes to a child. Our faith has been strengthened, our marriage enriched, our family closer and we have gained an adoptive community that has made our life better.
Q: How did you first come in contact with Levi?
A: (Kristy) We got his file the night before Halloween two years ago … with 48 hours to say yes or no.
It was crazy. We were trying to carve pumpkins and were … sent pictures and his medical file, and that's all you have to make your decision. It's amazing how a picture of a child can permeate your heart. Suddenly, it wasn't just a statistic, it was a person. We just prayed, got on our knees and, you know, it's not an accident.
We were going to dinner with some friends that night, [including] an EMT. She was able to explain his microtia,* which we knew nothing about. The Lord equipped [us for] each day and each step.
*Microtia is a medical condition where the ear is not fully developed.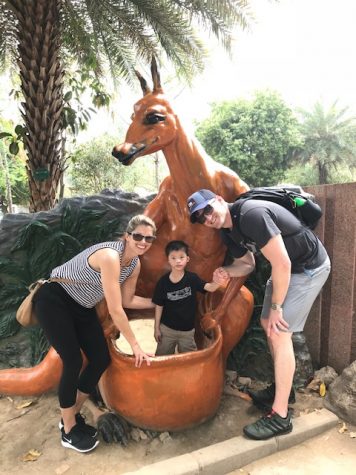 Q: What was the hardest part of the adoption process?
A: (Kristy) It took about six months to be able to travel and get Levi. Here you are longing for this baby, aching for the years you've missed and wanting to start life with him. You suddenly have a child that is in your heart but not under your roof. The Lord taught us a lot about waiting and allowing Him to be his Father, knowing that God loved him more than we did.
Q: Tell us about your first encounter with Levi.
A: (Edward) It doesn't all of a sudden feel like he's your son. There's just not that blood bond, and it's not something you can romanticize or describe. In my heart, I knew he was my son, but I was still getting to know this kid that was sitting in my arms. He was getting to know me.
Q: What has been one of the biggest joys of adoption?
A: (Kristy) Three weeks after we had him, he was singing "Jesus Loves Me" before he even mastered English … because Edward sang it to him every day we were in China. My favorite quote of Levi's is, "In China, I didn't know about Jesus, but now I do know."
Q: What has God taught you through adopting Levi?
A: (Edward) I look at adoption as we're never meant to be alone on this earth. We all crave belonging. Adoption is messy and can be an ugly story … but through redemption there's beauty.
(Kristy) I tell Levi, "We all were abandoned, lost, separated, … but now we are pursued, chosen, redeemed, adopted, restored." Levi helps us see that every day. We're reminded of that gift God gave us.