"I don't wanna die! I don't wanna die!"
Evony Wilson heard her 15-year-old son, Qumran, scream.
Huddled in the bathroom of her mother's house, Evony held her son, husband and mother close as a F4 tornado headed straight for them. A resident of Lee County, Alabama, for 44 years, she was familiar with tornado alerts.
But she'd never been in an actual twister.
Evony had just finished serving lunch when she saw the daunting weather forecast on TV and her phone buzzed, signifying a tornado warning. Wasting no time, she helped her 72-year-old mother get her shoes, grab her portable oxygen and scramble to safety in the bathroom.
There'd just been no time—Evony explained to Billy Graham Rapid Response Team (RRT) chaplain Patty Silverman. Patty and her husband, Steven, are two of 22 crisis-trained chaplains who have come to offer a listening ear and comfort to the hurting community.
When the tornado struck the brick home, the walls collapsed, the roof went and debris fell on top of them.
>> See photos from Lee County, Alabama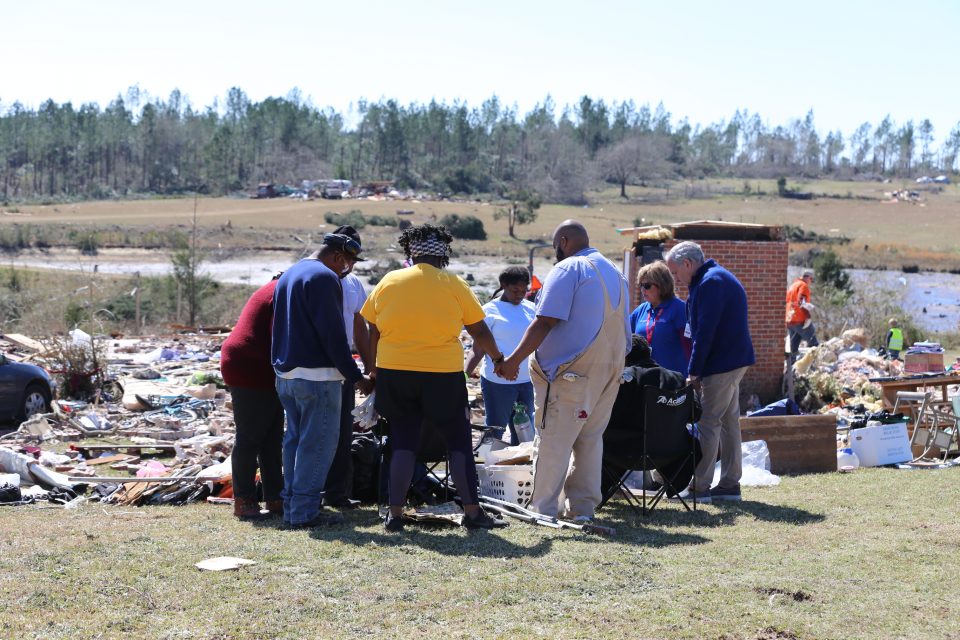 "Just pray your way through," Evony told Qumran, who was laying on top of her. "It's going to be OK."
She could feel her body rocking, the 170 mile per hour winds pulling her up, but she managed to not blow away.
"Mom, you all right?" she asked as the winds died down.
Her mother's response: "Call on Jesus."
The family was buried under a pile of debris, including a 50-gallon water heater and long vanity.
"Those are the things that put pressure on us … along with the hand of God," Evony declared. "That's [what] kept us from blowing away. It was just enough."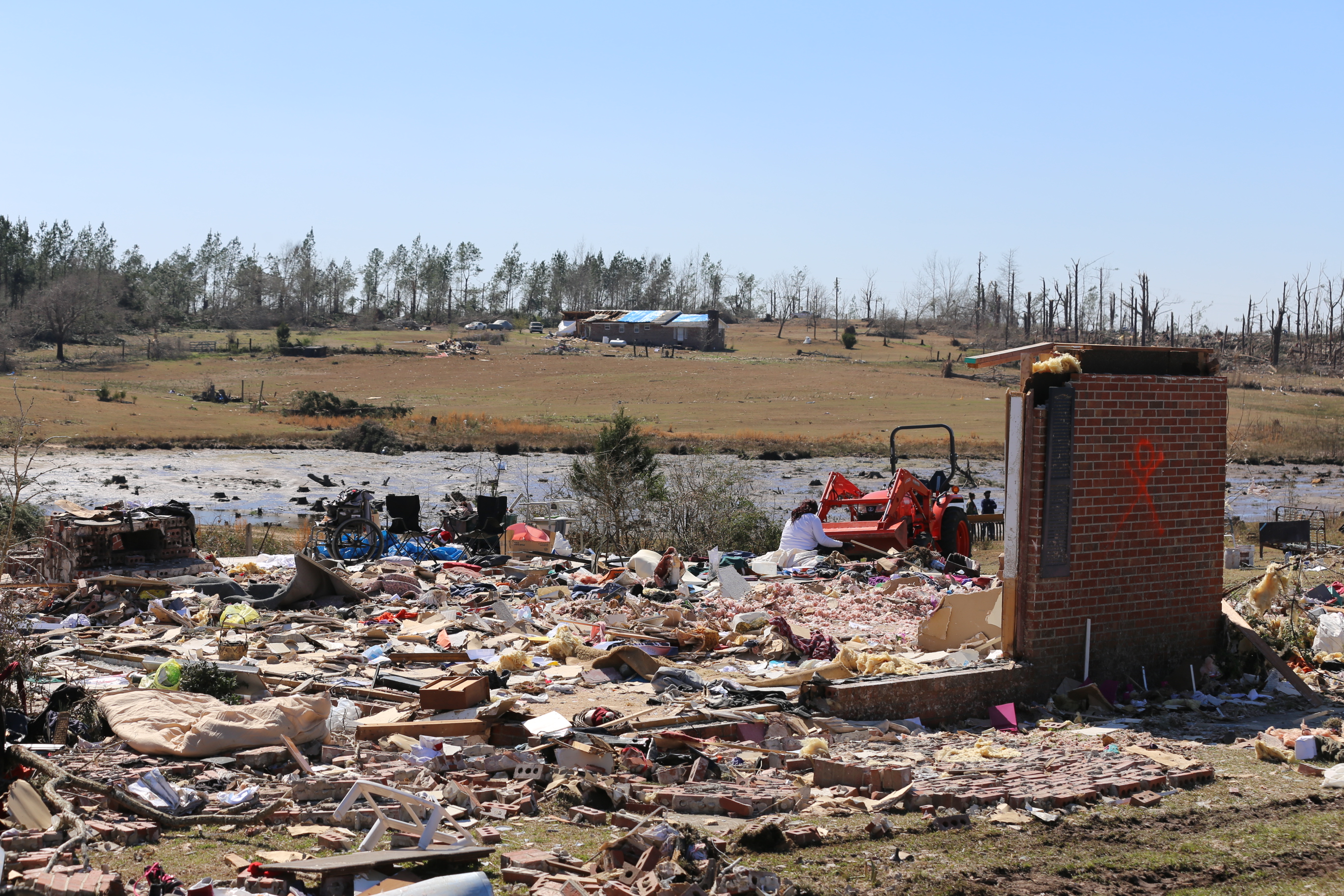 Her husband and son managed to wiggle their way out from the wreckage, but Evony and her mom remained pinned. Looking up, she could see only a mix of rubble and gray sky.
"It still gives me chills," she recalled, touching her short hair. Her long locks had to be cut after being tangled with glass and debris.
But it wasn't over.
While her husband and Qumran went to get help, another tornado approached them.
"When the second storm came, I was just trying to figure out how to keep Mom safe," Evony said, explaining how she pushed her mother down flat and tried to cover them both with a blanket. "We just prayed together and held each other."
>> Give to help chaplains provide emotional and spiritual care to those affected by this fatal disaster.
Afterward, it took six men to lift the rubble off of Evony and her mother. Everything was gone.
"Where's the bathroom at?" RRT chaplain Patty asked, staring at what was once Evony's mother's home. The house's walls were all gone except a tiny right corner.
Sitting in a lawn chair with a boot on her right leg, Evony pointed at a white pillar near where her family was sifting through the rubble. She wanted to help, too, but her mobility was limited due to a hairline fracture and torn ligaments caused by the storm.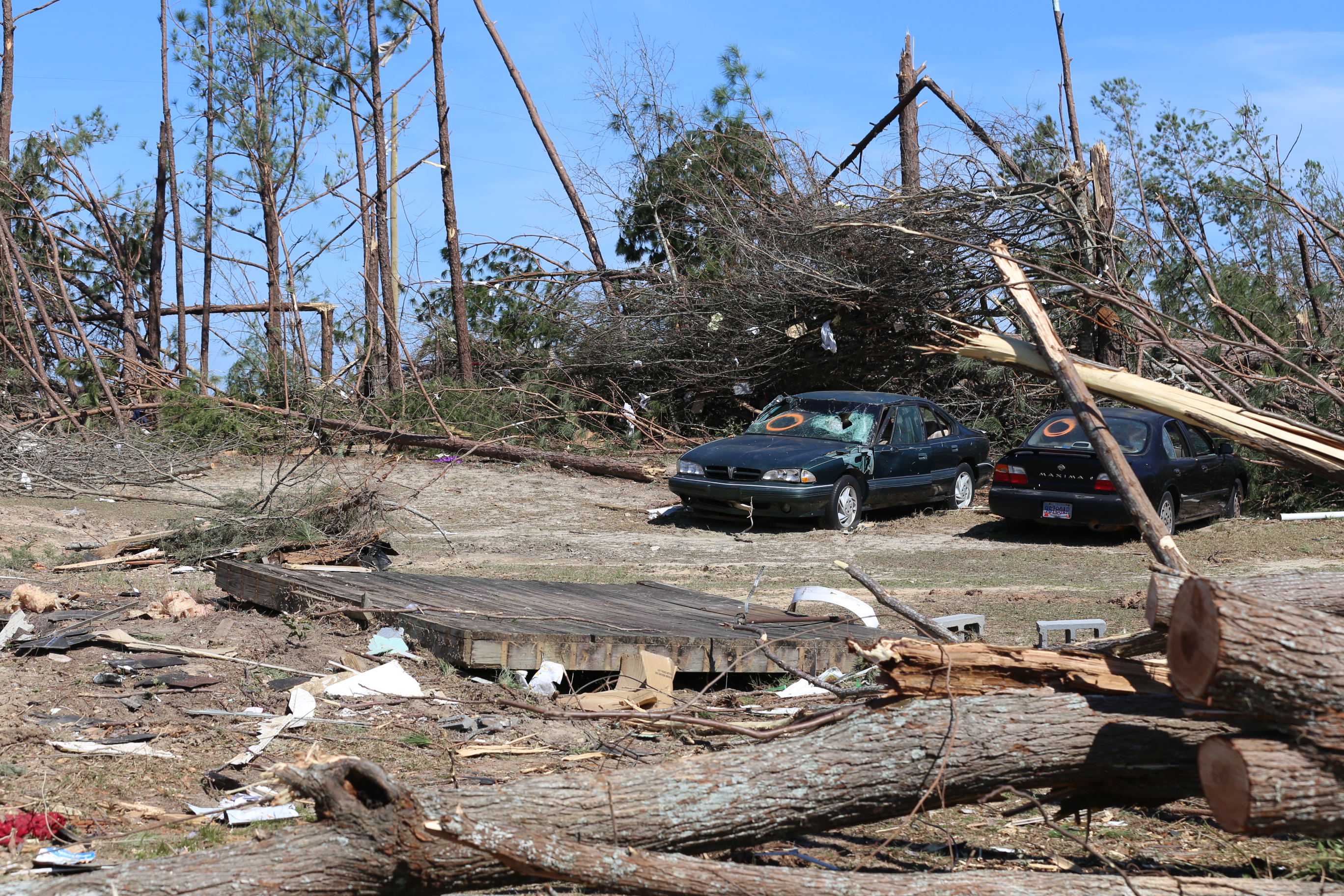 A pink sock, glass plate and stuffed bear were just a few of the random objects and memories scattered across the foundation of the home. To her left, chainsaws buzzed, cutting a giant tree that had fallen between her mother's house and where her own mobile home once had been.
Across the street, her neighbors' home was also completely destroyed. Close friends of the family, Mary Louise Jones, 83, and Jimmy Lee Jones, 89, were among 15 of their neighbors to pass away in the twisters. A total of 23 people died, resulting in the most deadly United States tornado outbreak since 2013.
"They've always been there. … Just to see it, it's unreal," Evony said, a single tear sliding down her cheek.
"Mom, want a ride?" Qumran called out, lightening the moment while gripping a mangled bike. He stood by his 12-year-old sister, who happened to be away at a camp when the storm hit.
"It's funny … devastating … hurtful … but God, we're here," Evony told Patty.
"[There's] no doubt, God was in the midst of this," Patty said before asking if she could pray with the family. The RRT has prayed with more than 1,000 people in Lee County since the twisters.
Gathering around, eight members of the Wilson family prayed with Patty and Steven. They specifically asked for prayers "to be able to move forward."
Still in rehab, Evony's mother was unable to join the circle but would've likely been in the midst of it if she were able. Evony described her as "the pillar of our family" and "momma of us all." Although her mother only has two daughters—she and her sister, Renee—Evony said her mother really has hundreds of children, as she had opened her home to everyone.
"Even through this, [her faith] won't waver," Evony said. Moments after the storm, her family had thanked God and continues to do so.
"We know how we made it through—it was nothing but God," Evony said.
Although she has much more to process and has lost her friends, home and personal belongings, she still is turning to the One who holds all in His hands.
"We just heard a miracle story," Patty acknowledged.
Evony's sister, Renee Frazier, lost seven family members in the twisters but is still praising God. Watch her testimony below:
You can rely on God during life's storms. Trust Him today.