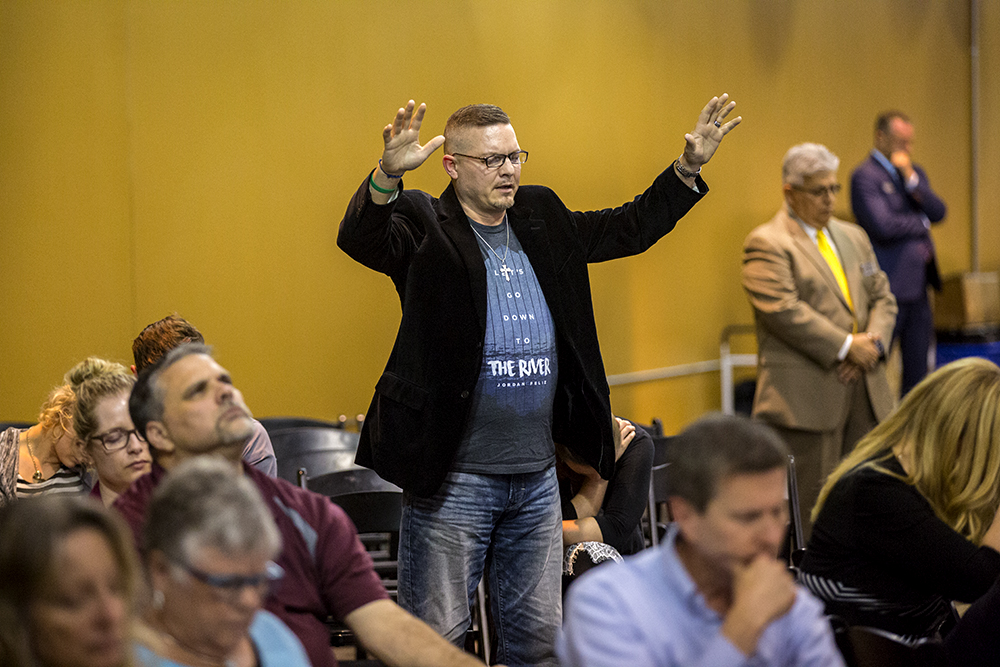 Will Graham stood behind the podium in a Fort Wayne, Ind., conference hall and declared, "Prayer changes things! It's the most important thing we can do. This is when we get to cry out to God for this city."
With that introduction, voices began to spring up from the crowd of nearly 400 who attended the launch of the Greater Fort Wayne Celebration with Will Graham.
"Give us new eyes to see the people that need you!" one person petitioned.
"Let this be the time when people lay their habits down, lay their lifestyles down, and come to you. May this be the time it happens," another proclaimed.
One by one, each need and concern was lifted.
"We pray for those struggling with alcohol and drugs."
"I pray for oneness among the people of God."
"Lord, I pray for our young people."
"I pray that once and for all we can forget about the color of our skin and love you completely as one body of believers."



It was fitting that the launch of the Greater Fort Wayne Celebration with Will Graham closed in a joint time of prayer. It was clear from the start of Thursday night's program that prayer will be the key component throughout the months-long preparation process, which will culminate with the three-day Celebration at the Allen County War Memorial Coliseum, October 6-8.
Every leader who spoke from the platform at Ceruti's Event Center, where the Celebration launch meeting took place, spoke to the vital importance prayer.
"The biggest thing we need to do is pray," said Rod Barnett, director of North American Festivals for the Billy Graham Evangelistic Association (BGEA). "We have an absolute need and dependence on prayer. We're planning on this [prayer support]."
Sam Hardy, BGEA's Celebration Director who will offer hands-on leadership to Celebration planning, added, "Prayer is so important. It's the foundation of what we do."
And Will Graham, of course, repeatedly called the Christians of Fort Wayne to pray for every aspect of the Celebration, as well as for their friends and family who don't yet know Jesus as Savior.
"We have to be people of prayer. It's the power of God," said Will Graham. "Let's start praying that the hand of God will move in Fort Wayne."
And Will's vision for this prayer-led movement is vast. "This is bigger than Fort Wayne. Jesus is the only hope for Fort Wayne. The only hope for Indiana. He's the only hope for our country and for the world!"
"If you think our world is a mess, the Gospel can change it. Why? Because it's the power of God, and it moves in people's hearts," Will continued. "What a privilege it is to proclaim the Good News of Jesus Christ!"
Stay up to date: Like the Greater Fort Wayne Celebration Facebook page and visit the Celebration website for more event information.