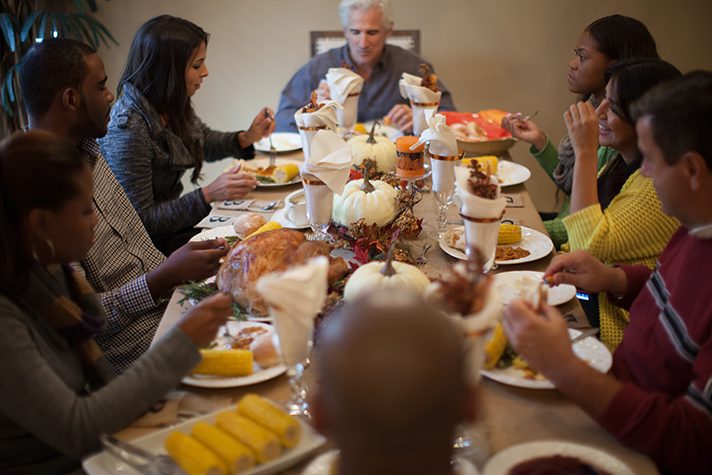 Family get-togethers this time of year can be joyful—and tricky at the same time. The whole crew may be sitting down to a nice dinner and then someone asks a question that sparks controversy.
All of a sudden, the happy gathering becomes quite unpleasant.
Does that happen at your table? In these situations, Christians have a unique opportunity to model God's love and point loved ones to Jesus.
Here's how:
1. Pray Beforehand
Navigating hard conversations starts before gatherings—with prayer.
Think dinner talks might get rocky? Ask God to give you wisdom and grace in those moments. Do you struggle relating to a particular relative? Pray for patience.
And know that when you pray, God hears you. First John 5:14 says, "And this is the confidence that we have toward him, that if we ask anything according to his will he hears us."
2. Prepare for What Might Come Up
In addition to prayer, considering the specific topics that might arise can help you diffuse a dinnertime argument or respond to an off-handed comment in love.
Remember, the Bible is the inspired Word of God and speaks into many current issues. If you think a topic might come up, take time to search the Bible and pray about how to respond.
Sometimes that means gently pointing someone to the Gospel. Other times that means staying silent and showing God's love through your actions. No matter what you do, make sure your words and actions are rooted in the truth of Scripture.
Little children, let us not love in word or talk but in deed and in truth." —1 John 3:18
>>See Biblical responses to questions about culture, relationships, faith and more.
3. Listen First
When someone brings up a topic that goes against the truth of Scripture, your gut reaction might be to lash out in anger.
Instead, hear that person out. James 1:19 says, "Let every person be quick to hear, slow to speak, and slow to anger."
Be encouraged by these words, which demonstrate that it is possible to take charge of your reactions—even to offensive and inflammatory statements.
"If there were no way to overcome anger," Billy Graham said, "if there were no way to bring it under control, God would have never said, 'Cease from anger and forsake wrath.' God would never demand an action which is impossible of achievement."
>>Read Billy Graham's advice on handling anger.
 4. Respond With Love
Before Jesus went to die on the cross, He washed His disciples' feet—even the feet of Judas, the disciple who would soon betray Him.
Jesus then gave the disciples a charge: "A new commandment I give to you, that you love one another: just as I have loved you, you also are to love one another. By this all people will know that you are my disciples, if you have love for one another" (John 13:34-35).
As a Christian, Jesus calls you to follow His example and express unconditional love for those around you. By showing others Christ's love, you exemplify the great transformation He has made in your life.
"Love is patient and kind; love does not envy or boast; it is not arrogant or rude. It does not insist on its own way … Love bears all things, believes all things, hopes all things, endures all things." —1 Corinthians 13:5-7
This Christmas, how will you show those around your dinner table the great love God has for them?