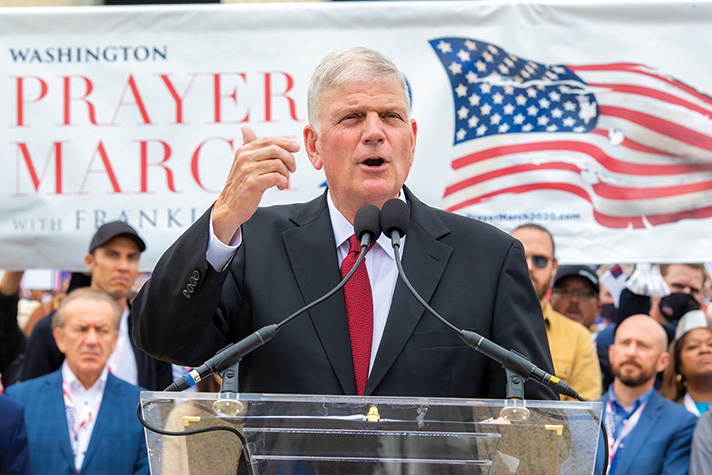 "Call upon me in the day of trouble; I will deliver you, and you shall glorify me."
—Psalm 50:15, ESV
Dear Friend,
As I write you, I have just returned from holding Prayer March 2020 in Washington, D.C. It was amazing to see tens of thousands of Christians from all across America come together for one purpose—to humble ourselves before the Lord and pray for our nation.
>>Find stories, photos and videos from the Prayer March, and watch a replay.
It was glorious to see believers flooding across the National Mall. We met at noon at the Lincoln Memorial, with people as far as you could see! We are grateful that Vice President Mike Pence and second lady Karen Pence joined us there to pray for this country and so that we could pray for them in person.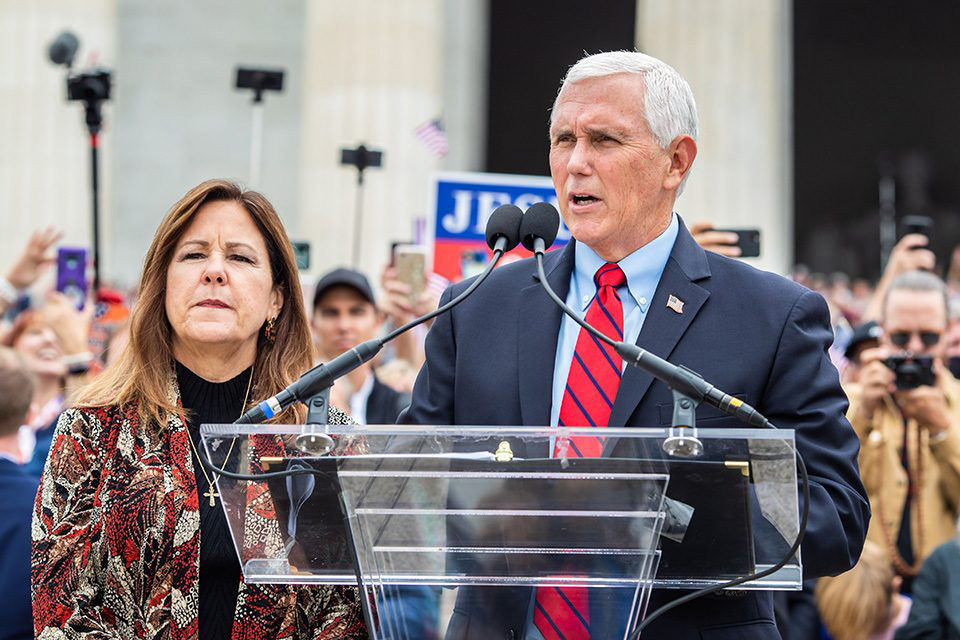 Over the next two hours, we walked and paused at six more locations, focusing on different prayer needs. Our stops included the World War II Memorial, the Washington Monument, overlooking the White House, the National Museum of African American History and Culture, the National Archives Building, and the U.S. Capitol.
"Today at this Washington Prayer March you continue a great American tradition. Since the founding of our nation, the American people and our leaders have gone to prayer in challenging times. George Washington prayed for the leaders and the people of our states … that God would hold them and our states in His holy protection."
—Vice President Mike Pence
Most people walked, some pushed strollers, others came with service dogs. Some were in wheelchairs, and others leaned on walkers.
Over 2,200 students from Liberty University, where I recently spoke, came to the march in a convoy of 44 buses! The throngs of people included a multitude of ethnicities and languages. My son Will Graham said it was like a taste of Heaven.
Warren, Joyce, and their daughter Tiffany, came all the way from Southern California to pray. Tiffany said, "We wanted to be at the Prayer March … to stand up for Jesus because there are a lot of things that are happening in our country, and we wanted to be a part of something as powerful as this, with all of these people coming out for God."
>>Read some of the prayers offered during the march to guide your own prayers for America.
A lady standing in front of the Smithsonian stopped our chaplains and asked them to talk with her daughter. Anna,* who is 11, had traveled with her mother from Missouri to attend Prayer March 2020. Anna said she wanted to give her life to Jesus Christ, and the chaplains shared the Gospel using "Steps to Peace With God" with her. The young girl prayed with them to receive Christ as her Savior and Lord. The chaplains told them to expect to receive follow-up material in the mail. We praise God for this changed life!
I am grateful to those who led us in prayer along the route: Representative Michele Bachmann, Bishop Harry R. Jackson Jr., my son Ret. Lt. Col. Edward Graham, Ret. Lt. Col. Oliver North, Myron Lizer, Tony Perkins, Pastor Skip Heitzig, Dr. Jerry Prevo, former Fire Chief Kelvin Cochran, Pastor Paula White-Cain, Pastor Greg Laurie, Darryl Strawberry, Dr. Alveda King, Pastor Jentezen Franklin, Pastor Robert Morris, Representative Frank Wolf, my sister Anne Graham Lotz, and Dr. Jack Graham. And it was such a blessing that longtime friends of the ministry Michael W. Smith and Ricky Skaggs were there and each performed a song before the vice president shared.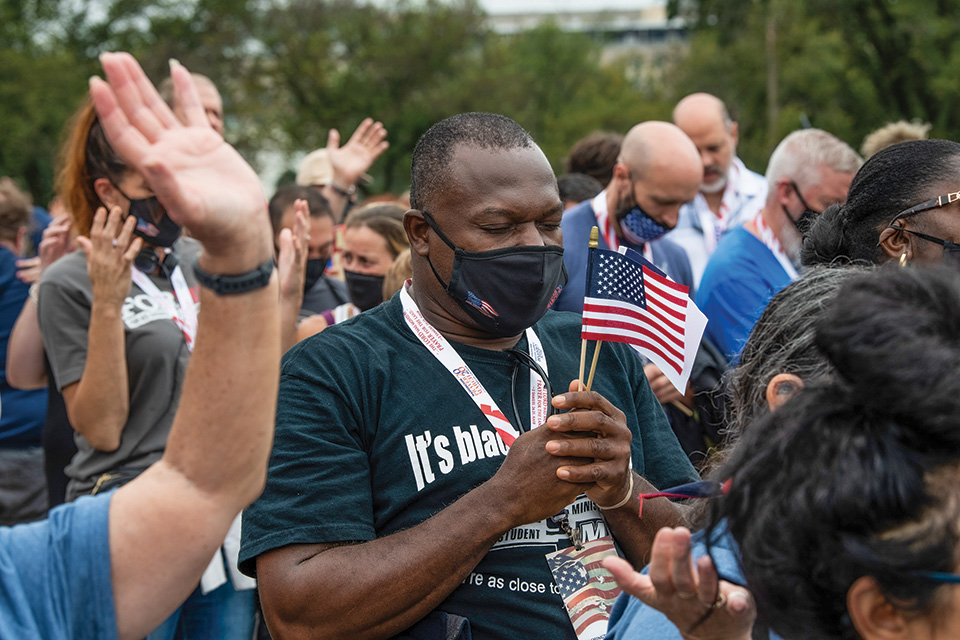 In addition to the crowds on the National Mall, we know countless others joined us in prayer through their own local events. One 94-year-old couple, Bob and Betty, organized a prayer walk in their assisted living facility in Indiana. Before the event, Bob shared, "For some of us, it will be a prayer rock. Some of them will be sitting on rocking chairs and praying!"
Millions of people from 57 countries viewed the Prayer March during the live stream, which was hosted by Mike Huckabee and my daughter, Cissie Graham Lynch. If you could not attend or watch the stream, it is still available on our site. Invite others to watch it with you—and you can all pray together! Or share it on your social media and encourage others to pray.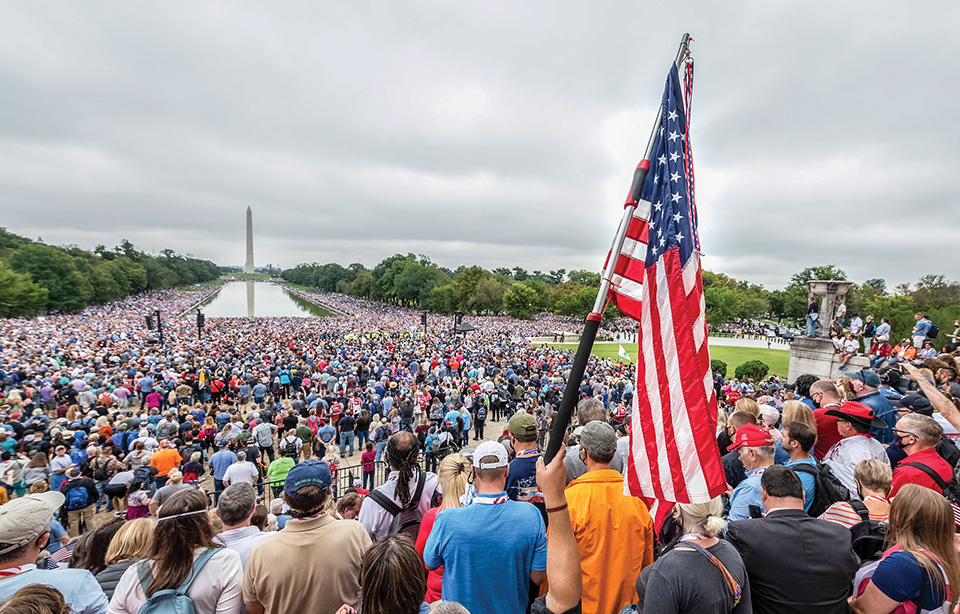 A few hours after the march, I had the privilege of being at the White House when President Trump announced his pick for the U.S. Supreme Court—Amy Coney Barrett. She is a woman of faith, a defender of the unborn, and from her record will interpret the Constitution as it is written. Please pray for her, her husband, and her family during the confirmation hearings.
The election is only weeks away, and it's the most critical one of our lifetime. Secular forces are at work to completely change this country and remake it into a godless, lawless place. We are on the verge of losing our nation—unless the Lord intervenes. He is the only hope for America.
Don't forget to visit DecisionMagazine.com to read the special October issue, which is our election guide. It details the key Biblical issues at stake, the positions of the presidential candidates and their parties, plus a classic article called "America at the Crossroads" by my father, Billy Graham. Please share the election guide with your family, friends, and neighbors.
The Bible says, "Let us then with confidence draw near to the throne of grace, that we may receive mercy and find grace to help in time of need" (Hebrews 4:16, ESV). That is why I called this Prayer March—urging Christians all over our nation to call upon the Name of the Lord.
Though Prayer March 2020 is over, we must not stop praying. I hope the great focus on prayer we saw September 26 has only begun. Many times, in the Bible and in history, God stirred His people with a burden to pray when He was about to do mighty things. I pray that He is moving in these days to turn hearts across America to Himself, so that we might glorify Him.
Thank you for your prayers and gifts to take the Gospel of Jesus Christ around the world and to stand for Biblical values.
May God richly bless you,
Prayers from the March to Guide Your Own
"Hear all the prayers that have been prayed on the Mall today. O God, would You hear? Would You forgive? Would You heal? We ask this, please, for the glory of the Name of Jesus, the Son of God, the Son of Man, the Lion of Judah, the Lamb of God, the Redeemer, the Savior, Jesus. We pray in His Name, Yeshua."
—Anne Graham Lotz
"Give us the gift of hungering after the living God, so that we may devote ourselves to what is most important—to make the first thing first—which is to love you with all our heart, soul, mind and strength. And because of this love, because we love You, that we will stand unashamed of identifying with Jesus and His teaching."
—Pastor Andrew Brunson
"Father, I pray that You'll return the hearts of fathers back to their children and you will return the hearts of children back to their fathers, that through families, all nations of the earth shall be blessed."
—Kelvin Cochran
"We claim this territory for Your kingdom. Lord God, we are one human race. Forgive us and let us love children, let us love life. From the womb to the tomb."
—Dr. Alveda King
 "We'll use Psalm 91 as a prayer for protection: 'He who dwells in the shelter of the Most High will rest in the shadows of the Almighty.' … I offer this prayer in the name of my Savior, Jesus Christ, for every soldier, sailor, airman, guardsman, Marine, law enforcement officer, and their families."
—Lt. Col. Oliver North
"We remember Psalm 68:1, which says, 'Let God arise and His enemies be scattered.' Let God arise and His enemies be scattered! Let God arise!"
—Bishop Harry R. Jackson Jr.
"May the transcendent truth of the Gospel of Jesus Christ be released upon this nation as we stand with courage and selflessness and bravery."
—Tony Perkins
"Father, we do pray that You would give wisdom to doctors, to medical professionals, those who are doing research … Father, heal this land of this plague that has taken the lives of so many."
—Pastor Skip Heitzig
"We pray for compassion. We pray for kindness. We pray for respect. We pray for reconciliation, Father. We pray for the violence to stop, Father. In the Name of Jesus."
—Darryl Strawberry
"Lord, we're praying right now that revival will start here, that we could mark it in time, this momentous time here in the nation's capital, where we gathered together to pray."
—Pastor Greg Laurie
"We pray, Lord, that You will wake up the church, that the church will pray, and then Lord, that the church will speak. And Lord, we ask You to bless the Congress—both Republicans and Democratic members—that they will come together in healing and reconciliation."
—Rep. Frank Wolf