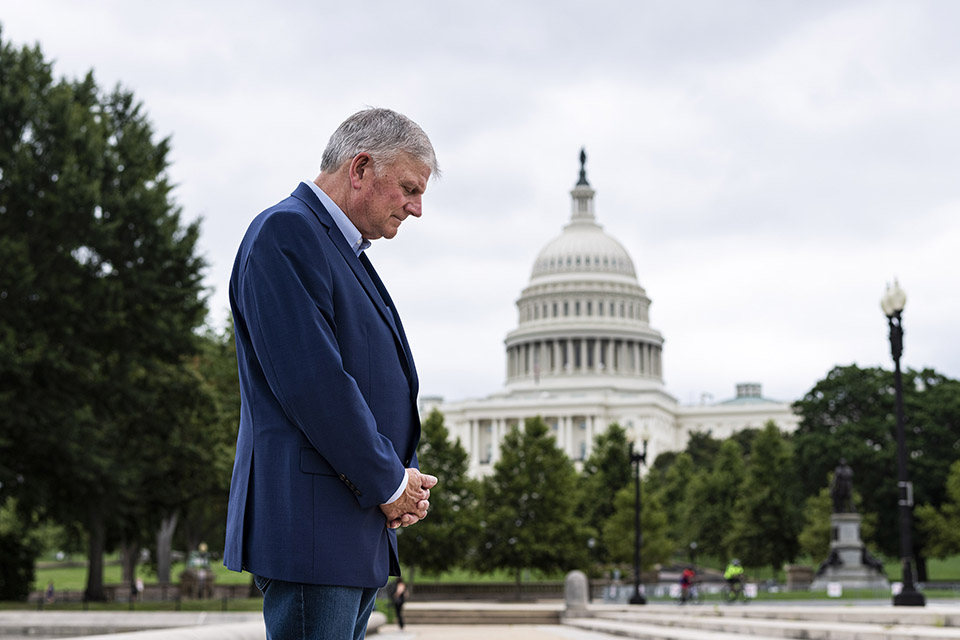 Dear Friend,
As I write this letter, we are preparing for Prayer March 2020 in Washington, D.C., on Saturday, Sept. 26. I'm calling Christians from all over America to join me at our nation's capital to walk and pray, from the Lincoln Memorial to the Capitol building. This is not a demonstration or a political rally—but it is a time for believers to join together, crying out to God on behalf of our land.
I urge you to join with me and thousands of other Christians in praying for our nation—whether or not you can attend the march in person. If you can't come in person, join us on the live stream on my Facebook page or at PrayerMarch2020.com. I believe we are at a critical crossroads in our country, and I know that God hears the prayers of His children.
He tells us in His Word—while speaking to King Solomon and the people of Israel—that when their nation experiences great difficulty that if "My people who are called by My name humble themselves and pray and seek My face and turn from their wicked ways, then I will hear from heaven, will forgive their sin and will heal their land" (2 Chronicles 7:14, NASB).
Our nation is in serious trouble. I've never seen such dramatically opposing forces, ideologies, and viewpoints battling for the heart of America. Godless forces have been at work behind the scenes for years trying to impose their value system on our people. Today, however, their efforts are not behind the scenes but in full view for all to see.
The Founding Fathers, who framed our great nation, valued liberty, which they knew came from God. When they wrote the Bill of Rights in 1791, the very first amendment contained the freedoms they held most dear, including the freedom of religion, the freedom of speech, and the freedom to assemble.
Today, all three of these rights are under attack. Secularism has become its own religion. Instead of submitting to the Lord Jesus Christ and the Bible, many activists embrace a new value system that endorses sinful behaviors. The Apostle Paul warned of such erosion: "They did not honor him as God or give thanks to him, but they became futile in their thinking, and their foolish hearts were darkened. Claiming to be wise, they became fools" (Romans 1:21–22, ESV).
Some state and local governments are trying to dictate to churches when they can and cannot meet. This is an overreach of their power. We are seeing how having the wrong people in positions of authority can lead to much trouble for the average person. Some elected leaders are allowing lawlessness—looting, rioting, and even murder—to continue in their cities without standing up to the wrong. Our nation cannot allow anarchists to willfully harm people, burn buildings, and destroy lives and businesses. Never before in our lifetime have we faced such radical agendas with harmful outcomes. If certain people and movements have their way, our country may be altered beyond recognition and repair.
I urge you to think and pray fervently about your vote as we approach the upcoming November election. Be sure to visit DecisionMagazine.com to read the October issue. The entire issue is dedicated to the values and choices facing Americans as we move into another important election. After you read it, share it with your friends and family. And remember, you are not just voting for personalities. You are voting for a world view, which includes values, philosophies, agendas, and plans.
Story from the Prayer Line: 888-388-2683
An E.R. nurse called our prayer line and shared she tested positive for COVID-19. Feeling exhausted and afraid, she asked for prayer. Our volunteer walked her through the "Steps to Peace With God," explaining how she can know she will be with the Lord forever. The nurse prayed to receive Jesus Christ into her life, and she requested BGEA's follow-up material to help her grow in her new relationship with God.
As our country experiences political and civil unrest, the Billy Graham Rapid Response Team (BG-RRT) has deployed to several cities offering emotional and spiritual care to hurting people. Chaplains arrived in Kenosha, Wisconsin., after the city erupted in rioting and looting following a shooting. Church leaders from the local community invited our team to come and minister there.
Other BG-RRT chaplains went to Napa Valley in California as hundreds of fires burn throughout the state. A chaplain sensed the Holy Spirit prompt him to speak to one of the hotel staff in the lobby. When asked if she had been affected by the fires, she replied, "No, but everyone has their own issues." This comment opened the door for the chaplain to talk about spiritual matters, and he explained to her about a personal relationship with God. Together they looked at the Gospel booklet "Steps to Peace With God," and the woman shared that she wanted to invite Jesus Christ into her life to be her Savior and Lord.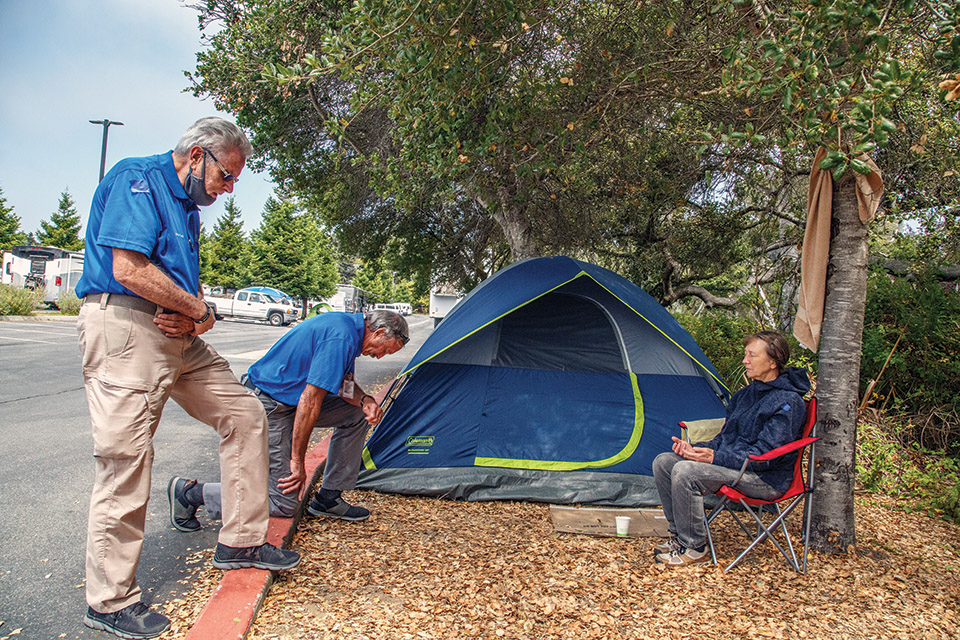 Your prayers and gifts helped chaplains go to Lake Charles, Louisiana, following Hurricane Laura—one of the most powerful storms to ever hit the state. Our BG-RRT responded quickly, offering physical, emotional, and spiritual assistance. Two chaplains were at the BG-RRT mobile ministry center when a man pulled up in his pickup truck. After helping him find assistance in cleaning up his home, one chaplain asked what he knew about Jesus. The man said he didn't know much except that He was good. The chaplain told him who Jesus is and about His work on the cross, and he carefully explained the Good News. After discussing the relationship between God and man, the trucker prayed to receive Jesus Christ into his life. As he left, he smiled and said, "I wasn't going to stop, but something told me I should." We praise God for this and many other changed lives.
Join me in praying for the people who live in these areas and are affected in so many ways by these tragedies. We want them to know that God is their "refuge and strength, a very present help in trouble" (Psalm 46:1, NKJV).
Thank you for your prayers and gifts for this ministry. Your partnership is a vital part of standing for Biblical truth, sharing hope and healing, and proclaiming the unchanging Gospel of Jesus Christ around the world.
May God richly bless you,


Franklin Graham
President