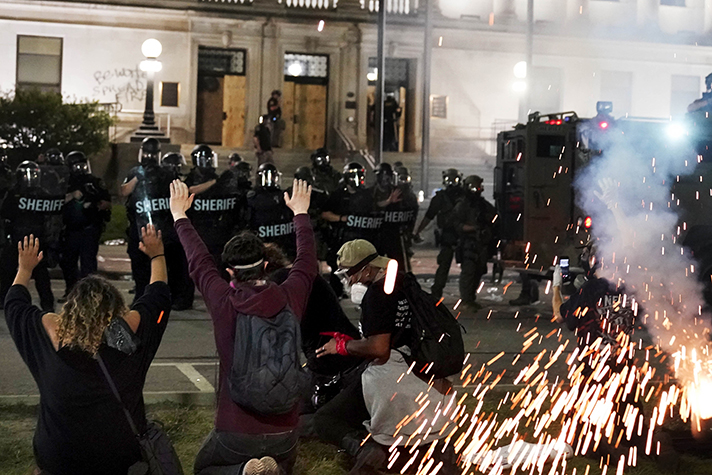 With many nights of racial unrest in Kenosha, Wisconsin, following a recent police shooting, the Billy Graham Rapid Response Team (RRT) is ministering in the tumultuous city.
Jacob Blake was reportedly shot multiple times Sunday, August 23, after police were called to a domestic disturbance. News reports say his three children were in the car near where he was shot. According to his attorney, Blake was paralyzed as a result of his injuries and underwent surgery.
On August 25, two people were killed and a third person seriously injured during protests in this southeastern Wisconsin city. Dozens of buildings were destroyed and numerous fires set by protesters in Kenosha's downtown area.
After being pelted with water bottles and fireworks, police fired tear gas and rubber bullets to disperse the crowd. Wisconsin Gov. Tony Evers has declared a state of emergency and called in the National Guard to assist.
Franklin Graham, president of the Billy Graham Evangelistic Association, asked people on his Facebook page to pray for Jacob Blake and for an end to the violence and unrest.
Eight Billy Graham chaplains are now offering emotional and spiritual care in Kenosha.
"We were invited by local church leadership in Kenosha to have our chaplains there to minister to the community," said Josh Holland, assistant director of the RRT. "We are praying that in such a tragic situation, that God will use our chaplains to bring the peace and comfort that we know only comes through Christ."
The RRT's Mobile Ministry Center is also providing a quiet place for residents to talk and pray with chaplains.
A city of about 100,000 people, Kenosha sits on Lake Michigan between Milwaukee, Wisconsin, and Chicago, Illinois. This is the second time the Billy Graham Rapid Response Team has deployed to the area. In 2017, chaplains prayed with more than 600 people in Kenosha County after the area was flooded.
This shooting comes three months after the death of George Floyd in police custody in Minneapolis, Minnesota, ignited worldwide protests. Billy Graham chaplains deployed to Minneapolis to offer care as well as Charlotte, North Carolina.
Please join us in praying for the Kenosha community.
Are you anxious about all the bad news? Call the Billy Graham Prayer Line at 1-888-388-2683, day or night.