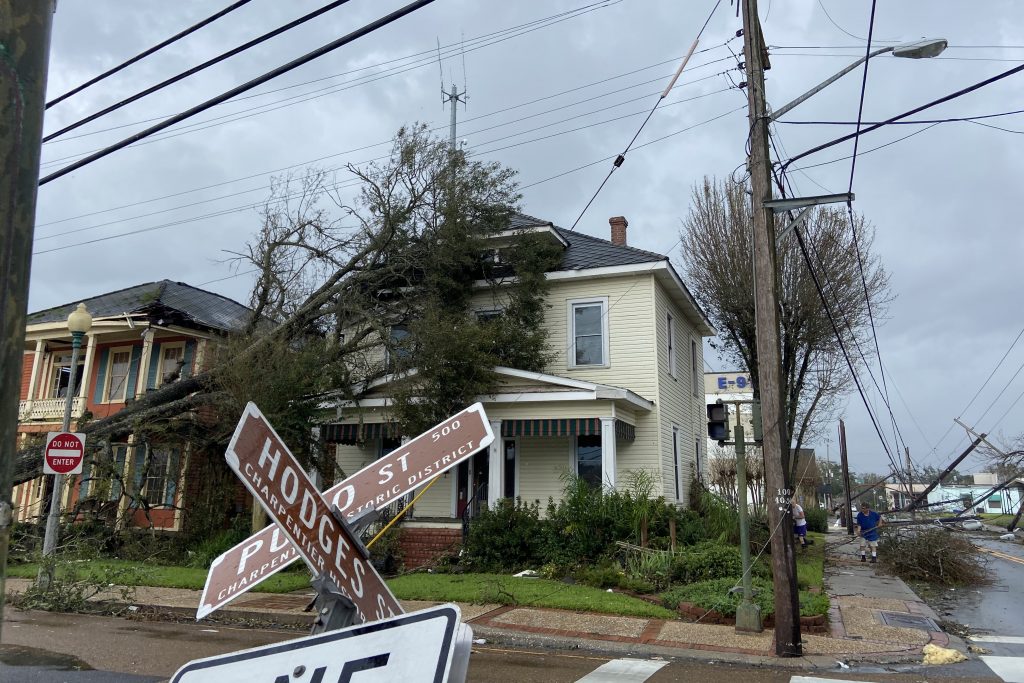 Every 15 minutes.
That's how often Mike Bullock looked out Pujo St. Cafe's window in Lake Charles, Louisiana, as Hurricane Laura spiraled in the early morning hours of August 27.
Bullock decided to hunker down with his boss and cafe owner, Dan Schaad, who also runs Aunt Ruby's—a historic bed and breakfast just down the street.
The 150-mph winds sent debris flying horizontally and caused the roof to rip off the eclectic cafe that served burgers, seafood and pecan pies to locals just days before.
"Through the night, things got worse and worse," Schaad told Billy Graham chaplain Richard Brown and Cheryl Bradbury, an on-call disaster relief worker for Samaritan's Purse.
Brown and Bradbury saw the two men chainsawing and clearing trees mangled along fallen power lines at Aunt Ruby's and decided to check on them.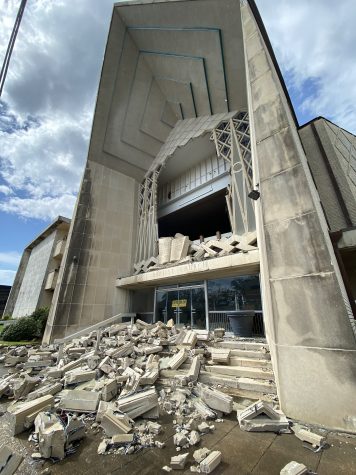 Under the pouring rain, the group stood in the shelter of the side porch, which had sunflowers still tucked into a vase on the wall—somehow untouched by the Category 4 storm.
"You can see the First Baptist Church across the street, it's crazy," Schaad commented, adding that he went to a nearby cathedral.
Chunks of cement blocks had tumbled down the front stairs of the church after its giant stained glass windows blew out, letting rain pelt its interior. Amazingly, a concrete depiction of a Bible remained intact, bearing these Scriptures:
"Come unto me all ye that labor and are heavy laden and I will give you rest." —Matthew 11:28
"Go ye, … and teach all nations, baptizing them in the name of the Father, and of the Son and of the Holy Ghost." —Matthew 28:19
Fittingly, the Billy Graham Rapid Response Team's Mobile Ministry Center is operating in the church's parking lot, giving residents a safe space to find refuge in God and encouragement from crisis-trained chaplains. The chaplains are partnering with Samaritan's Purse, which organizes volunteers to help residents get back on their feet in the cleanup process.
With many locals now returning from evacuations, Schaad explained he decided to ride out the storm because "I remember leaving last time [during Hurricane Rita and being] anxious to get back. Some of my employees stayed, and I wanted to be there for them." 
Sure enough, the men have helped clear some of the streets so emergency vehicles could get by and served the cafe's food to emergency personnel.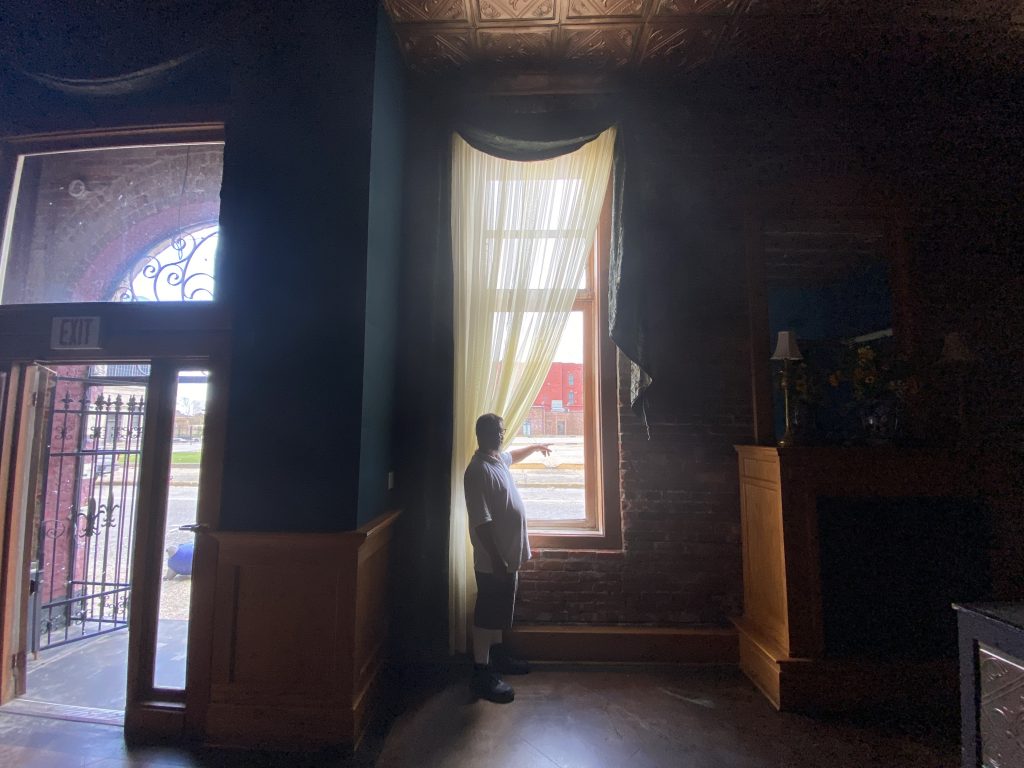 Still, Bullock recognized the choice he made in staying.
"I just said, 'Your will be done [to God],'" Bullock shared, adding that's what he told his daughter ahead of the storm.
"My faith takes all fear of dying away from me. I don't really worry about what's happening in the world as long as me and Christ have things straight. That's all that matters," Bullock said.
He lost his wife in 2013 and has drawn close to God in his grief.
"Wherever I bend my knee, I know God's with me. He's in my heart and life," he said. Bullock attests he's still in the healing process, but his life looks much different than his youth.
At the age of 17, he went to prison. But that's actually where he first met Christ during a preacher's invitation to start a new life with God.
"I felt a blanket of warmth wash over me," he recalled, adding that this was the first time he's opened up since his wife's death. "I had peace, and my anxiety was gone."
As he talked, Bullock peered through his black-rimmed glasses. He emphasized that "it's never too late" to turn to God.
"I was confused for a long time, angry [at myself for going to prison]," Bullock admitted.
But, he knows Who carried him through the hardest days and is relying on God as his devastated community recovers.
"I wish everyone had faith," Bullock said.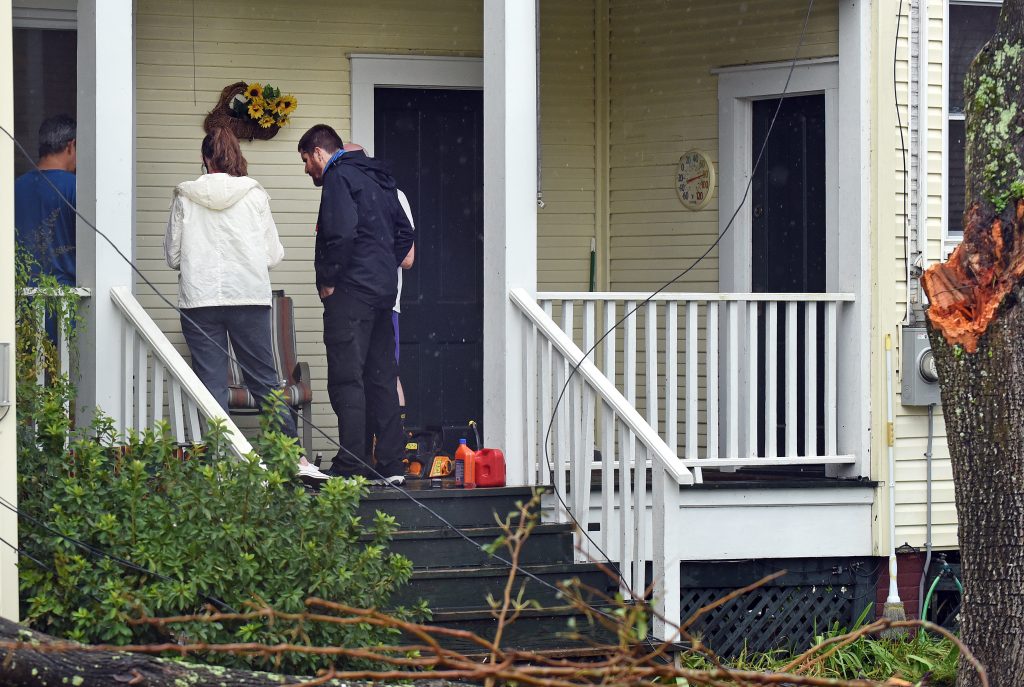 Do you have faith to rely on God in all circumstances? Get to know Him today.