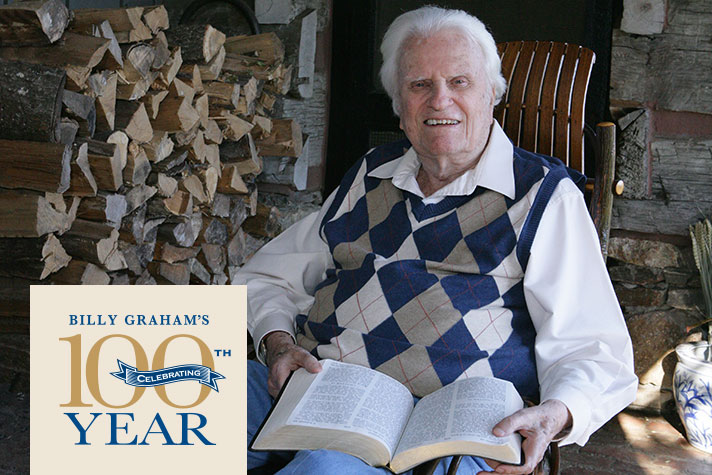 Dear Friend,
My father reached his 99th birthday on November 7 and has now begun his 100th year of life. Over the next 12 months, we want to honor God by looking back at what He has done through my father's life and ministry. The Bible says, "Tell what God has brought about and ponder what he has done" (Psalm 64:9, ESV). We don't want to only look back, however, because the Bible also says, "New things I now declare" (Isaiah 42:9). We want to look forward at what God continues to do through the Billy Graham Evangelistic Association and the new ways He is working.
God enabled my father to preach the Gospel in person to more than 215 million people, not counting TV and film. He did this by going from one city to another across North America and around the world for decades. Today at BGEA we continue to do the same thing as a key part of our evangelistic ministry, and God continues to bless this work through the power of the Gospel.
I have just returned from preaching at an evangelistic Crusade in Oslo, the capital and largest city in Norway, and God did a mighty work in hearts of many who heard the Gospel.
Last month, I preached the Gospel in seven cities on our Decision Texas tour. Over 51,000 people gathered to hear the Good News about repentance, forgiveness, and eternal salvation through the Lord Jesus Christ. God touched hearts and changed people's lives at every stop as He "added to their number day by day those who were being saved" (Acts 2:47). Each night, I gave an invitation to make a decision for Christ. More than 3,000 people responded. We thank God and give Him the glory.
In Corpus Christi, a woman who hadn't heard about the tour saw a billboard on the highway and decided to come and bring her 11-year-old granddaughter, for whom she had been praying. The granddaughter, whose family does not attend church, gave her heart to the Savior in repentance and faith.
A mother in Waco came with two teenage daughters—but it was her own spiritual condition she was concerned about. Years ago she made a decision to follow Christ, but since then she had strayed from her faith. Now an addict, she knew her life was a poor example to her girls. She desperately needed God's forgiveness and also forgiveness from her daughters. At the tour event, she heard me say, "God will not only forgive you—He'll heal your heart. He'll give you a new beginning." She went forward in tears to talk with a prayer volunteer and then poured out her broken heart to the Lord in a prayer of repentance, asking Him to help her start over. When the mother finished praying, her younger daughter told the trained volunteer she was ready to give her life to Christ—and she did. Afterward the volunteer thanked the Lord, offering this heartfelt description of what had just happened: "It was beautiful!"
A 38-year-old man in Round Rock heard on the radio about our stop and decided at the last minute to come. By the time he arrived, the music was over and I had already begun the message. The first words he heard stopped him in his tracks. "The preacher was talking about sin and stealing and lying and then adultery," he said later. "That really got to me, especially the adultery part." Infidelity had been part of his past, and he had never been able to deal with the guilt he felt. He came forward, shared his story with a prayer volunteer, and wept. After the volunteer shared Scripture with him, he prayed a prayer of repentance and faith in the Savior Jesus Christ. When he looked up, he announced, "I feel free!" Then he added, "I got here a little late, but it turned out to be right on time to hear God's message for me."
The Bible tells us, "If we confess our sins, he is faithful … to forgive us our sins and to cleanse us from all unrighteousness" (1 John 1:9). What a promise! And the Bible says there will be "joy in heaven over one sinner who repents" (Luke 15:7)—so we know there has been much rejoicing over so many in Texas who responded to the Gospel by turning away from their sin and placing their trust in God's Son, Jesus Christ, as their Savior and Lord.
Next year I will hold similar events in a number of cities on a tour up the West Coast of the United States. As in Tennessee and Texas this year, I want to go across the entire region preaching the Gospel—but this time in a part of America where it can be tough to proclaim Jesus Christ. California and the Pacific Northwest are liberal strongholds. Politicians refer to that as the "blue wall," but I'm thinking of the deep-rooted secularism that dominates the region. Fewer than 1 in 3 people there believe that Biblical values—or any religious values, for that matter—are the best guide to right and wrong. Pray with us as we plan this strategic tour to pierce the blue wall—not for politics, but for the Gospel and the glory of the Lord Jesus Christ.
My son Will recently preached the Gospel at a Crusade event in Cluj-Napoca, the second-largest city in Romania. A large number of local churches participated, and over three nights more than 32,000 people attended. Local church leaders were thrilled to see many hundreds step out publicly to make decisions for Christ. As I write, Will has just returned from Canada where he led a Crusade event in Charlottetown, the capital city of Prince Edward Island province. We praise God that hundreds made decisions for Christ.
Everything we do at the Billy Graham Evangelistic Association centers on reaching lost people for Christ and then on follow-up and discipleship of new believers. When you pray, and when you give, you are a vital partner in work that is "pleasing in the sight of God our Savior, who desires all people to be saved and to come to the knowledge of the truth" (1 Timothy 2:3–4).
May God richly bless you,
Franklin Graham
President