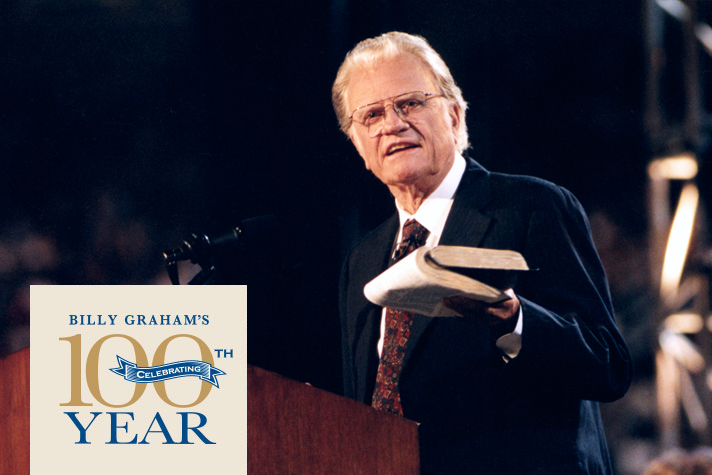 Billy Graham turned 99 on Tuesday, Nov. 7, having spent over three-quarters of his life preaching the Gospel. He begins his 100th year as one of the most admired men in America.
"As a family, we are just so very grateful that he is still with us," Franklin Graham said. "His mind is good, but he's quieter these days. He can't see or hear well, but his health is stable. … I know my father is grateful for all the prayers for him and birthday wishes on this special occasion."
Family was with Mr. Graham as they celebrated with his favorite cake—a lemon cake with lard icing—and the Billy Graham Library had cake for everyone who visited on his birthday.
"Also as my father enters his 100th year, for the year leading up to his 100th birthday, we are going to honor what God has done through him by highlighting significant moments of his life and some eight decades of ministry," Franklin said.
"The Billy Graham Evangelistic Association (BGEA) is moving strong into the future, but it's also important to celebrate the past."
Each month leading up to Mr. Graham's centennial birthday will highlight significant points in his ministry, with special content featured on BillyGraham.org and in Decision magazine.
"My father always wants the focus to be on the Lord Jesus Christ, and not on him; and so we will point to the amazing ways God has worked in lives around the world, through the ministry of Billy Graham," Franklin said.
On the occasion of Mr. Graham's birthday, the BGEA is taking a moment to remember his humble beginnings and celebrate where God has taken him.
'I'm an Ordinary Preacher'
When Billy Graham was 15, his father and other businessmen in their hometown of Charlotte, North Carolina, gathered on the Grahams' dairy farm to pray for revival in their city—specifically that God would raise up someone from Charlotte to spread the Gospel worldwide.
It wasn't until later that year, 1934, that Billy Graham dedicated his life to Jesus Christ after hearing traveling evangelist Mordecai Ham.
By the time he graduated high school, the young Billy Graham wrote in his yearbook, "My hopes and plans for the future is to serve God and do His will as a minister of the Gospel."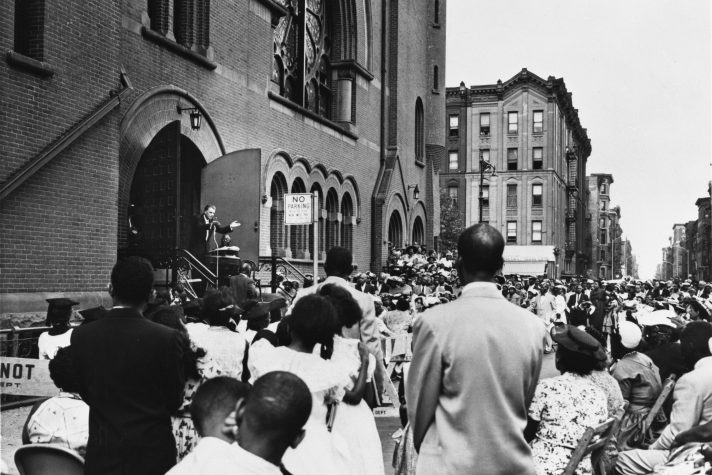 Decades later, Mr. Graham has preached that Gospel to more people in live audiences than anyone else in history—nearly 215 million people in over 185 countries and territories. He spends most of his days now at his quiet home in the mountains of Montreat, North Carolina, yet the influence of his ministry continues to impact millions through the ongoing outreach of the Billy Graham Evangelistic Association.
"I am not a great preacher, and I don't claim to be a great preacher," he once said. "I'm an ordinary preacher, just communicating the Gospel in the best way I know how."
'It Has Been Solely God's Doing'
It was the 1949 Los Angeles Crusade that brought this farm-boy-turned-evangelist into the public eye at age 30. Those tent meetings scheduled for three weeks lasted for more than eight weeks as crowds continued filling a gigantic canvas tent downtown night after night. By the end, Mr. Graham had preached to over 400,000 people.
Over the years, God has allowed Mr. Graham to be part of some incredible moments in history. He visited soldiers in Vietnam at Christmastime, was invited behind the Iron Curtain before the fall of Communism, became Pastor to the Presidents, and in 1973, held his largest Crusade in Seoul, South Korea, which drew over 3 million people.
1973 was also a notable year for Mr. Graham in South Africa, where he refused to hold Crusades until those meetings could be integrated—and finally were in Durban and Johannesburg. Two decades earlier, he personally removed the ropes that segregated the Crusade audience in Chattanooga, Tennessee.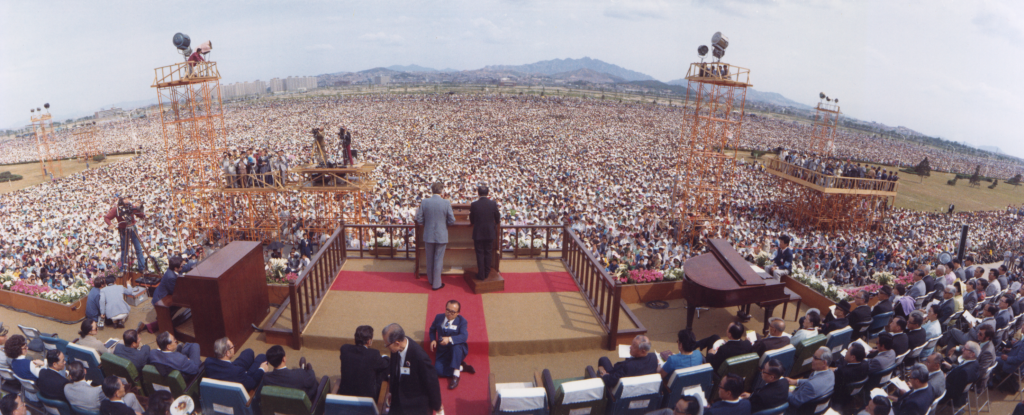 In the past 60+ years, BGEA has heard from thousands of people across the globe who have been touched by Mr. Graham's ministry. People who were saved at his Crusades, people whose parents deepened their relationship with Christ through hearing him on the radio, people who watched him on TV with their grandparents. They send letters, leave comments online and share their stories with BGEA staff.
But Billy Graham is quick to divert attention away from himself.
"If anything has been accomplished through my life, it has been solely God's doing, not mine, and He—not I—must get the credit," he has said.
Over Six Decades of Ministry
In 1950, BGEA was founded to support and extend the evangelistic calling of Mr. Graham. What began in a one-room office building in Minneapolis is now a global organization based in his hometown of Charlotte.
Today, BGEA uses every effective means available to tell others about Jesus. That happens through live events, like Franklin Graham Festivals and Will Graham Celebrations; through the ministry of Billy Graham Rapid Response Team chaplains who deploy to disasters; through My Hope films; and through TV, radio and social media. BGEA's internet evangelism ministry, Search for Jesus, reaches millions and gives online visitors an opportunity for discipleship.
We thank God for all the ways he has guided Mr. Graham over the past 99 years and pray for His guidance in this ministry in the years to come.
As Mr. Graham once said, "I am just a spectator watching what God is doing."