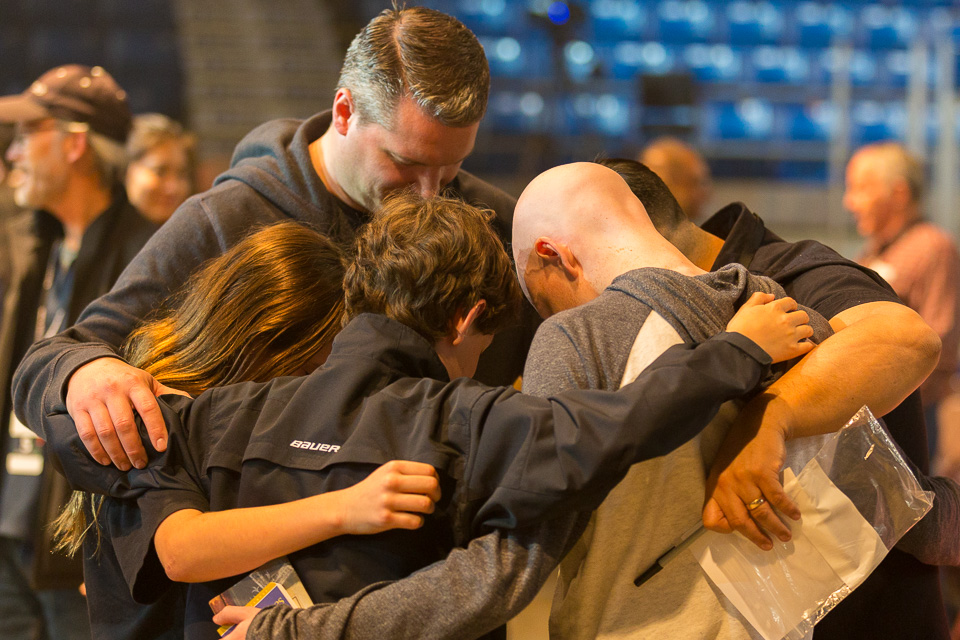 "All things great are wound up with all things little." –Anne of Green Gables, 1908
One of Prince Edward Island's most famous residents of all time, Lucy Maud Montgomery, penned those words more than 100 years ago. Since then, millions around the world have found timeless truths within the pages of the novel, which tells the story of a vivacious orphan girl who brought joy and wonder to the family—and the community—that adopted her.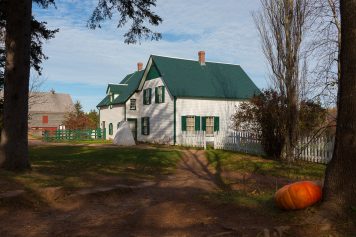 This weekend, on the same island where the Anne of Green Gables stories were born and are still celebrated by residents and tourists, all things great were indeed wound up with all things little.
For starters, Prince Edward Island (P.E.I.) is by far the littlest of Canada's provinces and territories, but it was chosen as the site of a big event that took months of planning and partnership among 37 churches across a dozen denominations.
The Celebration of Hope with Will Graham was born out of the prayers of P.E.I. residents who had a desire to bring their neighbors under one roof to hear a message that could change their lives.
Billy Graham shared that message on the island in 1964. In 1992, Franklin Graham did the same.
This weekend, Will Graham became the third generation to share the Gospel of Jesus Christ in the maritime province. And God used hundreds of "little things" to accomplish one great thing—the salvation of many people.
Syrian Refugees Choose Jesus
"We have high hopes tonight," said Amy Brown, a P.E.I. resident who's part of the Celebration's leadership team.
But as Saturday night's event kicked off at the Eastlink Centre in Charlottetown, Brown was still celebrating the previous night, when hundreds of children heard about Jesus at KidzFest.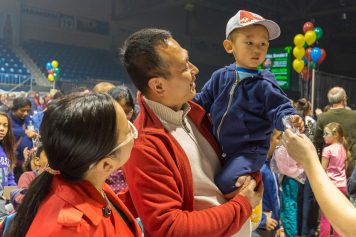 The leadership team had hoped 500 children and parents would show up on Friday. The Lord did more than they had asked or imagined when 900 people poured into the arena. Even more exciting, more than 140 responded to an invitation to accept Christ; most were children under age 10.
Among those children was a group of Syrian refugees that Brown's church has been sponsoring. The congregation prayed for the Syrian family long before they crossed the border into Canada earlier this fall. Since they arrived on the island, the church has helped get them enrolled in school and settled into an apartment.
On Friday, some of the youngest members of the family came to KidzFest after being invited by a member of the church. When Will Graham gave the invitation to accept Christ, several of the Syrian children went forward.
"I was scanning the crowd, and I saw them," Brown said. She was overwhelmed with joy as she looked down and observed two women with their arms around the children. A trained Celebration counselor was on her knees explaining the Gospel and praying. The church member who brought them to the event—and has been ministering to the family since they arrived in the country—was also by their side.
"Honestly, it'll be a vision in my mind forever," Brown said. "I expected big things, and God showed up."
God Answers a 12-year-old's Prayers
On Saturday night—youth night—Brown once again had big expectations. But probably not as big as her young son's.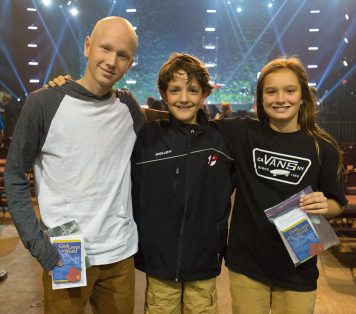 Campbell Brown stood nervous but hopeful near the front of the arena with his dad and two best friends, Lily and Brandon.
Campbell, who's 12, was praying his friends would hear all about Jesus and decide to follow Him.
"He's been so prayerful and so purposeful with who he's going to invite," his mom said. "He knew big things were bound to happen, and he wanted those big things to happen for his friends."
You can imagine Campbell's joy when Lily walked forward after Will Graham gave an invitation to accept Christ. He had just preached a powerful message based on the story of the Prodigal Son (from Luke chapter 15).
A few minutes later, Brandon bolted to the front of the arena to show he had made the same decision. Campbell and his beaming parents were elated.
'I Was Living in a Tent with My Abusive Boyfriend'
Among the throng of people who invited Jesus into their lives on Saturday night was a 22-year-old woman named Brittany Hawley. As the music ended and the crowd dispersed, Hawley said she wanted to share her story. Just a few days earlier, she had been living on the streets of Charlottetown, where nighttime temperatures have been hovering around the freezing mark.
"I was living in a tent for three or four months with my abusive boyfriend," she said matter-of-factly, as though she had become numb to the harsh realities of her life. "I was panhandling to come up with food and blankets and clothes."
But God was pursuing her. He used a series of seemingly little things to accomplish something amazing.
"One day some guy pulled up and gave me a toonie (a 2-dollar Canadian coin) and a bracelet and said I should come [to the Celebration]," Hawley said.
The bracelet doubled as an invitation to the event, and Brittany kept it. Around that same time, her stepmom, Lynette, finally tracked her down.
"I caught her panhandling at a stop sign," Lynette said.
Normally, Brittany would run away, but this time she agreed to talk. Lynette has been crying out to God for her stepdaughter to come home. It's been a brutal 4-year ordeal, and Brittany has a young child who is staying with Lynette and her husband.
Unbeknownst to Brittany, her family had been planning to attend the Celebration. And the stranger who invited her wasn't the only one who had noticed her on the street. Another Celebration volunteer had recently stopped to speak with her and had been praying for her since. It wasn't until Saturday night that all of these little factors came together, and Brittany discovered how many people had been asking God to save her.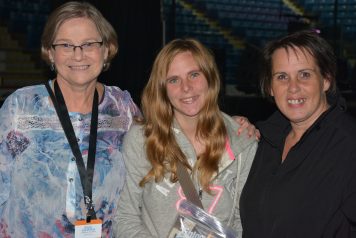 The Gospel message resonated deeply with Brittany, and she bravely walked forward to accept Christ and get the fresh start she desperately needs.
"I'm happy because I know I'm loved, and I can actually feel it," she said, surrounded by her stepmom, sisters and two of the volunteers who had been praying for her.
Lynette was overwhelmed to see her stepdaughter turn her life over to Jesus. The family has faced one trial after another, to the point where friends have suggested they're cursed.
"You get to where you almost give up hope, and then you get a breath of wind," Lynette said. "It doesn't matter how dark the night gets; there's always hope."
Brittany was one of many in P.E.I. who caught hold of the hope that's only found in Christ.
Knowing she faces an uphill battle of rehabilitating her life, she said she was ready to make some big changes, and her decision for Jesus would form the foundation. As she put it: "I'm not gonna be on my own anymore."
You don't have to get through life on your own. Make a decision to start walking with God.
The Celebration of Hope continues on Sunday, Nov. 5 at 6 p.m. Atlantic Time. Watch the final night of the event live online.