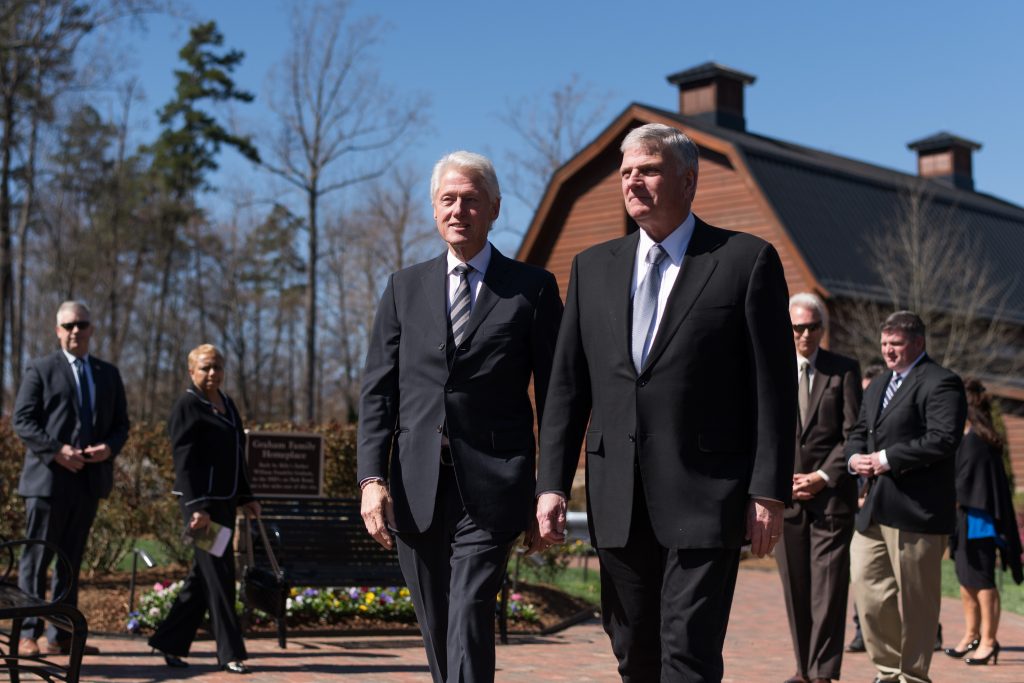 Former President Bill Clinton was 11 years old when he heard Billy Graham preach in his hometown of Little Rock, Arkansas. On Tuesday, he became the second U.S. president to visit the grounds of the Billy Graham Library in Charlotte, North Carolina, as Mr. Graham's body lies in repose.
President Clinton and Franklin Graham greeted each other in front of the Library with smiles and a handshake.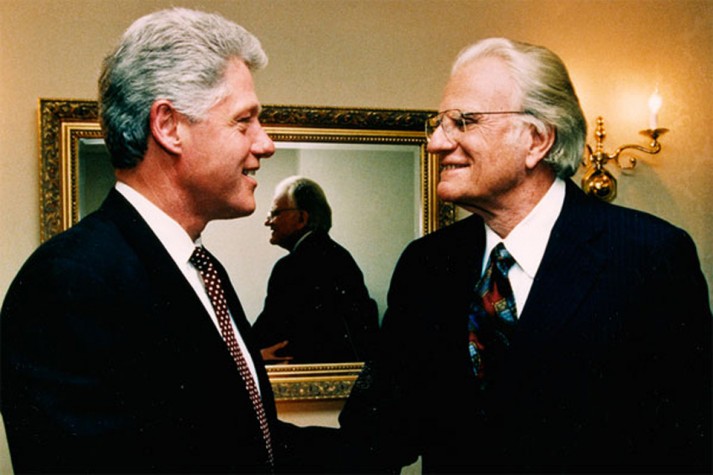 "I would like to thank Franklin Graham and the Graham family for making me feel welcome," Clinton said. "I'm just one of millions, maybe hundreds of millions of people, who in their own way will find some way to say thank you and goodbye to Billy Graham."
Mr. Graham's closed casket has been placed in the Graham Family Homeplace, his childhood home which is now situated just in front of the Library. After stopping by the home to pay Mr. Graham one more visit and talking to Franklin Graham for about 45 minutes, Clinton commented on the late evangelist:
"I think he was a profoundly good man who conveyed simple beliefs—that we can claim kinship with God by asking. He showed his faith by his works and by his life."
President Clinton mentioned that he read a story recently about how pastors have to be careful getting too close to politicians.
"But don't forget," he told the mass of camera crews and reporters in front of him. "Those of us who are Christians believe in a God of second chances, and the politicians need those more than anybody else. So you've got to cut him a little slack for trying to give a willing ear and an open heart without regard to his political preferences."
President Clinton couldn't have known it as an 11-year-old boy attending one of Mr. Graham's Crusades, but 30 years later when Mr. Graham returned to Little Rock for a 1989 Crusade, Clinton joined him—this time as governor of Arkansas. In the years to come, the governor and later U.S. president would come to spend a lot of time with this humble preacher from North Carolina.
"Billy and [his wife] Ruth Graham have practiced the ministry of … being friends with presidents of both parties, counseling them in countless ways, always completely private, always completely genuine," President Clinton once said. "We sat in the Oval Office reminiscing and talking about current circumstances, and I asked for Billy Graham's prayers for the wisdom and guidance of God."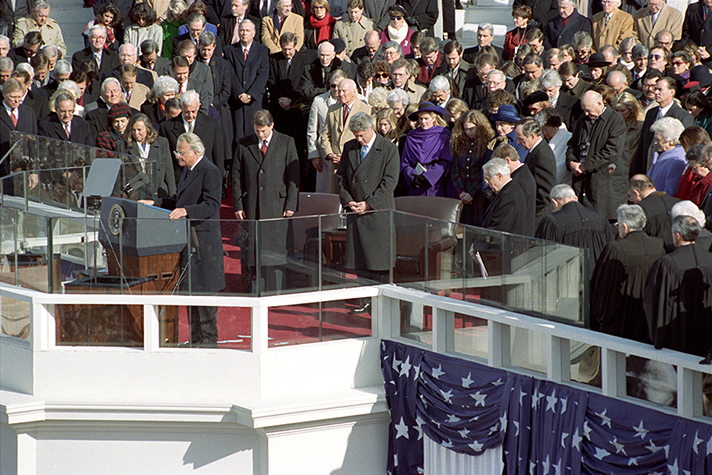 President Clinton joined former Presidents Jimmy Carter and George H.W. Bush in a ceremony to dedicate the Billy Graham Library in 2007 and recalled his first Crusade during the country's racial integration struggles.
"So here we were with neighborhood after neighborhood after neighborhood in my state on the verge of violence, and yet tens of thousands of black and white Christians there, together in a football stadium," he shared at the Library dedication. "And when he issued the call at the end of his message, thousands came down, holding hands, arm in arm, crying. It was the beginning of the end of the Old South in my home state."
Shortly after Mr. Graham's passing last Wednesday, Clinton released a statement about the impression Mr. Graham left on him as an 11-year-old and throughout the years.
"He filled a football stadium [in Little Rock] with a fully integrated audience, reminding them that we all come before God as equals, both in our imperfection and our absolute claim to amazing grace. …
"I saw him live that faith fully in the constant kindness, encouragement, and counsel he extended to Hillary and me.
"Billy has finished his long good race, leaving our world a better place and claiming his place in glory."
Billy Graham will lie in honor in the U.S. Capitol Rotunda on Wednesday and Thursday, Feb. 28 and March 1. Get details.