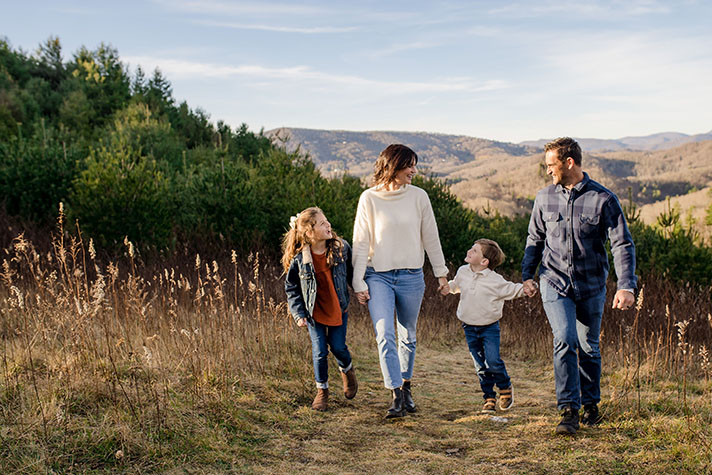 How do we raise kids who love Jesus?
"The foundation of our homes has to be God's Word," Cissie Graham Lynch said on her latest Fearless episode.
According to the Center for Bible Engagement, less than two out of five people read the Bible at least once a week.
In her 25-minute podcast, Lynch talks about how believers' lack of Bible reading could impact the younger generation.
"While America becomes more hostile towards Biblical truth, we're becoming less knowledgeable of God's Word," Lynch said.
>> Not sure where to begin when it comes to the Bible? Start here.
In 2022, the 35-year-old is challenging herself to study God's Word and be intentional in raising her two children. And she is asking her listeners to join.
"I don't think you have to be a parent," Lynch said. "You might be a grandparent, an aunt, an uncle, maybe a family friend who's around children a lot. Maybe you're a youth pastor.
"But if you're around this younger generation, we have a responsibility," she continued. "[We are to raise] children who are ready to encounter this new world and demonstrate the love of Christ."
But what exactly does that look like?
"To demonstrate the love of Christ requires that we be authentic in our own faith and very intentional with our own time and in our teaching with them," Lynch said. "Because the lies of culture … they swarm our children every day."
Pulling from Scripture, Lynch read Hosea 4:6, which says:
My people are destroyed for lack of knowledge;
    because you have rejected knowledge,
    I reject you from being a priest to me.
And since you have forgotten the law of your God,
    I also will forget your children.
"My kids are growing so fast," Lynch said. Her prayer for the new year is to be "a mom who spends more time in prayer for my children and more intentional with my time with them because it is precious."
Because of this desire, she just released a 14-day devotional, Fearless Family.
>> Buy Cissie Graham Lynch's latest devotional, Fearless Family.
"We have to know … His Word," Lynch said, adding that the devotional focuses on 1 Peter. "When it comes to [studying Scripture], … it can be so intimidating. And we can't give up before we even start the battle.
"As mama bears and papa bears, we would physically fight anyone who's coming after our children. So, I believe we have to spiritually fight Satan and his demons who have this spiritual warfare over this generation [and] are attacking our children every single day."
But, she acknowledges that digging deep into God's Word isn't always easy.
"I know between jobs, school and homework, sports practices, and all the chores that we have to get done, it can be hard to find dedicated time to read the Bible. I get it. I'm there. There [are] some days I fail to do so.
"But I challenge you as you start this year, set aside a portion of each day to do just that. Whether it's in the morning, … your lunchtime, or a few minutes in the car. Whenever that is, find that time that's right for you and pray that the Lord would give you a hunger to read and to understand and to apply His Word to your life."
The result is worth more than any other thing you can do for your child.
"Spending daily time with Jesus will help you set aside the noise and the distractions that make it hard to hear God's voice," Lynch said. "Because the wisdom that's only found in Scripture serves as a guide for our marriages, for our relationships, for our children. It serves as a guide to our friendships that might be broken and to our jobs and to our finances.
"And it gives us a peace and a strength to face life's greatest difficulties, and especially the strength to raise a family."
You don't have to go through life alone. Trust in Christ.