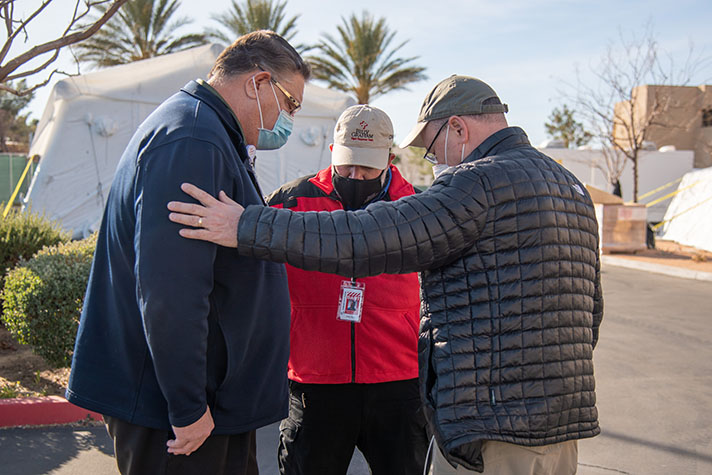 The Billy Graham Rapid Response Team (BG-RRT) has crisis-trained chaplains serving at a Samaritan's Purse field hospital that opened January 16 due to a coronavirus outbreak in Lancaster, California.
"We have the opportunity to help relieve some of the pressure from the healthcare system in Lancaster, and we're thankful our team can come alongside them. Please pray for the frontline workers fighting COVID every single day," said Franklin Graham, president of the Billy Graham Evangelistic Association and Samaritan's Purse.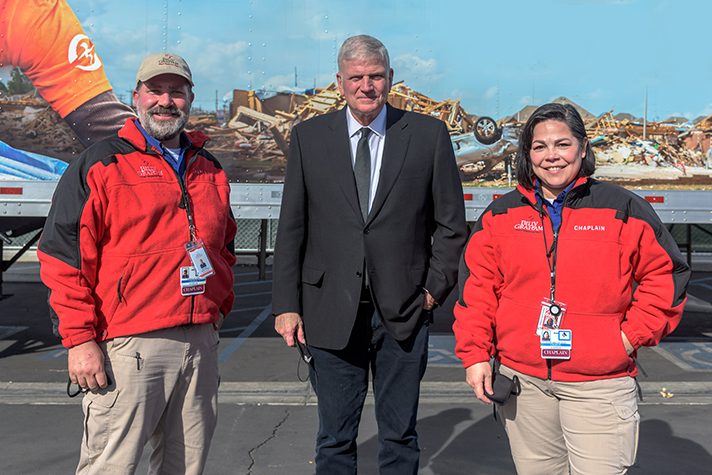 Recently, Rapid Response Team chaplains began offering prayer to patients and medical staff at another emergency field hospital in Lenoir, North Carolina. In 2020, they partnered with Samaritan's Purse to minister to hundreds of coronavirus patients in Italy, New York City and the Bahamas. Now, they're expanding from the East Coast to the West.
>> Watch how chaplains are offering comfort amid the virus in Lenoir, North Carolina. 
Invited by the Antelope Valley Hospital and the City of Lancaster, the more than 50-bed field hospital, specialized as a respiratory care unit, will help provide surge capacity for the region. Lancaster is part of Los Angeles County.
According to news reports, there have been more than 100,000 coronavirus hospitalizations in the U.S. for 40 consecutive days—and California is among the states with the highest number of cases per capita. "As the state of California struggles with a surge in positive COVID-19 cases, our prayers are with all of those who are impacted by this virus," added Josh Holland, BG-RRT's assistant director.
"We have a long history of deployments in California—mainly for wildfires that have devastated the state—and now we are sending a team of crisis-trained chaplains who will be available to provide emotional and spiritual support not only to those healthcare workers on the front lines of this battle against the coronavirus, but to the community at large."
Unsure of who to rely on in the face of uncertainty? Trust God today.