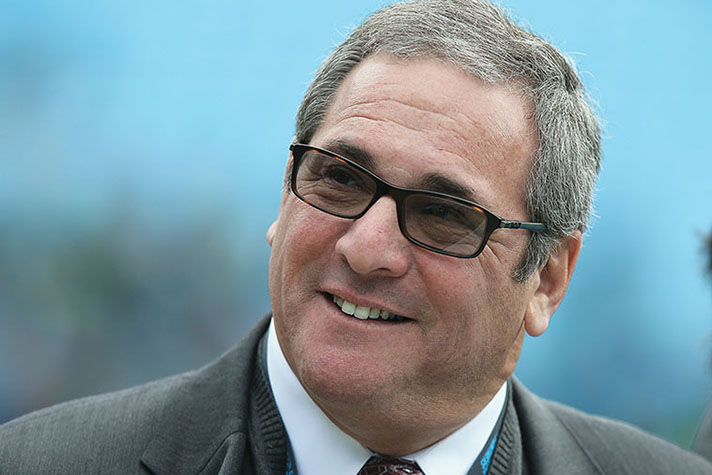 Editor's Note: Carolina Panthers general manager Dave Gettleman was named the NFL executive of the year on Monday, March 21, by The Sporting News. The award is considered the top individual honor for NFL front office personnel. Gettleman is a Messianic Jew who explained his journey to accepting Christ for the March issue of Decision magazine.
As general manager of the Carolina Panthers, Dave Gettleman is respected throughout the NFL for having a keen eye for talent, borne out of his meticulous evaluation of prospects' playing skills, character and temperament.
In three years on the job, he's helped build the Panthers into one of the NFL's elite teams. Though they lost Super Bowl 50 to the Denver Broncos, 24-10, they finished the season with a 17-2 record and have high hopes for the future.
Gettleman, 65, describes himself as extremely methodical and intentional about whatever he does in the scouting and evaluation process.
And he took a similar approach in his spiritual journey to becoming a Messianic Jewish follower of Jesus Christ.
"I never doubted the existence of God, and I never doubted His omnipotence, but it was hard because for years Jews have been called Christ-killers and persecuted like all get-out," Gettleman told Decision during a half-hour interview five days before the Super Bowl.
"People would say, 'Dave, you're part of the chosen people.' I'd say, 'Chosen for all that? Thank you very much, but let them choose somebody else.'"
Born into a conservative Jewish family, Gettleman was bar mitzvahed and attended Hebrew school. He learned to read and speak the Hebrew language.
He became casual in his practice of Judaism during his college days, attending temple mostly only on holidays celebrating the Jewish feasts.
Then he met the woman who would become his wife, Joanne, in 1983 and married her the following year. She had been raised in the Christian faith and helped him open his mind and heart to exploring the claims of Christ.
The process lasted for 22 years.
Along the way, the Gettlemans attended several Messianic and denominational evangelical churches. He recalls the time a Presbyterian pastor complimented him on his deep involvement in the church but asked the probing question: "What's holding you back?"
Gettleman recalls responding: "There's two basic things. If I come to faith, when my time is up on earth, I worry that I'm never going to see my parents because I don't know that they came to faith. And the second thing is, if this is real, if Yeshua (Jesus) is the Messiah, then I've got to change a whole lifetime of thinking.
"So if you look at it from that standpoint, that's a lot to wrap your mind around."
A major turning point came in February 2004 when Gettleman, then working for the New York Giants, attended a debate in New York City between Michael Brown, a Messianic Jewish scholar and author, and Jewish Rabbi Shmuley Boteach.
"The place was packed, and probably half the people there were Jews," Gettleman said. "Michael presented the Gospel in such a way that was crystal clear and so compelling that I noticed many looks of concern in the audience."
Gettleman's exploration was also sparked when he and his family began attending the Beth Messiah congregation in Livingston, N.J.
"I walked in there and it screamed, 'Jew!'" Gettleman said. "There was an ark, a Torah, men with yarmulkes and tallis. It was almost like that gave me an ability, a freedom, to give it serious thought and to say, 'Wait, there may be something here.'"
Gettleman was amazed by the descriptions and prophesies about Yeshua in the Tanakh (Old Testament), especially Isaiah 53, which describes His sacrificial death on the cross with great specificity.
"It's so powerful," Gettleman said.
So in 2005, at age 54, he repented and put his faith in Yeshua as the promised Messiah who died and rose again for the forgiveness of his sins, to give him eternal life.
"It's given me such a sense of peace, a sense of calm that I didn't have before," Gettleman said.
He believes it was God's plan to bring him to the Panthers from the Giants in January 2013, long after he had envisioned becoming a general manager.
Gettleman is a humble leader, consistently giving his predecessor, Marty Hurney, credit for leaving him with a strong roster. Gettleman chose to keep the head coach Hurney hired, Ron Rivera, despite that fact that most GMs insist on hiring their own coach.
Gettleman said he loves being in Carolina and feels like "a proud Papa" to the players who far exceeded expectations this past season.
For all that he's accomplished, he gives God the glory.
"It's exciting for me to follow the Lord," he said. "He's truly blessed me."
©2016 BGEA