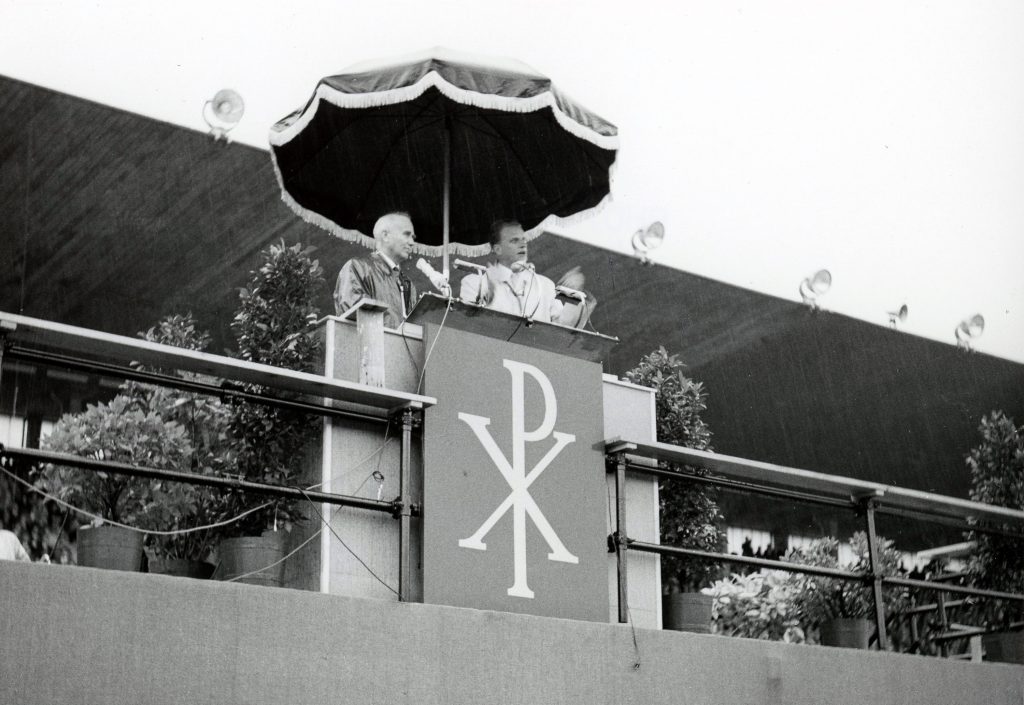 Q: What did Billy Graham do when the people inside a Swiss stadium couldn't hear him?
A: He left the platform and used an improvised microphone in the grandstands.
Billy Graham preached the Gospel thousands of times in just about every setting imaginable—pouring rain, scorching heat, tiny chapels and massive stadiums. There were many times when Mr. Graham and his team faced logistical issues that threatened to stop the message from going out.
One of those instances took place in Bern, Switzerland, in August 1960. Mr. Graham was scheduled to hold a two-night outdoor Crusade in the medieval city just north of the Alps. The amplification system in the stadium was so bad, Mr. Graham abandoned his podium and used an improvised microphone in the grandstands.
A Christianity Today article from September 1960 mentioned the incident, which happened on the first night of the Bern Crusade. About 16,000 people were there.
"Hundreds had to stand without a view of the speaker, who had to contend even with dogs snarling at each other during the service, and with part of his congregation constantly on the move for a better view," the article reads. "Yet when Graham, unperturbed by these obstacles, turned the inner wall around the turf into an altar rail, hundreds stepped forward."
More than 1,200 people indicated making decisions for Christ during the Bern Crusade, which was part of a six-week tour of Switzerland and Germany. During that time, more than 800,000 people attended Crusades in seven cities.
If you enjoy learning about some of the lesser-known stories from Billy Graham's life and ministry, check out more trivia questions.