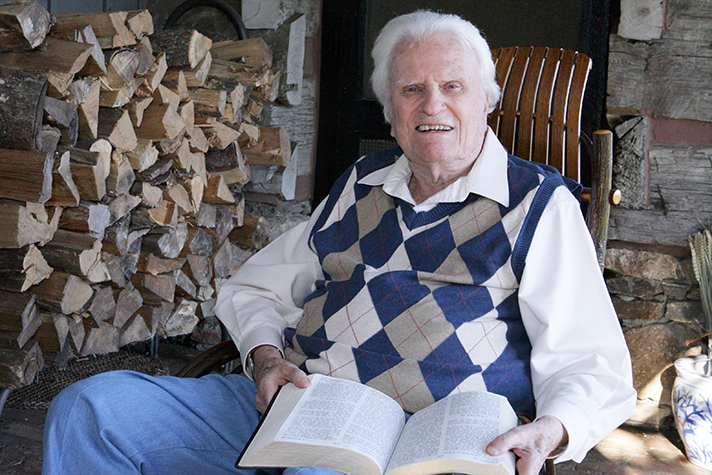 "Our job in life is not to be successful, but to be faithful." —Billy Graham
After recently turning 99 and entering his 100th year of life, Billy Graham has been recognized once again as one of the people Americans admire most—an honor he has received 61 times.
>> Has Billy Graham had an influence on your life? Share your story.
Gallup just released its annual list after asking more than 1,000 Americans which man and woman in the world they admired most. The poll has two criteria: the man or woman must be living, and the open-ended question is asked with no prompting, meaning those whose names are in the headlines are likely choices.
Mr. Graham has been among the top 10 most admired men every year since 1963 (except 1976 when the survey didn't happen). He also appeared on the list every year from 1955-1961. He was ranked fourth this year.
Although he has never placed first (a spot usually reserved for U.S. presidents), he has been on the list more times than anyone else. Queen Elizabeth II follows his record with 49 appearances. Mr. Graham and the Queen have been friends for many years. Their friendship was recently portrayed in the second season of the TV series The Crown.
Former President Barack Obama and former secretary of state Hillary Clinton each received recognition as 2017's most admired man and woman—titles they've retained for the past decade. Still, the margins were more narrow this year with President Donald Trump trailing 3 percent behind Obama, and Clinton skimming past former first lady Michelle Obama by only 2 percent.
Others on the list for most admired men included Pope Francis (who took third place), Sen. John McCain, Bill Gates, Vice President Mike Pence and Amazon CEO Jeff Bezos.
Oprah Winfrey, Sen. Elizabeth Warren, First Lady Melania Trump and Duchess Kate Middleton were also among the most admired women.
Decades of Influence
Billy Graham founded the Billy Graham Evangelistic Association (BGEA) in 1950 and has preached the Gospel to more people in live audiences than anyone else in history. Hundreds of millions more have been reached through television, video, film and the internet.
The evangelist has preached in remote villages and in the heart of New York City. He's ministered to heads of state as well as the simple-living bushmen of Australia and the wandering tribes of Africa and the Middle East, desiring all people to have a relationship with God.
Mr. Graham has also written 33 books. His recent works include Where I Am: Heaven, Eternity, and Our Life Beyond (2015), The Reason for My Hope: Salvation (2013), The Heaven Answer Book (2012), Nearing Home: Life, Faith and Finishing Well (2011) and Storm Warning (2010).
Despite his many accomplishments, Mr. Graham has said, "Our job in life is not to be successful, but to be faithful."
Now in his 100th year of life, the "pastor to presidents" continues his ministry through prayer at his Montreat, North Carolina, home. His work is also being carried out by multiple BGEA ministries.
One of these ministries is the Decision America Tour led by his son, Franklin Graham.
This past year, tens of thousands heard the Gospel through the Decision America Tour in Texas and Tennessee. In 2016, Franklin traveled to all 50 states, holding prayer rallies and telling the Good News in every capital city, while he encouraged people to pray, vote and engage in political elections.
Franklin will be traveling to the West Coast in 2018 to continue the Decision America Tour through one-day prayer and evangelism events in several cities across California, Washington and Oregon.
Learn more about the Decision America Tour.
The Gallup poll was conducted Dec. 4-11, surveying 1,049 American adults nationwide by phone. The overall margin of error is plus or minus four percentage points.