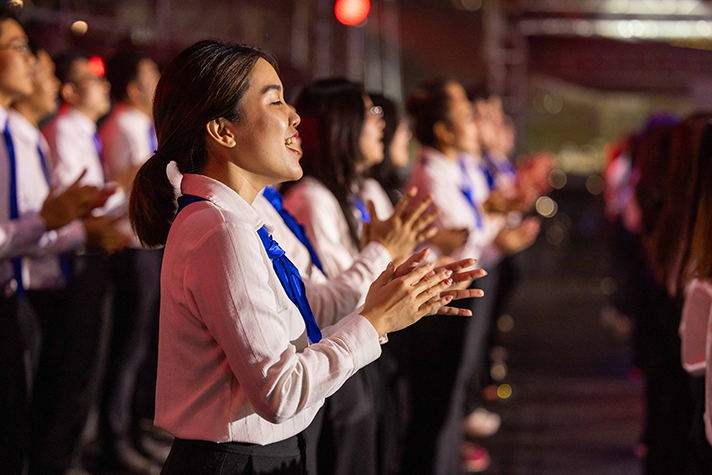 When she first arrived at the Phú Thọ Sports Stadium in Ho Chi Minh City, Janet got goosebumps.
"I never thought I'd see the day," she said, having grown up in Vietnam.
"Now people have choices in my country [about faith]. There are millions here who have never heard the Name of Jesus."
Franklin Graham shared the Gospel of Jesus Christ again Sunday at the Spring Love Festival, which drew thousands on Saturday.
>>See photos from the two-day Spring Love Festival.
"There's only one road to God," said Franklin Graham. "It is through Jesus Christ. No one else has paid the debt of your sins. Jesus Christ, He came to save you."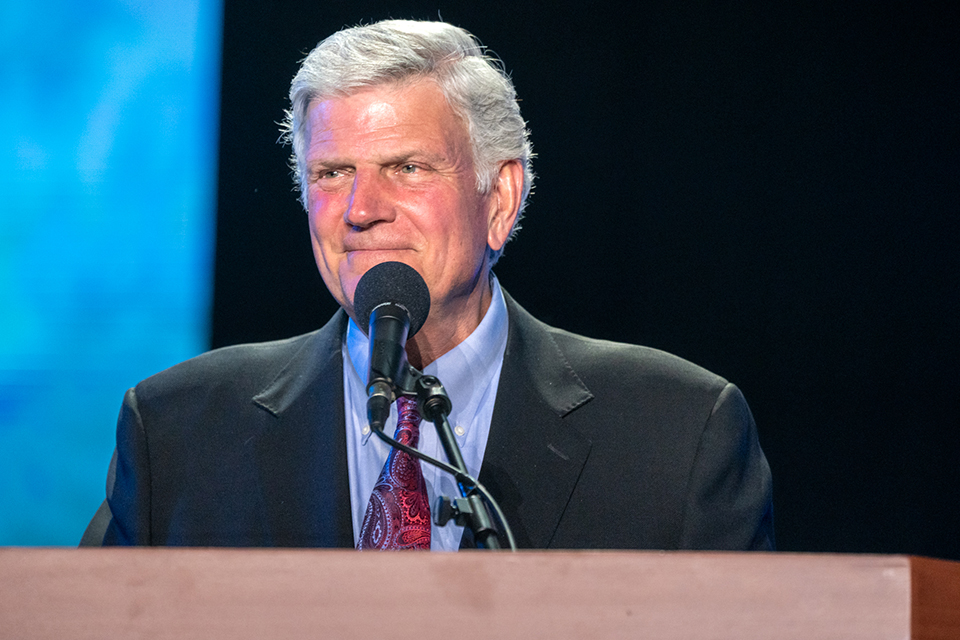 With the Festival coming to a close, local churches will walk alongside those who chose to accept Christ over the weekend, helping them study God's Word and grow in their faith.
"We have to do our part for new believers—disciple and build them up in Christ," said Janet, who's passionate about sharing the hope of eternal life in her homeland. "There are already many young Christians and God wants to use them."
Long before Festival weekend, God was stirring the heart of a 23-year-old college graduate named Kim. She quit her job in hopes of finding more meaningful employment and ministry opportunities.
With her free time, the spunky public relations grad focused on telling others about the Spring Love Festival and the opportunities to reach friends for Christ. Sharing the event on social media, Kim wrote, "It's very special, a one-time event and it can change your life."
While meeting friends for coffee, Kim shared her faith and invited them to the Festival. "God gave me the courage," she said.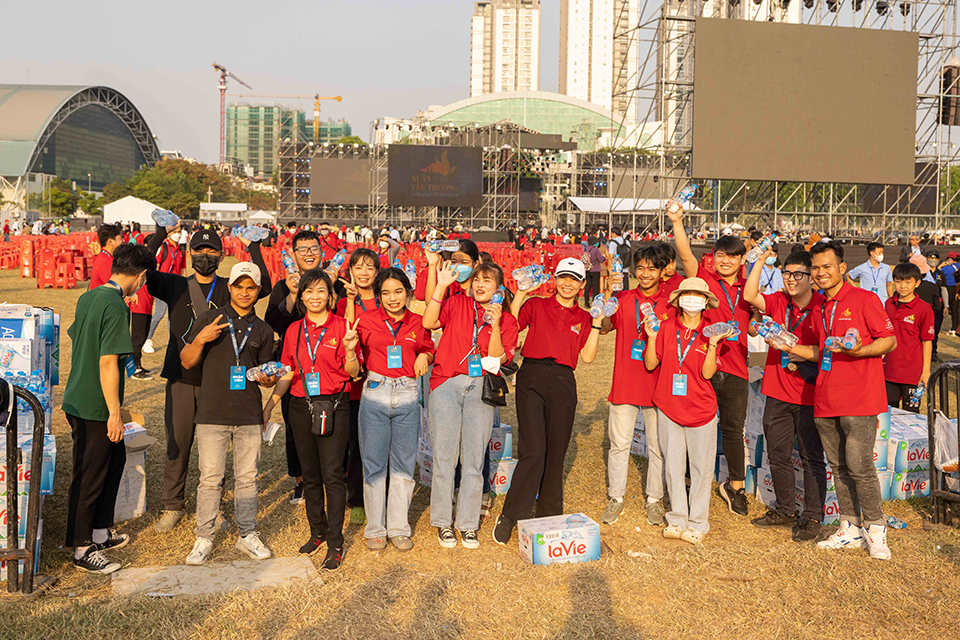 Altogether, Kim invited 60 family members, friends, and co-workers to come, writing their names on cards and praying for them one by one—many times while riding her motorbike through the city.
"There are many broken people here," she explained. "Young people move here but feel lonely because their family is far away."
Without a purpose, she said, they often try to find their identity in work or relationships, which leave them feeling empty.
While serving as an interpreter at the Festival, Kim said she knows God wants her to use her talents to share the Good News of Jesus Christ. "This is my time," she said. "God gave me a time to serve."
More than 9 million people live in Ho Chi Minh City, and thousands came to hear a message of hope over the weekend.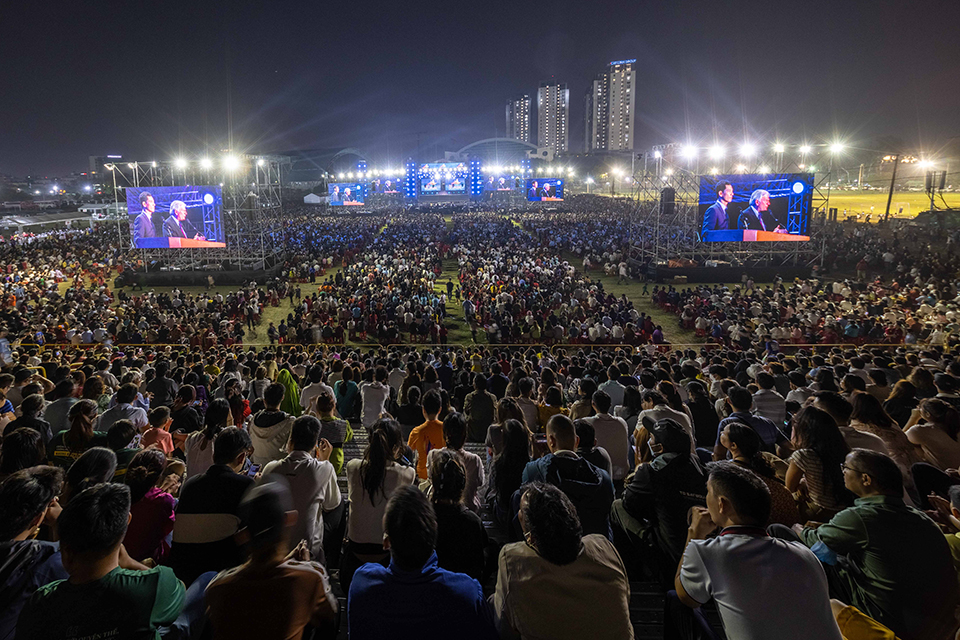 Eternity in Sight
Hā was smiling from ear to ear as her niece and great-nephew talked with a counselor about their decisions for Christ.
"I feel really joyful," the older woman said. In the past, she had shared Jesus with her niece, Sang, and Sang's 12-year-old son. Sunday, she witnessed them respond to the Gospel when Franklin Graham gave the invitation.
"This Festival has been a great opportunity to share the Gospel with people," Hā said.
One man, Tirh, made the three-hour trip to the Festival  from another province on a bus arranged by his church. He brought his niece and nephews who have visited his church in the past. Tirh said the long ride was well worth it.
His niece and all four of his nephews asked Christ into their hearts on Sunday.
"I am delighted the children came to Jesus," he said.
Now that the Festival has ended, the grassy field at the sports stadium will return to normal, open for practices and games. But for those who surrendered their lives to Jesus Christ, life will never be the same.
It's an incredible triumph for Ho Chi Minh City, said Festival Co-Chair Rev. Nguyen Vo Khanh Giam. He said everyone is grateful for the government's permission to hold the event.
"When we look back at the history of … our city, it is amazing to have Franklin Graham, government leaders, and Vietnamese people together," he said. "We can talk about truth. It is beyond our wildest dreams to see the Gospel preached among our people in this city."