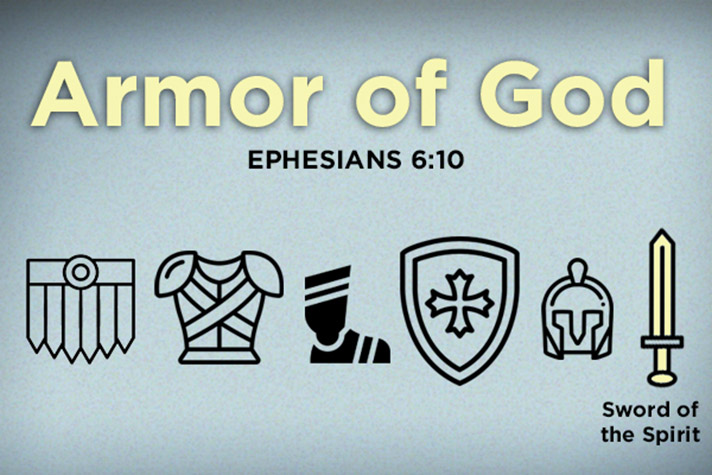 This is part 5 of our 5-part Summer Soul Refresher series, focused on wearing the armor of God during spiritual battle. If you missed it, read part one, part two, part three and part four. 
"In all circumstances take up the shield of faith, with which you can extinguish all the flaming darts of the evil one; and take the helmet of salvation, and the sword of the Spirit, which is the word of God, praying at all times in the Spirit, with all prayer and supplication."
—Ephesians 6:16-18
It may seem straight out of a storybook: A knight in shining armor wielding his sword in battle.
But 2,000 years ago when the Apostle Paul was writing a letter to the church in Ephesus, the sword was one of the main weapons used in battle. As he wrote about the need to be strong in the Lord and ready to fight the devil's schemes, he listed numerous pieces of armor for believers to use to protect themselves in spiritual battle. He mentioned only one item that's an offensive weapon: the sword of the Spirit.
"The one weapon we have is 'the sword of the Spirit, which is the word of God' (Ephesians 6:17, ESV)," Franklin Graham said. "We need to know God's Word inside out, and we need to trust in its truth and power."
Although swords aren't used for fighting, the Bible isn't outdated. In today's world, as many are rejecting God, believers must stand on the truth of His Word.
>> Where does the Bible come from? Plus, get tips for reading God's Word.
According to a Gallup poll, a record-low 20 percent of Americans claim the Bible is the literal word of God. Another 29 percent say the Bible is a collection of "fables, legends, history and moral precepts recorded by man."
"Today, too many so-called Christians either don't know or trust God's Word," Franklin Graham said. "In their eyes … His judgment is not to be feared. The devil can't be real. Hell is not eternal.
"That's frightening and deadly. Jesus not only warns us repeatedly about hell, but He gave His life on the cross so that we might be free of sin and escape eternal death and damnation, if we trust Him as our Lord and Savior."
In John 10:10, Jesus states, "The thief comes only to steal and kill and destroy. I came that they may have life and have it abundantly."
You may not be hearing explosions nearby or missiles flying overhead, but there is a battle happening for your soul. Don't leave your sword in the scabbard [its holder]—or your Bible untouched on the nightstand.
Because even though the devil can't steal your salvation, he will do everything to try trip you up on your walk with the Lord.
"Many of you have frustrations and difficulties on a personal level," Billy Graham once said. "You have a civil war raging inside of you. I want to tell you that Jesus Christ can solve that problem and lift that heavy burden. He can bring peace to your soul."
Is the devil stealing from you? Distracting you? Attacking you?
Don't just stand defenseless, letting him beat you down. There's a way to fight back: God's Word.
Jesus exemplified this as He fought Satan in the wilderness. Jesus used Scripture in his heart to combat temptation, saying, "Away from me, Satan! For it is written: 'Worship the Lord your God, and serve Him only' (Matthew 4:10).
And what did the devil do? He left, unable to penetrate Jesus' heart and mind.
Billy Graham said, "If our nation at this hour would turn to the Word of God, then I guarantee on the authority of God's Word that the enemies at our gates could be pushed back; God would intervene and put them to flight."
If Satan is gaining ground in your life, the best antidote is a steady dose of Scripture. As you immerse yourself in God's Word, you will be equipped to overcome the devil's lies and stand firm on truth. If we rely on our own words or wisdom, we're likely to trip up.
Hebrews 4:12 says, "For the word of God is living and active, sharper than any two-edged sword, piercing to the division of soul and of spirit, of joints and of marrow, and discerning the thoughts and intentions of the heart."
To wrap up this summer series, as you prepare for challenges this fall, consider your armor. What are you wearing? Put on the belt of truth, the breastplate of righteousness, the shoes of readiness. Grab your shield of faith and strap on your helmet of salvation.
And wield the sword you've been given—God's Word—to withstand the devil's schemes.
"Let's rededicate ourselves to the Lord through prayer and Bible study so that we will always be ready to speak the truth in love," Franklin Graham said. "Christians, know your weapon."