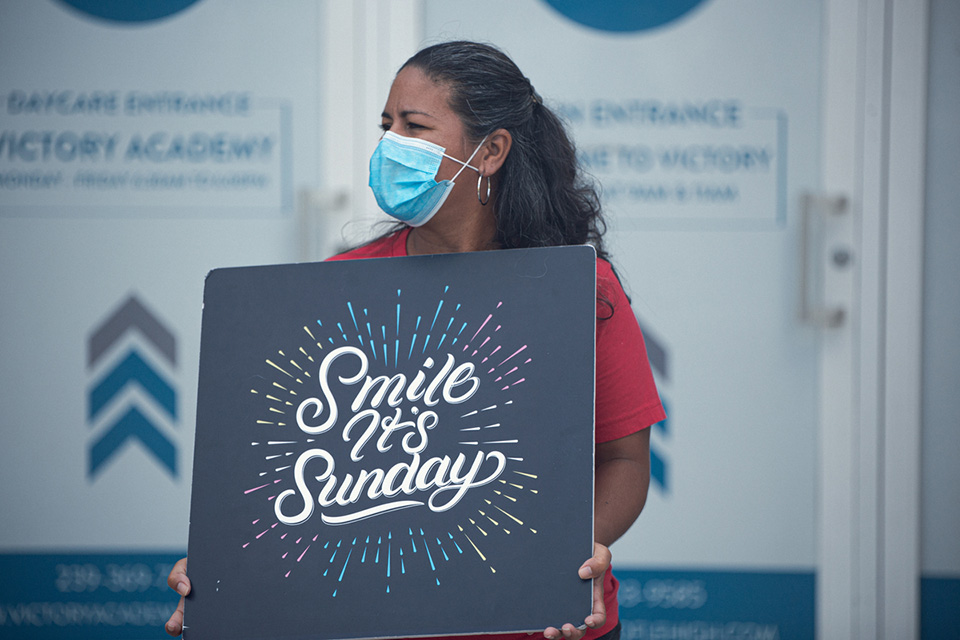 As the COVID-19 pandemic rolls on, church gatherings are ever-evolving. Some communities have continued to meet virtually while others are moving to in-person models. The response depends largely on the congregation involved, but pastors like Will Graham agree one aspect is critical: fellowship.
"And let us consider how to stir up one another to love and good works, not neglecting to meet together, as is the habit of some, but encouraging one another, and all the more as you see the Day drawing near."
—Hebrews 10:24-25, ESV
When Life Church re-opened its doors in mid-June, it wasn't the big return Pastor James Sharp envisioned earlier in the COVID-19 pandemic. There wasn't any hugging, and protective face masks shielded smiles.
But this body of Christ in Salisbury, North Carolina, was starting to gather again. In person.
And that was reason enough to rejoice.
"It was a shadow of the gathered church that I know and love, my local church," Sharp said. "It's better for sure than online in the terms that it's several degrees closer to what the New Testament envisions for the people of Christ gathered together."
All over America, churches are starting to meet again after months of embracing a virtual model. The onset of COVID-19 in early March prompted stay-at-home orders nationwide and churches followed suit. During the downtime, people increasingly found their way to evangelistic sites like the Billy Graham Evangelistic Association's PeaceWithGod.net, where they learned more about Jesus and why He matters.
Fight the Consumer Christianity Mindset:
Discipline. In a word, that's how a believer can combat slipping into complacency. Turn off the television and open your Bible, Will Graham encouraged. Make it a priority.
"If God's people right now are willing to discipline themselves and read their Bibles, … it could be the greatest revival the world has ever seen," he said, leaning on Matthew 6:33 ("But seek first his kingdom and his righteousness, and all these things will be given to you as well.")
"Imagine the outcome."
But answering Jesus' call isn't the final step for a Christian. God designed believers for community with one another. Beyond learning more about God together (Proverbs 27:17), we can bear one another's burdens (Galatians 6:2). We remind each other we're not alone even in a world rife with division.
Church as a Buffet
"The Christian community is designed to be together," explained Will Graham, executive director of the Billy Graham Training Center at The Cove. "[Hebrews 10:25 says] 'Do not forsake the gathering of one another.' But yet we do. We say, 'I don't need it. I'm just going to listen and scoot on.'
"And I think that's one of the problems that's going to plague the church after COVID. We've already got supermarket mentality in the church. I want my latte, I want this and this, I want a nice chair, a recliner. We were like that before COVID. And now I think it's going to increase."
The lockdown period of COVID-19 potentially pushed that consumer mentality one step further. Without a personal connection to their local body of believers, people who usually attended church could shop around the internet for their preferred speaker and favorite musical arrangement.
Of course the cost is high when Christianity becomes what Sharp called "spiritual goods and services."
"It leads us toward the people who are producing the best product," Sharp said. "And consuming that product is completely separated from a relationship with people who know me and whom I know, a relationship with people who are investing in me and in whom I'm investing—which I'm pretty sure we would all agree that's really what the church is supposed to be."
Before COVID-19 hit, an example of that investment would be the childcare volunteers at your church. Families wrangling busybody toddlers have lamented on social media how much they miss children's church. But it's not just babysitting. Sharp said these volunteers are partnering with the parents to teach children about Christ. They're investing in the children, the family, the future.
Loving God, Loving Others:
Serving one another in love (Galatians 5:13) during this pandemic requires a bit of creativity. Consider a phone call or a handwritten letter. Maybe stop to check on your neighbors with some storebought goodies. These connections can be impactful in the long run.
A Digital Gateway
There are many pluses to offering a virtual service, and pre-pandemic, Venture Church in Dallas, North Carolina, found online viewers sometimes became in-person attendees. During a roundtable discussion in late April, Venture Pastor Austin Rammell explained that almost every first-time visitor watched his church's livestream before attending in person.
"Our primary visitor is someone who didn't grow up in church, so that's a big deal," Rammell said. "There's a huge lost world for us to engage with the Gospel and it's there for free [on Facebook]."
Rammell went on to say he first heard about Billy Graham on television, not at an event.
"The Billy Graham Evangelistic Association was way out in front decades ago thinking we can get 100,000 in this stadium but we can reach millions on TV," Rammell said. "The internet is allowing us to do that, and COVID has created an interesting opportunity."
Early in the pandemic, pastors like Vince Riley said the online presence was a game-changer. "We're reaching people that we never would have had the opportunity to reach, those who never would have darkened the door of our church," Riley shared during that same roundtable.
Statistics are kind of impossible when it comes to accurately tracking online viewership, especially if a church employs multiple platforms like a website and social media. But an August Pew poll suggests that virtual reach may be short-lived as "more than eight-in-10 U.S. adults anticipate no lasting changes to their religious attendance habits."
A Barna survey from July reported that 32 percent of practicing Christians have stopped attending church altogether during the pandemic.
"We've seen it in the past," Graham said, acknowledging the tragic events of 9/11. "People stop going to church. They got their God in for the year. Now they're going back to the way things used to be."
No Going Back
In some ways, there is no going back. We've even got the phrase "new normal" that suggests our pre-pandemic ways will always be a memory.
But our habits have power. If we've gotten in the habit of forsaking the body of believers—that is just consuming a church service whenever it benefits us—we can discipline ourselves back to practicing fellowship.
"Going back to the building and having fellowship, that is very, very important to the Christian body," Graham said. "I can tell you right now that online interaction is not the same.
"Yes, we can listen to God's Word. It's important to listen to God's Word. We don't need to be in the building, but the Christian community is designed to be together."
Sharp's church has started to settle into a rhythm with about 30 percent of his congregation attending one of two in-person services on a regular basis. There are still active members of his church who have to engage virtually for this period of time, but the key part is they're engaging. One couple, for instance, was limiting their exposure while awaiting grandchildren.
In-person services might not be the answer for everybody at this point. But that doesn't mean forsaking fellowship, particularly during a time when people are reportedly feeling more anxious and depressed. Sharp said he would encourage someone in that position to let his or her pastor know.
>>Read: How Christians Can Fight Depression
"We don't want anyone to feel any measure of shame for choosing not to gather because we realize for everyone that's not the wisest thing to do," Sharp said. "But for these folks [who contact us], my responsibility then is how to connect, reach out so that person can still feel like they're part of our church family."