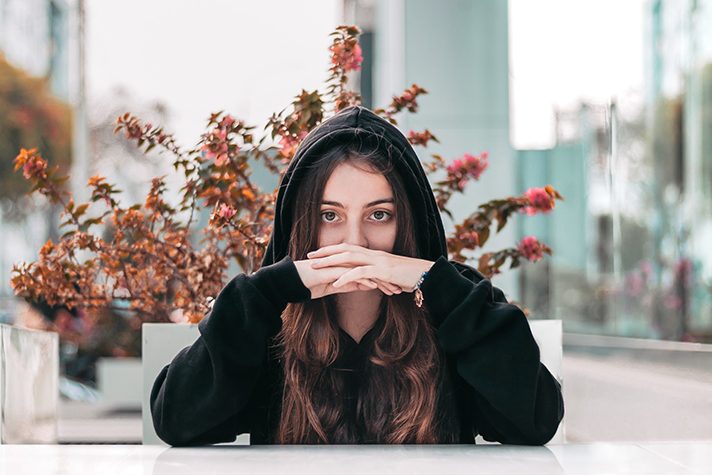 A recent survey revealed that U.S. adults are the most unhappy they've been in nearly 50 years.
The Great Recession, 9/11, Hurricane Katrina, Columbine. Of all the distressing events American people have endured over the past five decades, this is the time when happiness is at an all-time low.
And Christians aren't exempt from this pain.
In your circle, well-meaning friends might underestimate your emotional struggles. "Just pray and read your Bible," they may say. But what if you do all the "right" things and are still depressed?
As a start to finding peace, read these 5 Biblical truths—and never give up.
1. An enemy is fighting against you.
"For we do not wrestle against flesh and blood, but against the rulers, against the authorities, against the cosmic powers over this present darkness, against the spiritual forces of evil in the heavenly places." —Ephesians 6:12
Each day, there's a battle raging for your soul. Our emotions are a spiritual battleground, and Christ followers aren't immune to Satan's attacks. In fact, the more you live for Christ, the more of a threat you become to the devil.
"When you walked Satan's way in the world, he didn't go out of his way very much to bother you," Billy Graham once explained. "But now since you have received Christ and are a child of God, Satan will use all his diabolical techniques to thwart, hinder and defeat you."
So, if you're feeling down, don't question your salvation or your relationship with God. That's just what the enemy wants. Instead, acknowledge his evil schemes and equip yourself to fight back.
>> Read: Ephesians 6:10–20
2. Happiness and joy aren't the same.
"Rejoice in the Lord always; again I will say, rejoice." —Philippians 4:4
Let's face it, we don't always feel like smiling. So what's more Christ-like? Putting on a fake face or walking around in gloom?
Thankfully, there's a middle ground. Emotions—like happiness—change like the ocean waves. But beneath the crashing crests, you can have a deep undercurrent of joy.
On days when happiness seems in short supply, lean into joy. The Psalmists often grapple with that tension—between the call to rejoice and daily struggles. Put language to your heart's cries; read the Psalms and connect with their words, inspired by God Himself.
>> Read: Psalm 139
3. Spiritual disciplines will sometimes feel like disciplines.
"There is no other name under heaven given among men by which we must be saved." —Acts 4:12
We know Jesus is our only hope. However, we might not wake up every morning eager to dig into the Bible, pray to our Father and sing His praises. When you're in the depths of depression, talking to God may be the last thing you feel like doing.
Spiritual disciplines are called that for a reason—we have to train ourselves to do them, even when our hearts aren't in it. So pray, read the Bible, worship and witness. He might not deliver you immediately, but God will respond.
>> Read: Jeremiah 29:11–14
4. God can bring good out of this situation.
"We know that for those who love God all things work together for good, for those who are called according to his purpose." —Romans 8:28
Whether you're aware of it or not, this period of discouragement is giving you genuine empathy for friends, family and coworkers with similar struggles.
As you encounter people struggling emotionally and mentally, be prepared to talk about your own experience. Have honest conversations with brothers and sisters in Christ. Connect with nonbelievers—and think about how difficult it would be to navigate depression without the purpose that Christ provides.
More Resources
Remember, you don't have to pretend life is perfect just because you're a Christian. But you can point people to a Savior who sympathizes with our sorrows and wants to sit with us in the midst of them.
>> Read: 1 Peter 1:6–7
5. You're not alone.
"For we do not have a high priest who is unable to sympathize with our weaknesses, but one who in every respect has been tempted as we are, yet without sin."
—Hebrews 4:15
Not even Jesus avoided despair during His time on earth. He was tempted. He grieved. He cried out to God.
And you're only human. So as you fight depression, don't try to muster up the strength on your own. Open up to people you trust about what you're going through. Be receptive to their advice. Accept their help.
Life is a journey, and the lows don't last forever. But when the darkness lingers, don't fight alone.
>> Read: 1 Corinthians 15:55–58
Any time, day or night, you can talk to someone on the BGEA Prayer Line at 1-888-388-2683.
Connect with us online at PeaceWithGod.net. Look for the chat button in the lower right-hand corner.