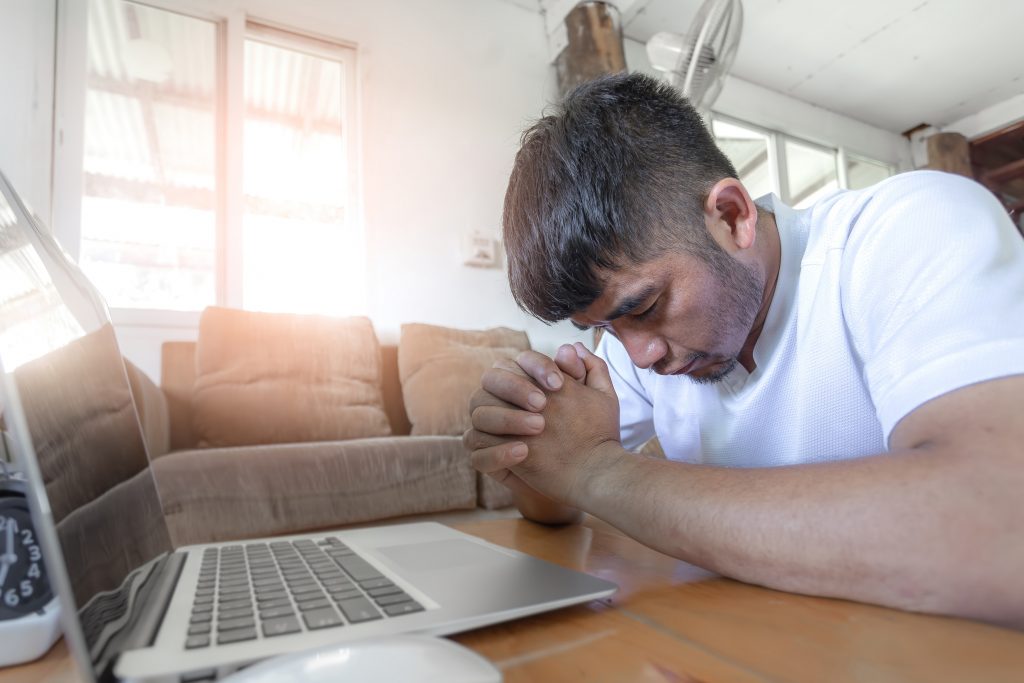 Throughout the pandemic, men and women from countries all over the world have been clicking on Peace With God websites in six languages. Many of them have discovered Jesus or grown closer to Him.
These sites are part of Billy Graham Evangelistic Association's online ministry, Search for Jesus. One popular component of this ministry is a free online course called Know Jesus, which explains what it means to be a Christian and how to follow Christ.
Below are 10 recent stories from people who took the free course.
>> Find out who Jesus is, and chat with an online coach 24/7
>> Sign up for the free Know Jesus course and start growing in your faith
Optimistic About the Future
"I feel more positive and optimistic about the future now that I have made the decision to trust Christ," a woman named Briana wrote. "My life is different now. I have more faith that everything will work out the way it is supposed to." She said the Know Jesus emails that pop up in her inbox remind her to continue putting her trust in Christ.
Peace in the Midst of Homelessness
"It has been only two weeks since I came upon your ministry, but it has helped me though the darkest [times]," James* typed after making the decision to accept Jesus. "I'm homeless, living on the streets, but I still feel at peace, knowing God and Jesus are watching over me."
As for the Know Jesus course, he wrote, "A lot of my bitterness has gone away, and I put my trust and faith in Jesus Christ. Thank you so much for that."
'Been Fighting With My Wife'
Javier* made the decision to accept Christ in the middle of a difficult time in his marriage. "I was becoming bitter and angry, been fighting with my wife two straight months," he typed. "Ever since I started to hear the Word of God, I've been getting on my knees, talking to our Father in Heaven. … I'm feeling much better now. I'm not fully there, but I don't feel the same anymore."
Javier said the Know Jesus course has helped him grow in his faith and trust God as he learns "not to give up no matter how big the problem is. Nothing is bigger than our Lord Jesus."
An 'Elated' 21-Year-Old
"I am 21, and for some reason I just can never seem to listen to contemporary preachers," Angeline wrote. "I've always stuck with the late Mr. Graham, so when I did come across the website, I was very elated." Angeline said she's trying to "flee the worldly life" that had a strong hold on her.
"These emails and words help me stay rigid in God, and that's what I need. I really can't afford to keep wavering around because I have set my priorities straight and I would like to stick with them. … This platform has been giving me the guidelines to keep me grounded and encouraged me to live a better life closer to God."
Learning Together in the Middle East
"This user-friendly encouragement, easy to understand, helped my small family," Miriam* wrote. "We are in the Middle East where we have limited access to churches." She does the lessons with her 8-year-old daughter before bed. "Thank you," Miriam wrote, "because even a child can understand it."
Human Connection in the Age of COVID
"At a time when the world feels so far away and abstract, the messages the ministry sent gave me a human feel in the name of Jesus Christ," Robin wrote. "I appreciate that very much."
No More New Age
"Christ saved me from darkness," Rafaela wrote. "He gave me eternal life." When asked how the Know Jesus course has helped her, she wrote, "I was studying New Age teachings, but God had mercy on me, showing me the truth, and the truth set me free."
>> Listen now: How a young woman escaped the darkness of New Age spirituality and witchcraft
'I'm Not a Bible Reader'
"I'm not a Bible reader, because I feel it is too difficult to understand," Vivian wrote. "This ministry is helping me understand [the parts of] the Bible that I have a hard time [interpreting]."
Hope for a Widow
"It has given me hope," Susan wrote about taking the Know Jesus course. "I have started reading the Bible every day after losing my husband 18 months ago. I now have a renewed faith in God.
"After being a wife of 40 years, now I am alone. It was so hard at first, but now I look forward to every day."
Out of the Gutter
"God lifted me up out of the gutter," Carolyn wrote about her decision to accept Jesus Christ as her Savior. "He welcomed me back into the flock with open arms, not condemning me for what I had done but showing me love. Jesus Christ will never turn His back on you no matter what you have done. Thank you, Jesus, for believing in me and restoring me to who you want me to be."
About the Know Jesus course, Carolyn wrote, "Your team helped me to remember that there are Christians out there that want to listen to me and truly want to help me and give me a hand up when I stumble and fall. You did that for me without criticizing. I know you will continue to help others. God bless you."
*Names changed for privacy
>> Start the free Know Jesus course right now