Profile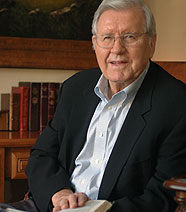 "The Christian faith is a singing faith, and a good way to express it and share it with others is in community singing."
These are the words of Cliff Barrows, music and program director for the Billy Graham Evangelistic Association, who once led congregational singing and Crusade choirs around the world with Billy Graham. Mr. Barrows first met Mr. Graham while on his honeymoon with his first wife, Billie (deceased), near Asheville, N.C., in 1945. Music played a significant role in the programming of Billy Graham Crusades, for which Mr. Barrows was responsible since they formally began in Grand Rapids, Mich., in 1947. Together, he and Mr. Graham shared the Gospel around the globe.
From the beginning of Mr. Graham's Crusade ministry, George Beverly Shea and Cliff Barrows were the nucleus of the Crusade musical team. They were joined in 1950 by pianist Tedd Smith, and through the years, organists Don Hustad and John Innes provided additional accompaniment.
"I've had no greater joy than encouraging people to sing," said Mr. Barrows. "Every great moving of the Spirit of God has been accompanied by great singing. I believe it will always be so!"
Mr. Barrows remained active in his later years in the Billy Graham Evangelistic Association. He served as host of The Hour of Decision radio program for more than 60 years and continued that position for a time through the Hour of Decision Online Internet radio program. He also served on the Billy Graham Evangelistic Association Board of Directors, beginning in 1950.
In addition to singing at Franklin Graham Festivals and Will Graham Celebrations, Mr. Barrows regularly hosted Christmas at The Cove, as well as SeniorCelebrations, three-day events geared toward senior citizens at the Billy Graham Training Center at The Cove in Asheville, N.C. He also helped with BGEA's Schools of Evangelism ministry for more than 40 years.
For significant contributions to Gospel music, Mr. Barrows was inducted into the Nashville Gospel Music Hall of Fame in April 1988, and into the Religious Broadcasting Hall of Fame in February 1996. Mr. Barrows was also inducted, along with Billy Graham and soloist George Beverly Shea, into the inaugural class of the Conference of Southern Baptist Evangelists' "Hall of Faith" in 2008.
"His uncanny ability to lead a Crusade choir of thousands of voices or an audience of a hundred thousand voices in a great hymn or Gospel chorus is absolutely unparalleled," writes Billy Graham in his autobiography, Just As I Am. "But all of that talent is not the secret of Cliff's effectiveness," he writes later. "It is his humility and his willingness to be a servant, which spring from his devotional life and his daily walk with Christ."
Mr. Barrows was born and reared in Ceres, Calif. He was married to his first wife, Billie, for nearly 50 years. Then God brought Mr. Barrows and his second wife, Ann, together following the death of both of their spouses to cancer. He and Ann made their home together in Marvin, N.C.
Mr. Barrows, who passed away on Nov. 15, 2016, at the age of 93, had five children: Bonnie, 1948; Robert, 1950; Betty Ruth, 1953; Clifford (Bud), 1955; and William Burton, 1962.
Biography
Life
Cliff Barrows
April 6, 1923 – November 15, 2016
Ceres, California
Parents
Harriet M. and Charles Tilson Barrows (both deceased)
Married
Ann Prince
Billie Newell (deceased)
Vocation
1944: Ordained to ministry, Baptist Church, Ceres, California
1944-1945: Assistant Pastor, Temple Baptist Church, St. Paul, Minnesota
1945: Music and Program Director for the Billy Graham Evangelistic Team
1950-2014: Program Director and Host for "Hour of Decision" radio program, broadcast around the world for more than 60 years
1950-2000: Board of Directors, Vice Chairman, BGEA (Emeritus 2001)
1956-1995: Board of Directors, The Navigators (Emeritus 2009)
1962-2007: Board of Directors, Blue Ridge Broadcasting (Emeritus 2008)
1965-1970: President, World Wide Pictures
1971-1972: Interim Pastor, Taylors First Baptist Church, Taylors, South Carolina
1989-2013: Board of Directors, Crowley-Shanahan (Emeritus 2014)
2014: Host, "Hour of Decision Online" weekly Internet radio program
Education
1940: Diploma, Ceres Union High, Ceres, California
1944: B.A. in Sacred Music, Bob Jones University HONORS
1968: Honorary Doctor of Sacred Music, John Brown University
1988: Inducted into the Nashville Gospel Music Hall of Fame
1996: Elected to Religious Broadcasting Hall of Fame (NRB)
2006: Received the National Religious Broadcasters' Milestone Award
2008: Inducted into the "Hall of Faith," The Conference of Southern Baptist Evangelists
Children
Bonnie, 1948
Robert, 1950
Betty Ruth, 1953
Clifford (Bud), 1955
William Burton, 1962