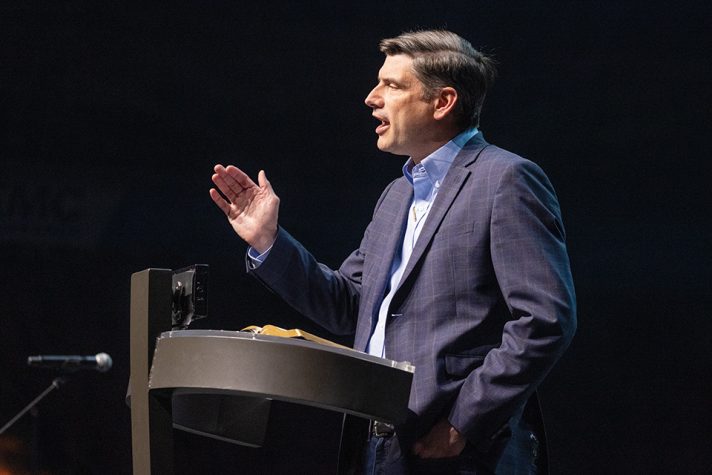 Dear Friend,
In Matthew 9, Jesus traveled through Galilean villages and cities, teaching and healing. He saw everyday people running here and there, struggling through life. He looked on them with compassion, likening the people to "sheep without a shepherd" (Matthew 9:36, ESV).
Turning to His disciples, He lamented, "The harvest is plentiful, but the laborers are few; therefore pray earnestly to the Lord of the harvest to send out laborers into his harvest" (Matthew 9:37–38, ESV).
That verse has gone through my mind several times in recent weeks, as we held multi-day evangelistic outreaches in America's heartland. The Black Hills Paha Sapa Celebration took place in Rapid City, South Dakota, Sept. 24–26, and the Iowa Celebration in Des Moines, Oct. 1–3.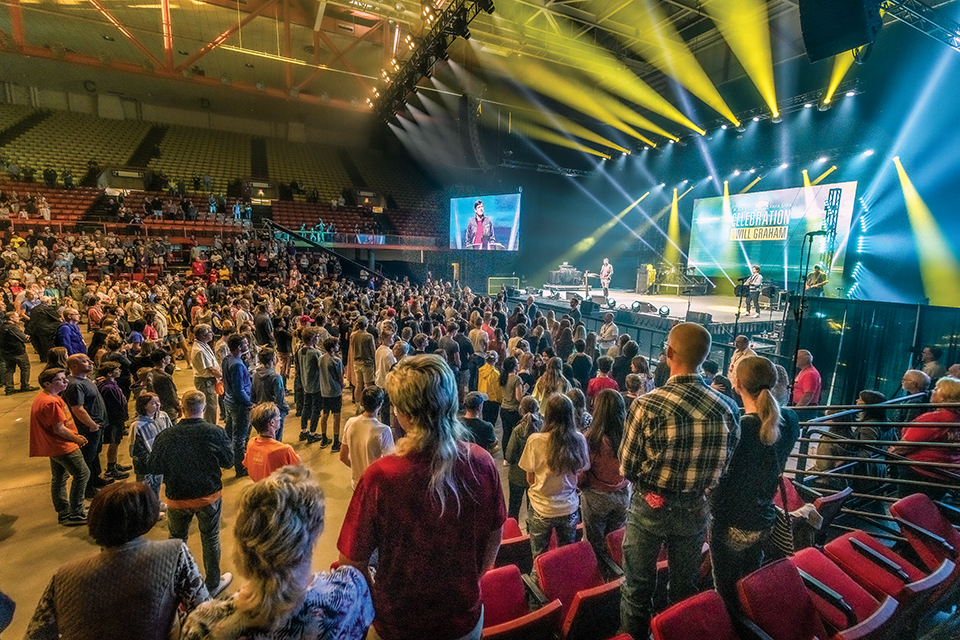 Farm fields and pastures stretch acre after acre, mile after mile, beyond these two thriving cities. In Iowa, in particular, it was the middle of harvest time. Combines, tractors and transport trucks actively gathered the crops.
But we weren't there for an earthly harvest. We were there as the laborers sent into Christ's field, equipping local believers to share their faith with their friends and family so that many would come to know Him personally.
Ultimately, more than 1,000 people across the two cities surrendered their lives to Jesus Christ through the Celebrations. In particular, the response to Sunday night's youth event in Rapid City astounded us as hundreds streamed forward to embrace the hope of the Gospel. We praise God and give Him all the glory.
We rejoice with you that God is on the move, He is reaching people where they are, and the harvest is still plentiful. Thank you, Lord!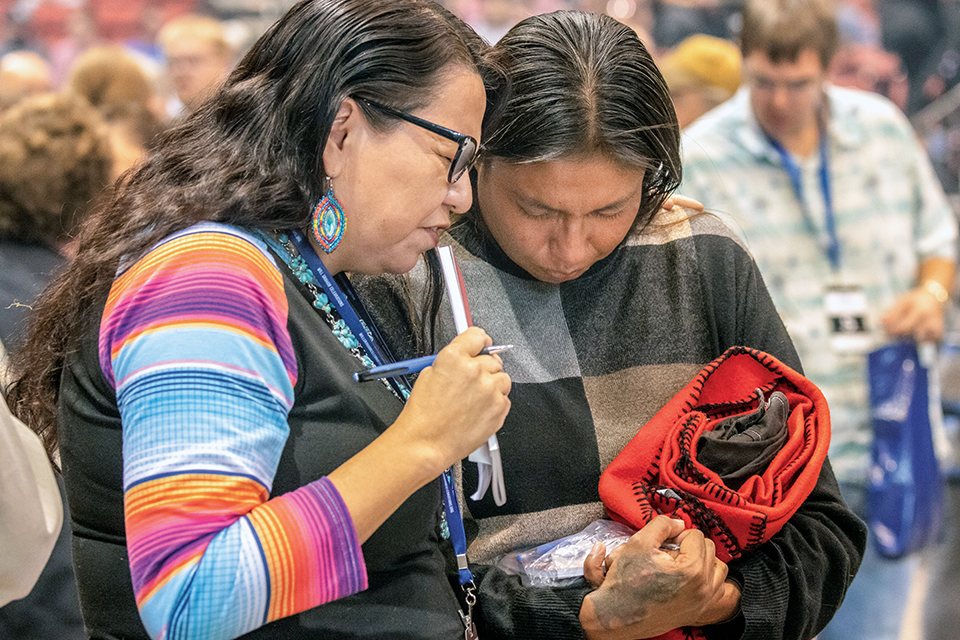 In Rapid City, we saw a grandmother in a wheelchair come forward with two boys, ages 10 and 8. Jennifer, the trained counselor who spoke with them, shared, "Helen,* the grandma, is so faithful. I found out as I was talking to them that [one of the boy's] moms abandoned him and then his dad gave him to Helen. And now it's a very exciting time for them to find out they have a Heavenly Father who will never leave them. They made decisions to become God's sons. It was incredible."
As part of our work in Rapid City, we've also been reaching out to the large Native American population—both in the community and on the surrounding reservations. Several indigenous people placed their faith in Christ, for which we are thankful.
In 1975, my grandfather Billy Graham said, "You as evangelical Indians are a sleeping giant. You are now awakening. The original Americans could turn around and be the evangelists to win other Americans to Christ."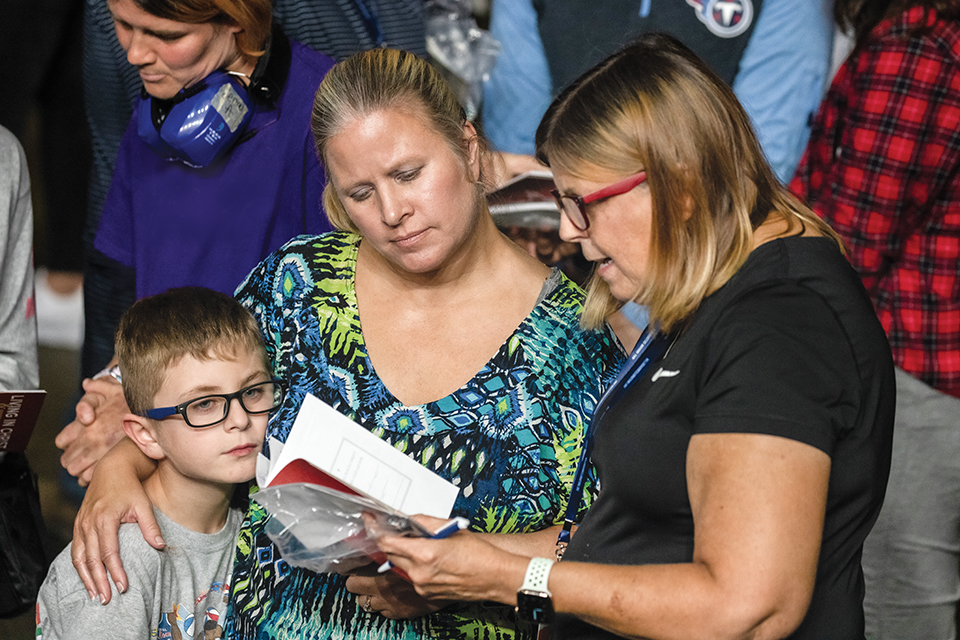 That message resonated with Carla,* a 54-year-old Native American who responded to the Gospel on the opening night of the Celebration, asking Jesus to be her Lord and Savior. She also enthusiastically expressed her desire to be baptized.
"Carla really has a heart for her own people. She said, 'We're so divided and that's not what God wants for us,'" said the counselor who talked and prayed with Carla as she came to faith in Christ.
Some 600 miles southeast, the Iowa Celebration took place just a few days later. I spoke about finding your purpose in life, which is much more than a question of occupations or hobbies. I told the audience that you can only find your true purpose by surrendering your life to Jesus and following Him.
Among those in attendance were Rodrigo* and Sara.* The young couple had already accepted Christ as their Savior, but they wanted to affirm their faith. Their three children walked forward with them and made first-time decisions for Jesus. Even better, the next morning the family returned for KidzFest, and they brought two friends with them.
Both of those children responded to the Gospel as well. Rodrigo and Sara's kids had been followers of Christ for just a few hours and were already sharing their faith and winning souls!
On Saturday night, another couple—Beth* and her husband—walked forward together to commit themselves to Jesus. Beth's mom had regularly told her of going to see my grandfather preach at the famous 1957 Crusade at Madison Square Garden in New York City, and Beth was excited to come to the Iowa Celebration to see another generation of Grahams.
She and her husband had been attending church regularly, but on Saturday night, the Holy Spirit brought them to the point of decision. They understood the Gospel and began a new life in Christ! >>Start your relationship with Christ today.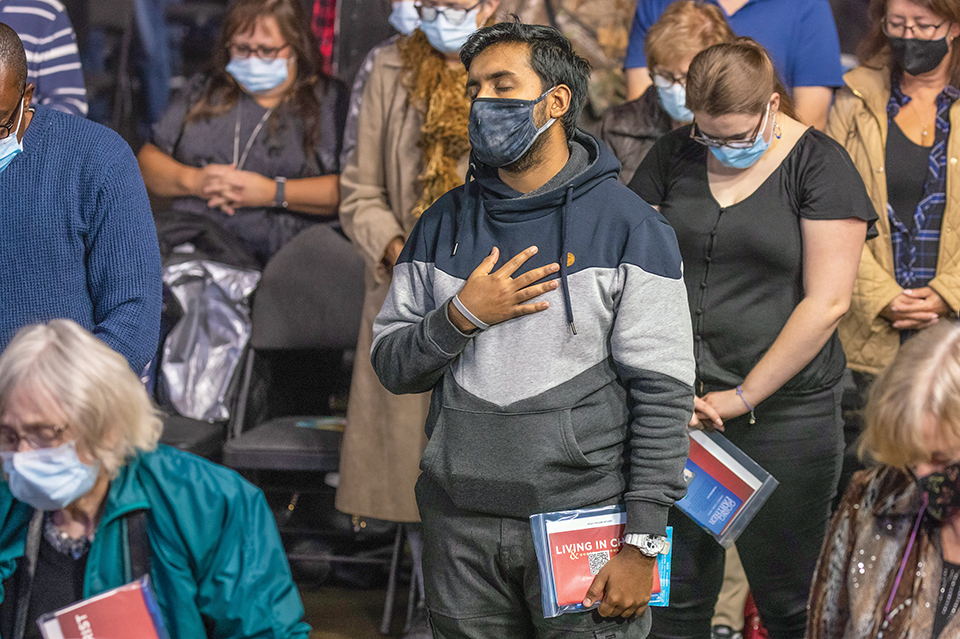 We recently hosted the Greater Sudbury Celebration in Ontario, Canada. Hundreds of people came to hear the Gospel, and more than 1,400 watched the livestream online. I shared that each of us is following a path in life, but it may not lead where we ultimately want to go. The good news is that God allows us to change directions and take the narrow way that leads to eternity with Him.
At the invitation, dozens came forward to begin a relationship with Jesus Christ.
As I write, I just completed another Celebration in London, which is also in Ontario. Over 1,700 people assembled at Budweiser Gardens Oct. 22–24 to hear the Good News.
A group of local pastors had been praying for 20 years for the Lord to open a door for an evangelistic event there, and I'm grateful that He gave us the opportunity to share His unconditional love.
When I gave the invitation to follow Jesus Christ, more than 200 individuals responded.
One of those was Susan,* who had struggled through so much heartbreak during the past few years, including a bout with cancer. As she listened to the message, tears streamed down her cheeks. Susan came forward to surrender her life to Christ. "Tonight I just broke," she shared. "I just wanted God to hear me." Please pray for new believers like Susan as they begin their walk with the Lord.
My friends, it's so easy to get discouraged. This world is a dark and sin-filled place, and it can feel like we're losing ground. The spiritual battle over Rapid City, Des Moines, and Ontario was real and tangible. But the truth of the matter is that God is victorious, and He is still reaching people with the joy of His salvation.
Thank you for your prayers and selfless support of this ministry. You are laboring together with us in the fields. Each victory, every decision for Christ, is a testament to your sacrifice. We are eternally grateful.
May God bless you greatly,

Will Graham
* Names changed to protect privacy