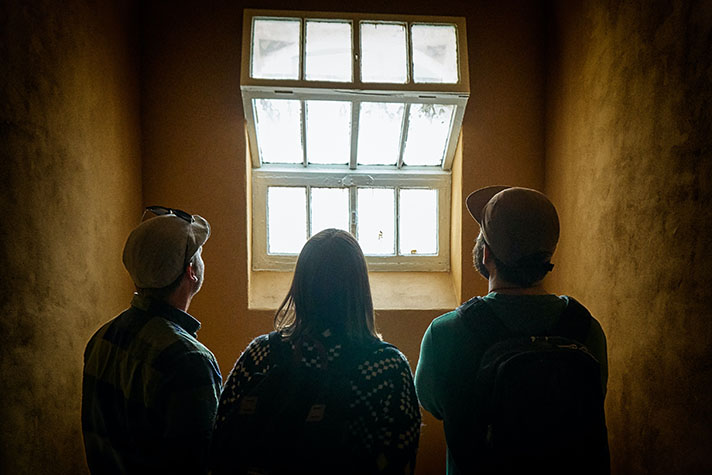 My guess is that you know of Christians who are an absolute blessing to be around. They carry the joy of Christ wherever they go, sacrificially serving others while spreading the hope and peace of God with every step.
Conversely, you have likely known people who call themselves Christians, but who—as my good friend Bill Newman would say—look like they were baptized in lemon juice.
They are prideful, unhappy, scheming and desire to be first. This type of person brings despair to the whole church.
In his third Epistle, John addresses three men, each of whom show us different examples of Christians. As we look at them, I encourage you to examine your own walk with Christ and see which you are most like.
Gaius: First, there is Gaius (vv. 1-8). We know this man is loved, because in these few short verses John calls him "Beloved" four times. And we can understand why.
Gaius is a Christian who walked in truth (v. 3). This means that he was faithful in what he believed and faithful in how he lived. His creed and conduct were the same.
We're also told that Gaius was generous (vv. 5-8). He welcomed and provided for "brethren and strangers" who required assistance to help meet their needs (like food, housing and money) when they traveled.
Inns were scarce and often dangerous places. Gaius, however, was known for charitably inviting others into his home.
Diotrephes: Diotrephes (vv. 9-11) was the opposite of Gaius. In fact, he was so toxic that John called him out by name and wrote this letter to confront his actions.
Diotrephes, who was apparently some type of leader in the church, was prideful and loved to be first. He sought to have preeminence above all else. Instead of serving others, he desired to be served.
Diotrephes would not listen to the Apostle John. Rather, he was known to make up malicious accusations against John. He was also inhospitable to traveling believers. He would not accept them into the church, because he wanted to be served—not to serve others.
To top it off, when people in his church did want to help and support the brethren, he would excommunicate them out of the church. He would not let anyone stay in the church who resisted his authority.
This type of person destroys a church by being eager for power and authority, by trampling the truth, by ignoring the Bible, and by disobeying the Spirit's leading.
Demetrius: Demetrius (v. 12) gets one mention in one verse, but it's a good one: "Demetrius has a good testimony from all, and from the truth itself." What a simple, yet profound, witness!
Demetrius, especially in contrast to Diotrephes, supported the truth, giving him a strong Christian testimony and good rapport among men.
Which One Are You?
Here we have three men: One who was beloved and prosperous, well-known and generous. One who wasn't well-known (at least as far as we can tell), but whose faithfulness to the truth has been known to all generations—we're still reading about him 2,000 years later! And one who claimed the name of Christian but who was focused on himself and actively worked against other believers.
As you examine your own life and your walk with Christ, where do you fall on the spectrum?
The entire book of 3 John is summed up in verse 11: "Beloved, do not imitate what is evil, but what is good. He who does good is of God, but he who does evil has not seen God."
I encourage you to strive to live a life like Gaius and Demetrius, focused solely on Jesus, clinging to the truth and serving others. And if there's any hint of Diotrephes in your life, confess that to the Lord, repent, and grow in Christ.
Scripture Reference: 3 John 1
1 The Elder,
To the beloved Gaius, whom I love in truth:
2 Beloved, I pray that you may prosper in all things and be in health, just as your soul prospers. 
3 For I rejoiced greatly when brethren came and testified of the truth that is in you, just as you walk in the truth. 
4 I have no greater joy than to hear that my children walk in truth.
5 Beloved, you do faithfully whatever you do for the brethren and for strangers, 
6 who have borne witness of your love before the church. If you send them forward on their journey in a manner worthy of God, you will do well, 
7 because they went forth for His name's sake, taking nothing from the Gentiles. 
8 We therefore ought to receive such, that we may become fellow workers for the truth.
9 I wrote to the church, but Diotrephes, who loves to have the preeminence among them, does not receive us.
10 Therefore, if I come, I will call to mind his deeds which he does, prating against us with malicious words. And not content with that, he himself does not receive the brethren, and forbids those who wish to, putting them out of the church.
11 Beloved, do not imitate what is evil, but what is good. He who does good is of God, but he who does evil has not seen God.
12 Demetrius has a good testimony from all, and from the truth itself. And we also bear witness, and you know that our testimony is true.
13 I had many things to write, but I do not wish to write to you with pen and ink; 
14 but I hope to see you shortly, and we shall speak face to face.
Peace to you. Our friends greet you. Greet the friends by name.