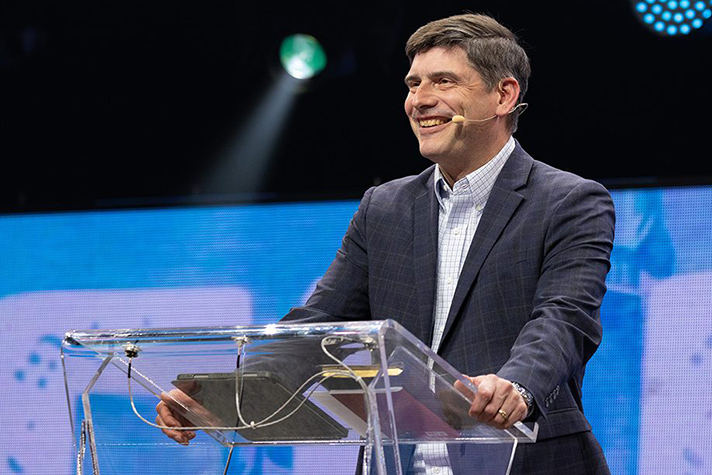 If you were buying a new car, you would probably look for something well built, in the correct price range, with a dependable engine. If you were reading a novel, you likely want a good plot, a compelling crisis, and solid character development. If you were considering a new house, you would focus on location, size, quality, and price. In almost everything in life, there are typical characteristics that make something "good."
Similarly, in our Christian walk there are marks that exemplify those who are following Christ, several of which can be found in Hebrews 13:9-16. As we examine these traits, we must also review our own walk and see if we are living up to our calling.
>>Get Wednesday in the Word, a weekly devotion from Will Graham, straight to your inbox.
Be on guard against false teaching (v. 9): False teaching weakens our Christian foundation, causing us to take our attention away from God's grace. Instead, we start to focus on man's attempts to earn a right to stand before God. We need to remember that it is Jesus alone that allows God's grace to fall upon us.
There's an interesting story told in 2 Kings 4:38-41 about Elisha's assistant making a stew. Wild gourds of unknown origin were picked from a vine and included in the stew. When served, the recipients tasted it and "they cried out and said, 'Man of God, there is death in the pot!' And they could not eat it." Elisha then added flour, and the stew became safe to eat.
Just like a bad gourd poisoned the stew, on a spiritual level, we can let little compromises or false teaching sneak in, and not realize how poisonous it can become. As followers of Christ, we must always be on guard and anchor ourselves in the Word of God.
Bear the reproach of Christ (v. 13): We need to associate ourselves with—and never be ashamed of—Christ. As we "bear His reproach," we join Jesus in His suffering. We shouldn't be shocked that the world will choose to revile us. John 15:18 says, "If the world hates you, you know that it hated Me before it hated you." God called us to be obedient, not popular. We must remember that our ultimate goal is to please our Heavenly Father.
Seek the things of heaven (v. 14): Our sight needs to be on the eternal, rather than the shifting sands of this earth. We must "seek first the kingdom of God and His righteousness …" (Matthew 6:33). If our focus is on worldly matters, we're much more likely to adapt a worldview that takes the shape of this present age and runs counter to our calling as followers of Jesus.
Continually praise God (v. 15): When we continually praise God, then we are consistently drawn to Him. James 4:8 says, "Draw near to God and He will draw near to you…" We must make God our true focus and praise Him. When we do, the struggles of this life—the disappointments, the lies, the fears, the temptations, the brokenness—will fall away.
Continue in doing good and giving sacrificially (v. 16): This world is unable to meet peoples' most serious needs, which are spiritual. Therefore, we must continually do good (both physically and spiritually) and be willing to sacrifice for the sake of others, in the name of the Lord.
Recall 1 Chronicles 21. In it, David is instructed to "erect an altar to the Lord on the threshing floor of Ornan the Jebusite" (v. 18). When David approached him, Ornan offered to give the place to David, plus much more, for free. "Then King David said to Ornan, 'No, but I will surely buy it for the full price, for I will not take what is yours for the Lord, nor offer burnt offerings with that which costs me nothing'" (v. 24).
By definition, there is a cost to sacrifice. May we be found serving Him faithfully, sacrificially giving what we have for the sake of God's Kingdom.
My friends, be on guard against false teaching, align yourself with Christ, seek the things of Heaven, praise Him and—in service to Him—serve others. If you are a mature and growing follower of Jesus, these five characteristics should automatically flow out of you. If, however, you find yourself struggling in these areas, humbly bring them to God and ask Him to change your heart. Focus on Him through prayer and the Word. Be intentional in your walk with Christ. I promise He will change your heart and your life.
Ready to commit or recommit your life to Christ? Pray now.

Scripture Reference: Hebrews 13:9–16
9 Do not be led away by diverse and strange teachings, for it is good for the heart to be strengthened by grace, not by foods, which have not benefited those devoted to them.
10 We have an altar from which those who serve the tent have no right to eat.
11 For the bodies of those animals whose blood is brought into the holy places by the high priest as a sacrifice for sin are burned outside the camp.
12 So Jesus also suffered outside the gate in order to sanctify the people through his own blood.
13 Therefore let us go to him outside the camp and bear the reproach he endured.
14 For here we have no lasting city, but we seek the city that is to come.
15 Through him then let us continually offer up a sacrifice of praise to God, that is, the fruit of lips that acknowledge his name.
16 Do not neglect to do good and to share what you have, for such sacrifices are pleasing to God.