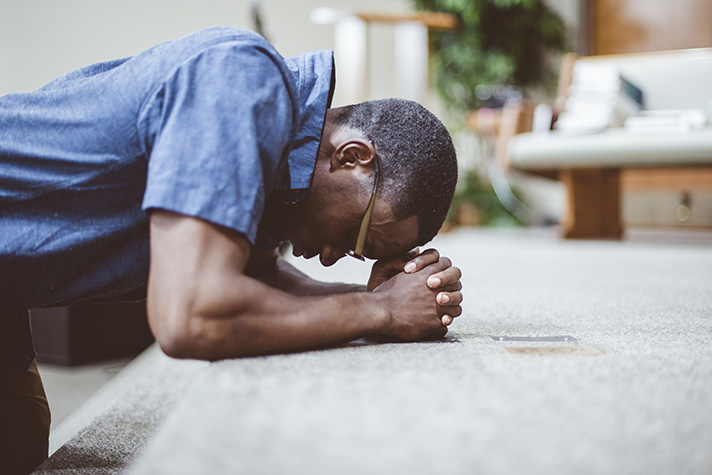 What battle are you facing today? Find encouragement in these historical accounts from the Bible as we continue a series of articles on God's promises. 
Read more from our annual Summer Soul Refresher: part 1 (God loves you), part 2 (God will provide), part 3 (God will never leave you) and part 5 (God will give you peace).
"The Lord will fight for you, and you have only to be silent." —Exodus 14:14, ESV
Those words came from the lips of Moses just before he parted the Red Sea. For days, he'd been leading the Israelites out of captivity in Egypt, headed for the Promised Land.
But Pharaoh, Egypt's leader who finally consented to releasing the enslaved Israelites, changed his mind. He rounded up his army and hundreds of chariots to pursue the fleeing masses.
The Bible says when the Israelites saw this, they "feared greatly" (Exodus 14:10).
And then—those words from Moses: "The Lord will fight for you."
What happened next is one of the best-known Bible stories of all time. The Red Sea divided into two looming, liquid walls on either side of the frightened people as they passed through on dry ground. Only when each one was safely on the other side did the waters come crashing back down over Pharaoh's army, leaving no survivors.
Of course, Moses didn't part the sea on his own. It was God giving him the power to do it.
What Battle Are You Fighting Today?
The word "battle" may bring to mind a number of stressful, dangerous, messy or scary situations. It could be your health, family, finances or maybe a spiritual battle you can't see.
Yet, God promises He's in these battles with you.
"Sometimes we fail to connect the promises of God with our reality," Will Graham said. "And when we're in unstable times, that shakiness in our lives causes us to fail to connect the dots. But God is on our side. He fights our battles for us. All the angels, all the hosts of heaven fight our battles for us."
When you make Jesus Christ part of your life, you don't face trials alone, but with God Almighty before you, making a way where you may not see one.
In her song "Red Sea Road," Ellie Holcomb reflects on that miraculous story from the time of Moses and how it applies today:
When we can't see the way
He will part the waves
And we'll never walk alone
Down a Red Sea road
God is all-powerful and has seen His people through battles—both literal and figurative—time and again.
So What Does It Mean That God Fights for You?
No matter what hardships you face, or how unpredictable they are, you can rely on and trust in God. The next time you feel hopeless or overwhelmed, remember His promise to see you through the battle and take care of you.
In a letter to the Philippians, the Apostle Paul wrote, "And my God will supply every need of yours according to his riches in glory in Christ Jesus" (Philippians 4:19).
Think back to that story of the Israelites stuck between a rock and a hard place. An army in hot pursuit behind them, a vast body of water up ahead.
Why did God let that happen? These are His people, right? He called Moses to move them out of one place, through the wilderness and into another, and now they're being chased?
God was making it clear to the Israelites and to Pharaoh that He is Lord, that He is the Deliverer (Exodus 6:6) and the Savior (Exodus 14:13). It was impossible for the Israelites to get out of this situation on their own—but not with the help of God.
Why Do We Face Battles in the First Place?
In the Bible, the godly king Jehoshaphat reigned in Judah. When a great army came against his people, Jehoshaphat prayed to God, seeking guidance.
"For we are powerless against this great horde that is coming against us. We do not know what to do, but our eyes are on you," he prayed (2 Chronicles 20:12).
As men, women and children of Judah assembled before the Lord, God spoke to them through a man named Jahaziel (2 Chronicles 20:15, 17):
"…Thus says the Lord to you, 'Do not be afraid and do not be dismayed at this great horde, for the battle is not yours but God's. … You will not need to fight in this battle. Stand firm, hold your position, and see the salvation of the Lord on your behalf, O Judah and Jerusalem.' Do not be afraid and do not be dismayed. Tomorrow go out against them, and the Lord will be with you."
The battle wasn't Judah's to begin with; it was God's.
>>"The Battle Is the Lord's": A poem by Ruth Bell Graham
Battles are reminders of God's power. They can send you to your knees, seeking His direction and admitting your helplessness.
A woman named Jamie Owens-Collins once wrote a song called "The Battle Belongs to the Lord":
When the power of darkness comes in like a flood
The battle belongs to the Lord
He's raised up a standard, the power of His blood
The battle belongs to the Lord
The Bible says those who want to live godly lives will suffer (2 Timothy 3:12). But it also says this suffering "produces endurance, and endurance produces character, and character produces hope" (Romans 5:3–4).
While every battle may not end the way you like or anticipated, you can be sure as a follower of Christ that you're in it with "the God of angel armies" (as the Chris Tomlin song goes).
Trust that He knows this battleground better than you and find solace in all the God-led victories that have come before you.
>>Watch a short clip of Franklin Graham and Cissie Graham Lynch in Israel as they discuss another battle from Scripture.