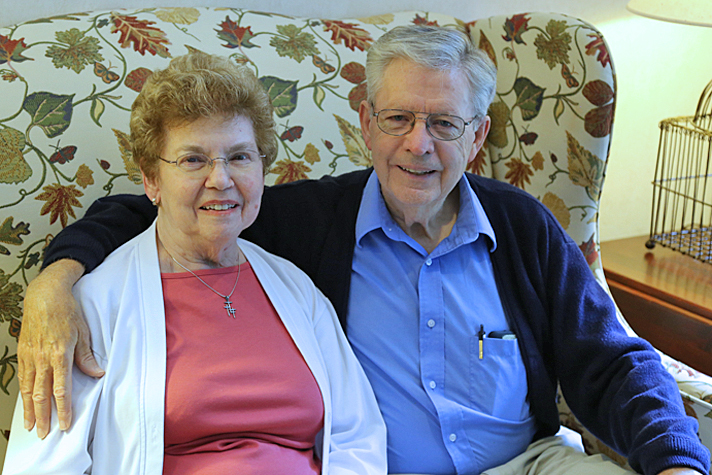 Deryl Holliday was sitting at his computer one night when he had the epitome of a "divine appointment."
A trained volunteer with BGEA's Internet evangelism ministry, he was at home in Winston-Salem, North Carolina, ready to chat live with anyone who might have questions on BGEA's website PeaceWithGod.net. That's when another man came on the website, wanting to talk. Deryl started a conversation.
He didn't know it yet, but this moment was nearly 20 years in the making.
About two years ago, Deryl heard about Search for Jesus, an online ministry of BGEA. Search for Jesus is a way for Christians around the country to connect with others across the globe who are seeking hope. Deryl is one of more than 330 trained volunteers who communicate with people online through live chat, email or a free discipleship course called Know Jesus.
"When I retired from the pastorate, I still wanted to serve the Lord, and this was the answer to my prayer," Deryl said about the ministry. "I can do it in the quietness of my own home, sitting at my computer and talking to people all over the face of this earth."
Search for Jesus launched in early 2011, with its Spanish counterpart En Busca de Jesus launching the following year. In that time, the ministries have reached more than 25 million people worldwide. The people Deryl talks to might be searching for something to fill the emptiness in their lives. Maybe they're curious about God, or they feel hopeless, broken and confused. Whatever the case, it seems Deryl is often connected with people he can personally relate to.
Which brings us back to the divine appointment.
The man online that night told Deryl he was so grief-stricken that he planned to commit suicide.
"He said, 'My son died of a malignant brain tumor, and he died on Mother's Day,'" Deryl recalls.
His son was only 6 years old. They used to say their prayers together, and the man didn't want to live without him. But then he talked to Deryl.
"I went back to him and said, 'I know exactly how you feel.' … I said, 'I had a son die of a brain tumor on Mother's Day as well,'" Deryl said.
Deryl remembers how his oldest son enjoyed fishing and baseball. By his mid-20s, he was attending seminary with his dad. But only two years in, he was diagnosed with a brain tumor. The diagnosis came shortly after Deryl decided to write his doctoral thesis on how to be a caregiver to someone with cancer.
"When we found out that our son had brain cancer, I asked God to take me … in exchange for my son," Deryl said. "I asked the question, 'Why?' And here's what God said: He said, 'It is too difficult for you to understand. Just trust me. … I gave a Son, too.'"
Seven years later, in May 1995, Deryl's son, a youth pastor, died at age 32. It was the hardest thing Deryl ever faced, yet he's seen how his son's death has helped him comfort and guide others—like the man online who wanted to end his life.
"I told this man that he can make it, and with God's help, his life turned around 180 degrees when he discovered that taking his life would not bring his son back," Deryl said.
It's been a while since Deryl was a full-time pastor, but he says volunteering with Search for Jesus is a way for him to obey God's calling to continue ministering to people.
"At 77 years old, I'm fulfilling God's purpose for my life," he said. "The Internet is an excellent way to spread the Gospel."
After the death of his son, an organ donor, Deryl got to meet two organ recipients—one who got a new heart and one who got new lungs as a result of his son's passing. Deryl witnessed new life in these people—and now experiences new life in others online when he has the privilege of leading them to Christ.
He has also made a habit of praying that God leads him to someone he can connect with each time he volunteers online. Since joining Search for Jesus two years ago, he has chatted with more than 200 people.
While he can't see them face to face, this former pastor encourages them and points them to Christ. He recently chatted with a Muslim from Ethiopia who came across PeaceWithGod.net and wanted to know what the website was all about.
Deryl was able to say, "It's all about Jesus."
Would you like to share hope with others online? Get involved in Search for Jesus, BGEA's Internet evangelism ministry.
Do you speak Spanish? You could share the Gospel through En Busca de Jesus, BGEA's online evangelism ministry for Spanish speakers.