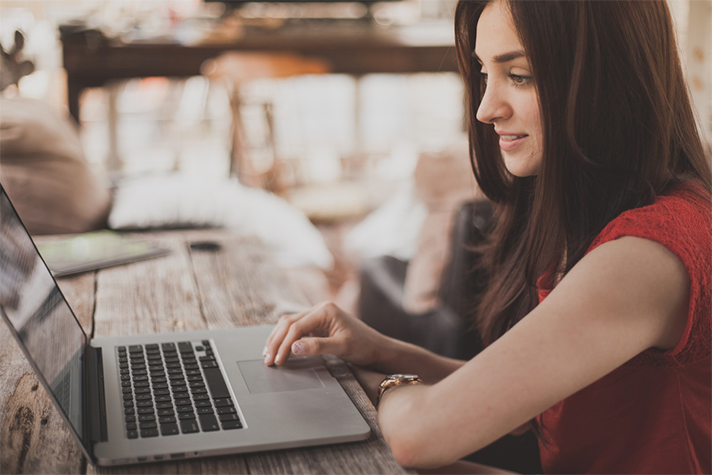 Whatever you're doing right now, wherever you are, someone somewhere is hearing about Jesus.
That's what Search for Jesus is all about: telling people about the only source of real, lasting hope. Search for Jesus (SFJ) is BGEA's online ministry dedicated to reaching millions around the world who are lost and looking for answers.
The ministry connects hurting, questioning people to others who care—typically through the evangelistic website PeaceWithGod.net.
More than 370 volunteers across the United States are trained to respond to online visitors through live chat, email and a web-based discipleship course for new believers. Here are five stories about people they have connected with.
1. Pregnant and Scared, but Hopeful
"I am scared, I am seven months pregnant, and I am homeless." Rosalyn* sat on a porch in Louisiana, unsure of her child's future. She got online and typed "I am so lost, can God help me?" into Google. From there, she found PeaceWithGod.net and connected with Irene, a SFJ volunteer in California. Rosalyn shared with Irene how her parents had let her down in life and that she'd had several abortions, but wasn't able to get one this time around. Irene sympathized with her and explained in simple terms how God wants the best for us, but we miss out on His best when we go our own way. "Sometimes I feel like it's easier to relate to the concept of God, rather than Jesus because Jesus was just a man, and I don't trust men," Rosalyn wrote. Irene explained how God and Jesus are one and how He wants to be there for us. "I need His guidance. Bad," Rosalyn wrote. At the end of the chat, Rosalyn gave her life to Christ. Irene directed her to an online Bible study. "Thank you for spending time with me," Rosalyn wrote. "Only two and a half more months left. Must get closer to God."
2. Finding Encouragement in Grief
"Last Tuesday, he was here and everything was fine. Now our world is shattered," Corinna wrote. Broken with grief, this woman reached out to PeaceWithGod.net and began an online conversation with a SFJ chat coach. Her husband had committed suicide nine days earlier. "We are left here all alone," she wrote, referring to her and her 8-year-old son. Although she had a relationship with Christ, her faith was shaken. "How could (God) do this to my son?" she wondered. The volunteer explained: "God doesn't give us the answer why some people have suffering, sickness and early death, but God does tell us that He suffered and died on the cross to heal us of our worst sickness: sin and death." Corinna thanked the chat coach for praying for her family, saying she didn't want to bother friends and family with her burdens. "We are here for you anytime you need to talk to us," the coach responded.
3. Man from Middle East Hears About Jesus Through Florida Festival
Raheel* is from Dahuk in Iraqi Kurdistan. He left a message through PeaceWithGod.net, asking, "How can I be one of Jesus' followers?" He connected with an email coach who explained the Gospel. Raheel replied, saying he loves Christ but is a Muslim living among other Muslims and doesn't know what to do. He heard about Christ through his Christian friends. About a month later, Raheel watched the live stream of the Jacksonville Festival of Hope with Franklin Graham and submitted another question through one of BGEA's evangelistic websites. His question went to the same email coach. "I will be so happy if my Lord Jesus Christ accepts me as one of His followers," he wrote. "Is it possible if I [was] born a Muslim?" The coach explained salvation, and Raheel made a decision for Christ. He also said he would look into a BGEA Bible study the coach suggested. The coach told him to pray often, read the Bible and look for a Bible-based church.
4. God Connections
God often connects online visitors with volunteers who have been through similar struggles. That's what happened with Michael and one of SFJ's volunteers. "I feel like there's a big hole inside of me. And I'm a Christian," Michael wrote. The volunteer related to Michael through his own testimony, saying, "At some point in time, I came to a decision point. I was either going to turn away from my faith and give into hopelessness or I was going to surrender my life to Jesus regardless of the circumstances … and trust in Him—whatever path He had for me." The chat coach told Michael how he submitted his whole life to Christ instead of just going through the motions. He encouraged Michael to do the same. Read about another "God moment" 20 years in the making.
5. When Things Were Falling Apart
"I have rejected that I know God in public. I did it because I was afraid of people judging me." That's a comment someone left on PeaceWithGod.net. Beverly, a SFJ chat coach, was there to respond. She approached the visitor with compassion and "listened" while the person unloaded. The visitor, 17, said she was lonely and unstable, that her life was falling apart and people around her were trying to fix her problems with medication. Yet she was hungry for God and had learned a lot about Him through online ministries. She had already given her life to Christ, but her faith was weakened by depression. Beverly encouraged her to ask someone near her for a Bible and gave her a few verses to memorize, like 2 Timothy 1:7 ("For God gave us a spirit not of fear but of power and love and self-control"). "Thank you so much," the visitor wrote at the end. "God bless you as well."
*Names changed to protect privacy