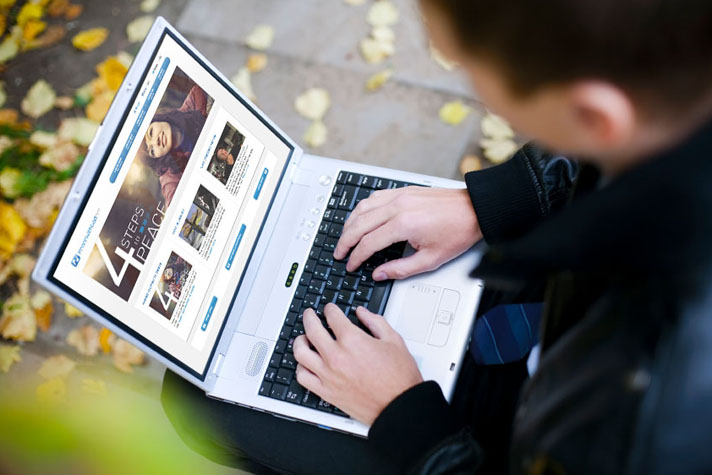 Two cancer survivors, a small business owner, a pastor, some Southern Baptists and Chuck Norris. What do they have in common? All want to point people to Christ through BGEA's evangelistic website, PeaceWithGod.net.
Across the United States and around the world in countries like Croatia, New Zealand, Kuwait and the Congo, web administrators are posting links to PeaceWithGod.net on their church websites, blogs and business pages. PeaceWithGod.net presents the Gospel in a simple way and gives visitors the chance to ask questions, indicate commitments to Christ and receive follow-up discipleship materials. More than 12 million people worldwide have visited PeaceWithGod.net, part of BGEA's Search for Jesus ministry, since it launched in 2011.
Gustavo Núñez owns Onsite Auto Detailing in Wisconsin. While developing his website, Núñez was looking for something simple to tell people that "Jesus is the Savior." He found PeaceWithGod.net and put a link to it at the bottom of his home page. He can't tell who clicks on it, but isn't concerned about that. He'll leave the results up to God.
"I just want to serve the Lord," he said, and show people that there's hope. He found hope himself in 2000 after someone invited him to church and he decided to follow Christ.
Another church called NorthRidge in New Hampshire has a large screen shot of PeaceWithGod.net on its home page. A page on its website titled "What we believe" cites the Great Commission.
"Everything that we do … is driven to be able to get the Gospel out clearly," Pastor Mike Mills said.
The nondenominational church's website has more web visitors than members, but "whether they come to church or not," Mills said, "I want them to get the Gospel and how to be saved."
Mills' church is half an hour from Boston, and about half of his members work there. The Boston Marathon bombings in April were a wake-up call, he said, and he hopes the sudden tragedy will continue leading people to seek God.
Mills found out about PeaceWithGod.net from BillyGraham.org. He and his church regularly support BGEA, and Mills lists PeaceWithGod.net on the business cards he hands out in the community.
Martial artist and actor Chuck Norris has also helped get the word out about PeaceWithGod.net. On a March blog about religious liberty, he mentions his and his wife's belief in Christ. Norris tells about Christ's free gift of salvation and links to PeaceWithGod.net.
For a pair of cancer survivors – a Georgia man and a young Utah woman – linking to the evangelistic website was a way to share their faith with those who followed their progress.
"I understood from the beginning," the man wrote on his website, "that as a Christian, I was not promised that I would never have problems, but I was promised that He would never leave me or forsake me."
He linked to PeaceWithGod.net hoping to give others the same assurance.
Several states away in Utah, a young girl's parents kept a website as she battled cancer. The site is full of encouraging Bible verses, and a link to PeaceWithGod.net is at the very top.
Terry Harper, executive director of the West Virginia Convention of Southern Baptists, said when his organization was looking for evangelistic content to go online, it turned to PeaceWithGod.net rather than "recreate the wheel." The link is found under "Become a Christian" on the organization's website.
"That's what we're about – reaching people for Christ," Harper said.
As a boy, Harper watched Billy Graham on TV. He now looks to BGEA for theologically sound material.
The West Virginia Convention of Southern Baptists also supports another evangelistic effort called My Hope America with Billy Graham, a nationwide effort to tell others about Christ.
"I think it's fantastic. … I'm promoting it across our state," evangelism missionary Matt Shamblin said. "I look forward to seeing what God's going to do with it."
In addition to publicizing PeaceWithGod.net, the organization is reaching out to every church in the state to encourage My Hope participation.
How You Can Get Involved
•Add a banner for PeaceWithGod.net to your blog, church website or business page.
•Become a volunteer e-counselor or online discipleship coach with Search for Jesus.
•Support BGEA's Internet evangelism ministry.