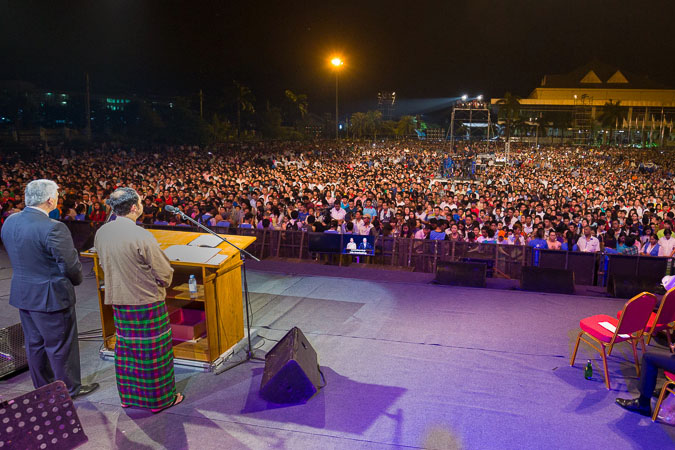 In a nation that has seen a number of firsts in the past five years, the Yangon Love Joy Peace Festival with Franklin Graham is a first for Myanmar's small Christian population: An evangelistic Crusade organized with the participation of all the country's Christian denominations.
Formerly known as Burma, Myanmar is adjusting to its newfound status as a democratic state, following nearly 50 years of military rule.
Since the military government was dissolved five years ago, the country has seen enormous political, legal and economic reforms, and it has become much more open to international relations.
Those changes opened the door for the churches to invite Franklin Graham to hold a Festival in Yangon, the nation's capital.
Christians who have yearned for their countrymen to find Christ are thrilled.
"This is God's timing," said Rev. Dr. Saw Mar Gay Gyi, who is serving as the Festival's executive chairman. "This is the blessing from God; this is a time for harvest."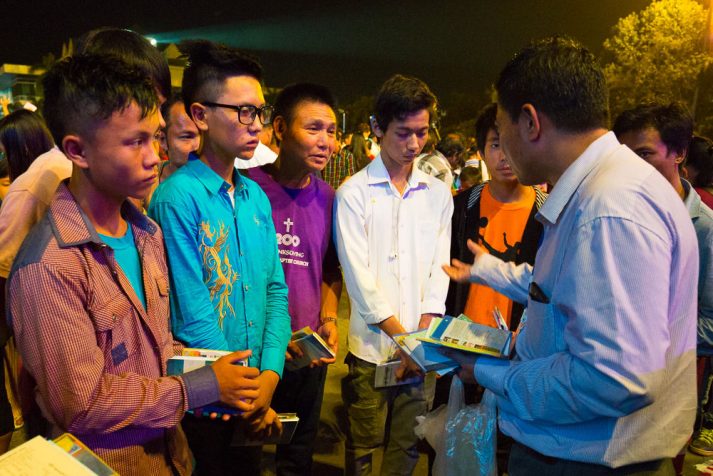 Three hours before the start of Friday's 5:30 p.m. meeting, thousands were already waiting outside the gate of the Myanmar Convention Center.
When the gate opened, they flooded into the grounds in a steady stream and began filling the thousands of plastic chairs that had been set up. Many opened umbrellas to shield themselves from the burning sun.
By the start of the meeting, the sun was low in the sky and the umbrellas were closed. The crowd, some 46,000 strong, sang and clapped along with praise music provided by several local music artists as well as by the Tommy Coomes Band and flat-picking guitarist Dennis Agajanian.
Franklin Graham proclaimed the Good News that Jesus Christ came on a rescue mission to save us from our sins: "Are you sure your sins are forgiven?" he asked. "If you're not sure, you be sure tonight. God loves you. He truly does, and He wants to forgive you. But the only way is through His Son, Jesus Christ."
The message of grace hit the mark with a 33-year-old man, who drives a three-wheeled trishaw, a bicycle with a sidecar attached for passengers. He was among more than 2,500 who responded to Franklin's invitation.
The man told his counselor that he hadn't known the Festival was going to take place, but while driving his trishaw past the Convention Center, he heard Franklin's voice and decided to come in.
He said, "I am a very sinful man. But the pastor [Franklin] said that when I prayed, my sins were forgiven. I feel free, like a burden has been released from my shoulders."