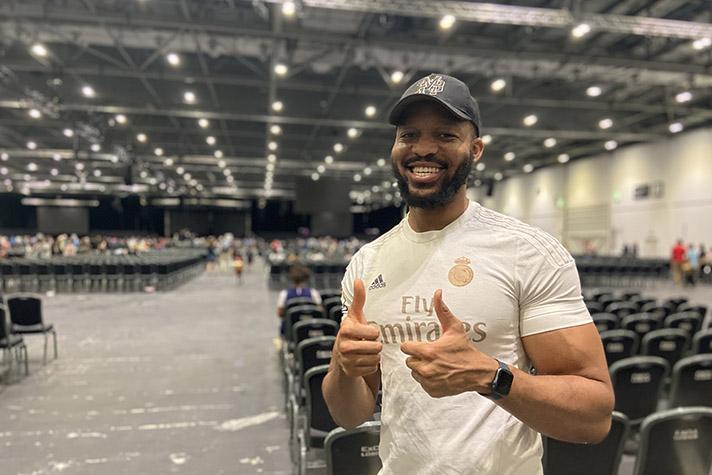 Some would call it perfect timing. 
"How I'm here right now is a miracle, how I got here is a miracle," beamed Richard Asomugha at the U.K. God Loves You Tour inside ExCeL London on July 16. 
Head and shoulders above the crowd, the 26-year-old stood out in the sea of hundreds who made decisions for Christ after hearing the Gospel from Franklin Graham.
"You are forgiven," Graham told the 700-plus people who came forward. 
Asomugha nodded his head with his hat flipped backward, rededicating his life to God. He wasn't even supposed to be in the event center. He had to cancel plans with a friend to attend and ran late after going to the gym, missing the worship from Gospel singer CeCe Winans and coming partway through musician Michael W. Smith's performance.
Still, he made it. All day long, the event had been on his mind—and he couldn't ignore it. After all, his invitation to Saturday night's event was nothing short of divine intervention.
The day before, Asomugha had felt inclined to strike up a conversation with two strangers he passed by on a bridge as he went to dinner in Canary Wharf. Those men introduced themselves as staff of the Billy Graham Evangelistic Association (BGEA) and Samaritan's Purse—and had flown across the Atlantic for the final stop of the four-city U.K. God Loves You Tour, which first took place in Liverpool, Newport and Sheffield.
The name "Billy Graham" immediately struck a chord with Asomugha.
"There was a time in my life when there was no information that was really resonating with me and I stumbled upon Billy Graham, and just the way he spoke really connected with me," said Asomugha, who's watched many of his sermons online.  
Curious to hear from the evangelist's son, Asomugha promised to come to the God Loves You Tour.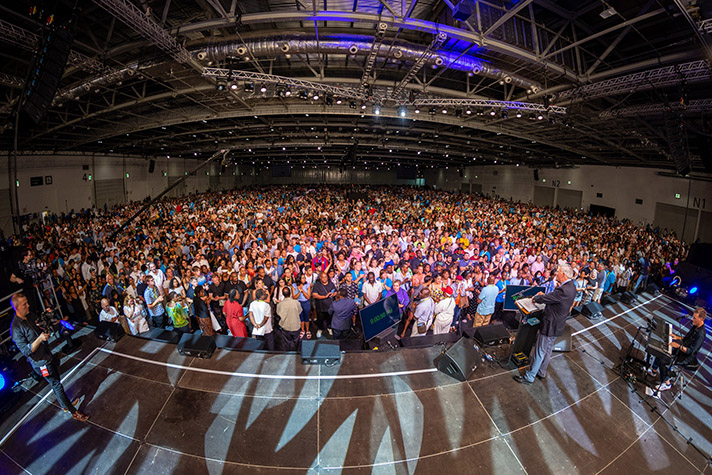 That night, Franklin Graham talked about the element of time after celebrating his 70th birthday in the city known for its 315-feet tall clock tower, Big Ben. "I've lived 25,550 days. … But I'm running out of time," he said.
Franklin Graham flipped open his Bible to the book of Daniel, chapter five to talk about King Belshazzar, another man who was running short on time—except he didn't know it. After God divinely intervened in his life, Belshazzar didn't turn away from his sins and faced God's judgment.
For Asomugha, the sermon served as a reminder of the need to leave sin behind.
"It's a second-by-second battle," Asomugha said. "I think this [event] was a huge turning point."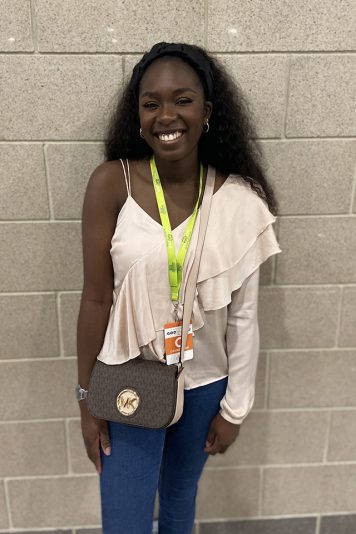 Seeing people like Asomugha walk forward was a beautiful answer to months of prayer for Gabrielle Odina, also 26, who served as a counselor and almost became emotional at the intentional response to the Gospel.
She talked with two sisters, ages 9 and 7, who came forward saying they had prayed the prayer of salvation before, but hadn't truly understood it until then. Odina, who regularly works with children in a psychiatric ward and is a worship leader at her church, also prayed with a 13-year-old boy who made a decision for Christ—and happens to be interested in playing the piano. 
Unlike the hands of a clock, Odina realized how easily time can slip through one's fingers.
"I don't know if I can speak for all young people, but I feel like we're bombarded with a lot of distraction. [There's] a lot we're told to pay attention to," Odina said. "If [God's] telling us from outside of time, 'Hurry up,' it's like OK you need to feel the urgency."
And she doesn't want that haste to fall away now that the God Loves You Tour has concluded.
Instead, Odina said, "I really hope that it's something that's tangible that we get to see manifest as we leave this place. Almost like the days of old that you think about in the Bible where things were happening. It was like people were bursting into the streets, speaking in tongues and singing. I hope to see more people openly talking about the Gospel of Christ, more people responding."
Little did Odina know just minutes later, that would come to fruition. A group of youth took the London Underground (also known as "the Tube") and lifted up their voices in the middle of a railway car, singing "Waymaker, Miracle Worker, Promise Keeper, Light in the darkness, my God, that is Who You are."
Perhaps one would again call it perfect timing.