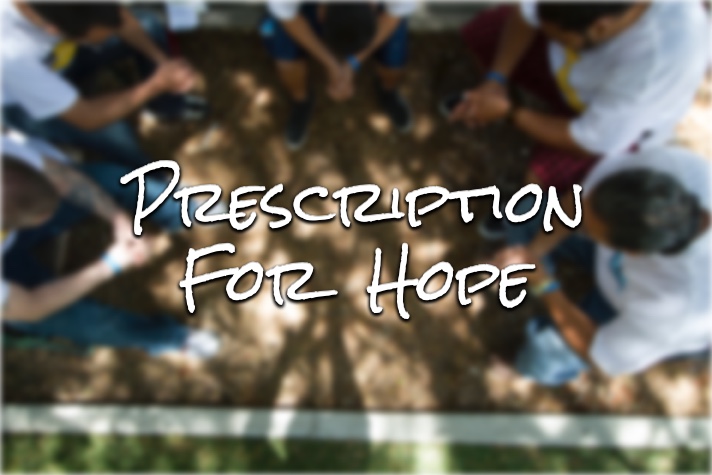 More than 72,000 people died from an opioid overdose in 2017 according to the National Institute on Drug Abuse. That's an entire city. Think of Portland, Maine, or Florida's Daytona Beach, for instance. Ohio-based Pastor Billy Price called upon the church to wake up during a recent Hope Over Heroin rally in North Carolina. "We're about ready to see the demise of our country, and it's coming from a place and a way that nobody would have ever guessed," he said. "How long do you think a free country filled with free men can tolerate the deaths of our sons and daughters?"
"Now the Lord is the Spirit, and where the Spirit of the Lord is, there is freedom."
—2 Corinthians 3:17
Freedom.
That's the only word Lauren could find to describe what she felt after getting baptized on a recent Saturday night at the Hope Over Heroin rally in Kannapolis, North Carolina. The two-day evangelistic outreach event marked the 40th for the Ohio-based Hope Over Heroin ministry. It strives to unite churches and encourage them to build community in the fight against the opioid epidemic.
Lauren knows what a demon heroin can be. She's been clean since Jan. 6, 2014, something she wrote in all-caps on the back of her fluorescent pink Hope Over Heroin shirt. She does her best to stay away from anything that could pull her back in.
She usually does her best to avoid church functions—they're too judgmental, she says. But something drew her to the Sept. 8 rally, and after talking briefly with a volunteer, she learned about a new Source for strength.
"I don't really know Jesus," she said, with information for a local church in her hand. "I wasn't raised that way. But I do know that there was Somebody who died for me, Somebody who died for my sins.
"I believe if I study the Word of God, I will be a lot better. I need something. I need something more. And I think it's God."
Four pastors started Hope Over Heroin in 2014 after 14 people in their community fatally overdosed in one weekend. Since then, the one-of-a-kind ministry has been invited to visit communities nationwide. Music, personal testimonies and a Gospel message happen on the stage, while churches, local resources and the community connect on the periphery. In 40 stops, more than 5,000 people have made decisions for Jesus Christ, while 2,000-plus have been baptized.
"But all these statistics don't mean a thing if the church doesn't wake up and see what time it is," Pastor Billy Price implored those attending the first night of the rally.
Price and his brother Jonathan are two of the four pastors who founded the ministry. A personal relationship with Jesus is at the core of recovery, but it's only the beginning, Jonathan said. The rest is up to the church body, particularly in Kannapolis' Cabarrus County and neighboring Rowan County, which lead North Carolina in overdose deaths.
"The charge for the churches here in Cabarrus and Rowan counties is for them to be disciple-makers," Jonathan Price said. "Things have to change in the lives of these addicts. You can't just simply say, 'Thank God you're saved. You got baptized at that event. See you at church on Sunday.' Well guess what? He's getting ready to go shoot up unless he has a whole community around him that says, 'You can do this.'"
River of Life Church hosted the two-day rally that drew together 20-plus local churches and 30-some faith-based and non-faith-based treatment options. People in active addiction, including one person who injected the illegal opioid heroin just before the event, were ushered immediately into treatment programs as soon as they asked for help. Others grieving the loss of loved ones were plugged into support groups. Everybody was connected with a local church.
"They need to feel like they're connected to community, that their life matters and they have significance," said Brandie Moore of River of Life Church. "They can contribute to society. They need that."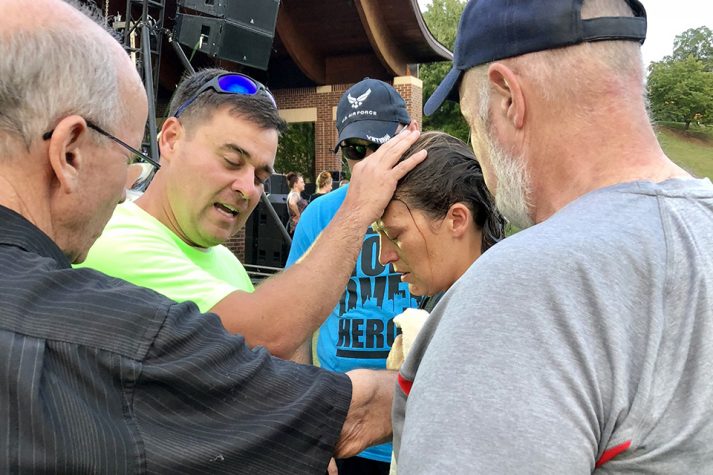 Brandie and her friend Holly Rabon prayed with one young woman who had lost several loved ones to overdose. There has been a 440 percent increase in overdose deaths in North Carolina from 1999-2016, with 1,000-plus deaths a year. While heroin and other illegal opioid drugs like fentynal are contributing to an increase in deaths, a North Carolina governmental agency historically reports that prescribed medications were a significant player. In 2017, for instance, the group reported a statewide dispensing rate of 51 pills per resident.
"I think a lot of people are walking around with hidden hurts and things that are not always obvious," Holly shared. "These are our fathers, mothers, brothers, sisters, children. It's time to stop letting the devil steal, kill and destroy.
"It's time for the church to be the church," she added, saying she plans to follow up directly with that young woman.
Debbie Lamm's eyes shone when she talked about following up with newcomers for her church Crossroads. Debbie knows too well the pain that addiction can bring a family. She had her own experience with a non-opioid addiction before walking alongside a family member addicted to opioids. Plugging into a supportive church made all the difference in her recovery.
"Time after time, someone gets clean and then they can't find support," Debbie said. "And they have to face life, but they don't have what they need. A lot of these guys go to treatment and they have nothing. They lose everything. They lose their families. They have no jobs, no money, no car and then you send them out to life? How are you going to do that?"
It's too easy to relapse in those circumstances, Debbie said, and the church needs to fill the gaps. Jonathan Price said his church found one gap was sober living so they created a house for men to recover and re-enter society. He directs that initiative that now houses 55 men and guides them from recovery to finding their spot in society.
While God will reveal those gaps to a willing church body, Price said, Debbie added that taking the first step in this life-or-death fight can be as simple as saying hello.
"Just say, 'Hi. My name is Debbie,'" she encouraged. "'I see you. God sees you. God sees you just the way you are, even if you're not clean, and He loves you anyway. He loves you anyway. He loves you before you get clean. You don't have to fix yourself. You can't fix it. He can fix it.'"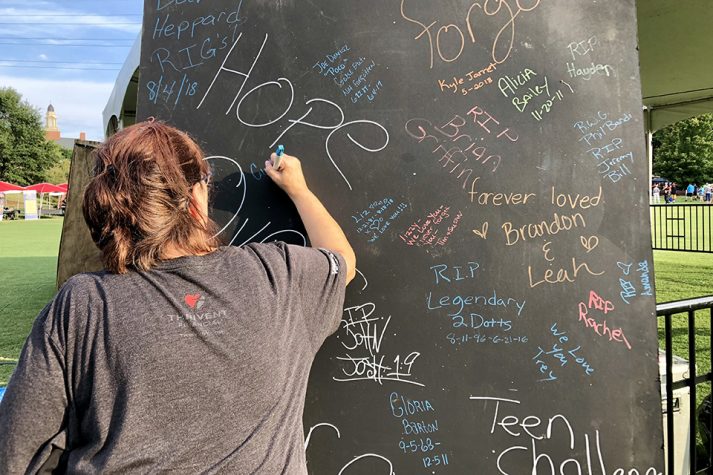 The same goes for loved ones, too, said Sherie Neely, who founded a family support group called Believe, Support, Hope. It started as a Facebook community that met monthly, but the group expanded recently to include in-person meetings at Concord's Crossroads Church on Tuesday evenings. Loved ones are encouraged to attend with their person in recovery, but it's not required. The goal of it all is to provide education and support, while keeping Christ at the center.
"We believe families recover together," said Sherie, who was motivated to create her own support group after trying without adequate resources to help a loved one battle addiction.
"Without Jesus Christ, it's a hard, hard battle," she added. "You just really need to have Jesus at the center of everything you're doing because He is the strength."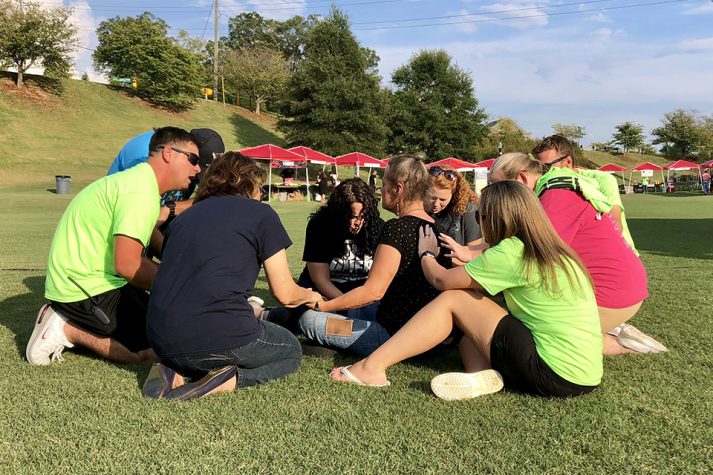 Over and over again, people said it's time for the church to be the church. Rosalie Canfield didn't get involved in Hope Over Heroin solely because she has a loved one in recovery. Rather, the director of operations believes the church in America has failed.
"We do great things," she said, noting she belongs to a great church. "But overall we look like the world."
Her loved one's addiction prompted her to look at the world differently, and she brings a compassionate sense of urgency.
"I look at everyone and I love them genuinely because I truly am able now to see them with the eyes of Christ," she said. "I see there's a soul there. If they don't have that personal relationship with Christ before they die, there's an eternity of hell at stake. So this is serious."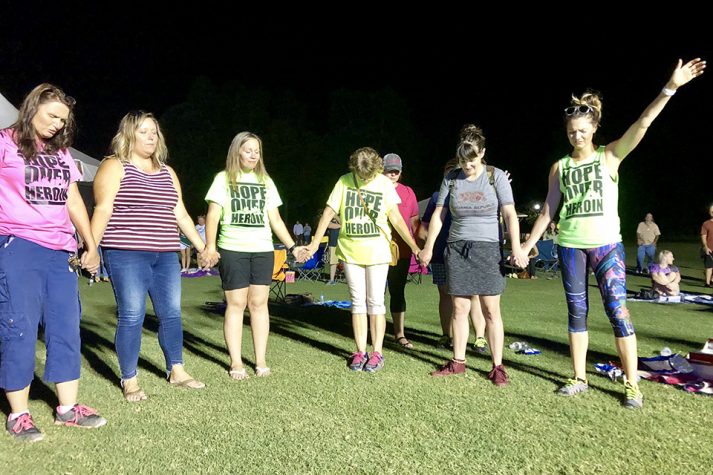 This article is the fourth in an ongoing series about the opioid crisis. Read the first three installments: 
Part 1: The Opioid Epidemic Is 'Every Single Christian's Problem'
Part 2: 'She Belongs to Jesus': Fighting for Loved Ones Overcome by Opioid Addiction
Part 3: Newborns, Mothers Navigate Opioid Crisis