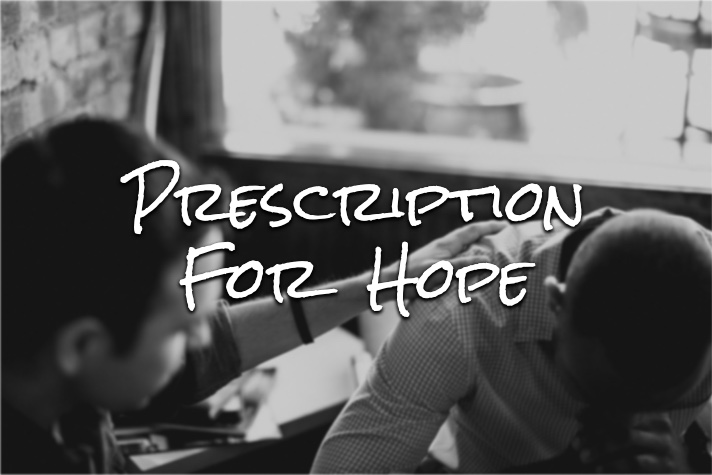 "For the eyes of the Lord range throughout the earth to strengthen those whose hearts are fully committed to him."
—2 Chronicles 16:9
Standing in her driveway in Dayton, Ohio, Jamie pointed across the street. That's the house she grew up in. Then she gestured the other direction.
"I overdosed just a couple of streets over," she said, one hand shielding her eyes from the striking late day sun, the other resting on her baby bump. (She has since delivered a healthy baby boy.)
"I can't believe I ever lived that way. I never want to go back to that life."
The drug culture, particularly the use of legal and illegal opioids, is ubiquitous in this southwestern slice of Ohio, and it's been grabbing headlines in recent years. In 2016, Dayton was tagged "overdose capitol of the nation." It wasn't a statistically fair nickname, but a year later, Dayton's Montgomery County saw a dramatic rise in fatal drug overdoses. So much so the Centers for Disease Control and Prevention officially labeled the area an "epicenter of the opioid epidemic" in a 2017 report.
And yet, there is still hope, even as the area's lackluster economy shows little promise of improving. Even as the drug cartels continue to deal in bulk at the nearby convergence of Interstates 70 and 75. And even as headlines and graphic illustrations have painted a grim picture, there is a team of people using innovative, and sometimes eyebrow raising, tactics.
Law enforcement officials, medical and treatment professionals and members of the faith community in and around Montgomery County are working together to make local residents—addicts, loved ones, taxpayers as a whole—aware of their options and to educate them on the reality of opioids. The U.S. Drug Enforcement Agency has even taken the creative model to replicate nationwide. The whole goal is saving lives, to fight for people like Jamie.
"We didn't get into this overnight, we're not going to get out of it overnight, but there's got to be some compassion," said Montgomery County Sheriff Phil Plummer, who recently ran for and won a representative seat in the Ohio State House. The opioid epidemic is a key agenda item for him. "My philosophy is one person at a time."
'[He] Saved My Life'
Sometimes it takes a near-fatal overdose to get someone's attention. That's what it took for Jamie after she overdosed on heroin, an illegal opioid. She had to be revived with naloxone, a nasal spray designed to reverse opioid overdose. The whole deal scared her to death. So much so when Bruce Langos, chairman of the Drug-Free Coalition, offered her the opportunity to immediately get help, she took it.
"I would say Bruce saved my life," Jamie said. "If it wasn't for him, I don't think I would have went immediately to where I needed to go. I think I would have came home, and it would have started all over again."
Jamie was the first person to take advantage of the Montgomery County Drug-Free Coalition's Front Door program, which partners with a local treatment center to make rehabilitation an immediate possibility for a willing drug user. That's something of a dream come true for people serious about getting clean and staying that way.
Protect Your Loved Ones:
Sheriff Phil Plummer's philosophy is one person at a time. Widespread changes may eventually be implemented and they may even have a big impact—but that's down the road. People are dying now. So for now, Plummer's department and others are simply focused on saving one life at a time. It's an approach you can take in your world, too. Consider these tactics:
Educate: It's a tough topic, but start talking with your children about the opioid epidemic during car rides, at the dinner table, wherever there's a quiet moment. Find out what it means to them, what they're seeing. That could open the door for future conversations.
Secure: Take care to responsibly store your pain medication, particularly if you have children in your home.
Toss: Don't hoard old pain medication. Take it to your local law enforcement station to dispose of it the right way.
Purchase: Your own dose of nalaxone, an over-the-counter nasal spray often called NARCAN that can reverse an opioid overdose, and learn how to use it. In Dayton, the G.R.O.W. teams have conducted NARCAN training during their neighborhood blitzes.
Consider: Children are orphaned far too regularly by the opioid crisis. If you have room in your heart and your home, consider fostering or adopting.
Pray: Above all else, never stop praying for those in active addiction, their loved ones and policymakers nationwide.
It can be really difficult to get a bed in a treatment center the same day. Some places, Jamie said, even encourage addicts to just keep using until they can be admitted for rehabilitation. That's terrifying when you consider the consequences of smoking, snorting or injecting an illegal, toxic substance that was mixed by someone without a chemistry degree.
All it takes is one bad batch to set off a string of overdoses. That's the sort of thing Langos tracks as director of the sheriff's office's criminal intelligence center. But he is grateful that he doesn't hear the same type of banter now when he goes on overdose calls.
"People in these neighborhoods would stand right behind me," he said. "And I could hear them say, 'Boy, I wonder where they got this from. If it's that powerful, I want some.' I don't see that anymore or hear that anymore."
'You're Not Afraid to Love Them'
Education has been the primary driver for the Drug-Free Coalition, which uses its G.R.O.W. (Getting Recovery Options Working) program to build relationships within the community. This is where the sheriff's office has called upon the local church to step up and join in the opioid fight, to start embracing people who want to get clean and desperately need new people to partner with them.
And this is the part that gets Di Berry so excited. The 68-year-old who feels 28 in her heart leads the Celebrate Recovery program at nearby Salem Church of God. Her church hosted one of the opioid-specific Town Hall meetings held by the sheriff's office, and since then, she's been mobilizing people to serve.
"God is raising up things all over this city," she said, her voice full of emotion. "And people are getting excited."
There are two primary ways these volunteers serve. They can stuff literature bags containing information on available resources that are then used during educational door-to-door campaigns called G.R.O.W. Blitzes. Or they can join in when a G.R.O.W. team is dispatched to follow up with someone who recently overdosed.
Anytime a person overdoses and requires medical personnel, that individual is transported to the local hospital for further evaluation. When they get there, these individuals are given several options: they can enroll in treatment; they can talk with a peer counselor, someone who is now clean but familiar with the painful road of addiction; or they can just walk away.
The Drug-Free Coalition tries to check on every person who overdoses. These G.R.O.W teams typically involve law enforcement, medical professionals, treatment professionals, peer counselors and members of the faith-based community.
Officer Larry Lane, a man of faith and a longtime employee of the Montgomery County Sheriff's Office, said the faith community has helped "fill that hope void" law enforcement officials all too often find when working with people impacted by the opioid crisis.
"You've got to be nonjudgmental to get into this kind of ministry," said Lane, who attended Billy Graham Crusades in Ohio. "You're dealing with a lot of really unique people. We're going into houses that are condemned, and [the church members will] latch onto these people and they'll hug them and pray for them. You know a lot of these people, especially the people that are addicts. It's been a long time since they've seen anybody do that for them."
"What would Jesus do?" Berry put it plainly. "He would be right in downtown Dayton. He would be right there. He would be running to people who are struggling on heroin and coming into detox and stealing and whatever. He'd be right in the thick of it. He called us to serve.
"You're not afraid to love them. You're not afraid to see them as people. You feel the Lord's tug on your heart to reach out to them just as He would do. And you want desperately in your heart to give them hope to know that it doesn't have to continue—to know that they can get clean, that there is help there."
It thrills Berry to see people walk in freedom. On a recent G.R.O.W. visit, she listened as one addicted woman shared how she had just kicked out her also-addicted daughter. The mom was ready for a change; her daughter wasn't. Mom was on her way to treatment.
On another outing, Berry met a young man who asked for one of those G.R.O.W. info bags so he'd be ready. His dad, he said, is addicted.
"He took it for him to learn and to have emergency numbers to know what to do," Berry said. "We were so proud of him."
'This Ain't No Game'
Responses are always mixed on G.R.O.W. calls. Sometimes people see the sheriff's badge and run out the back door. Other times, they simply slide open an upstairs window to say someone doesn't live there anymore. But an open door can lead to a relationship, and maybe an alternate ending for someone suffering from opioid addiction.
That's what peer support specialist Scotty Mays is always working toward. Two-and-a-half years clean, Mays began his struggles with addiction after a childhood pierced by abuse and trauma. He got so far in the ditch that he even considered ending it all. He remembers clearly standing on a park bench one Sunday morning with a noose around his neck. Before he could take that final step, his cellphone rang. An old friend was calling out of the blue to see if Mays wanted to go to church with him.
Mays threw the rope away and joined his friend. The days that followed weren't easy, but Mays ultimately found support through one of the sheriff's Town Hall meetings. He stood up, teary eyed and asked for help. After he got clean, he joined the opioid fight as a peer counselor. His track record, which included some jail time in 2012, has only enhanced his ability to relate to people walking the same road.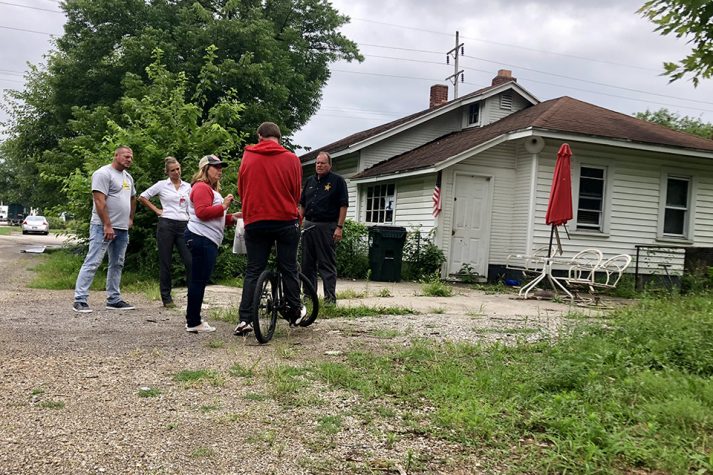 That was the case during a recent G.R.O.W. follow-up call. Mays could relate to one gentleman who was just exhausted by the cycle of addiction. The Dayton resident had barely opened the screen door when Drug-Free Coalition Chairman Bruce Langos, wearing a badge, made the initial knock. But he warmed up as Mays kindly chatted with the gentleman about his life, his struggles. The conversation didn't get far before Mays got to the heart of the matter.
"It's going to kill you, man," Mays said, his voice hoarse, desperate.
He pleaded with the man to consider going to treatment. Right now. Langos stood nearby, ready to take him. But any glimmer of hope extinguished sadly into the man's deeply lined face. He just wasn't ready. Mays understood that, too.
"Call me," Mays pleaded as the man closed the screen door. "This ain't no game."
"They say God is love, right?" Mays asked after getting back into Langos' car. "This is us loving people until they learn to love themselves. This is just a small step because, being quite honest, I couldn't even look at myself in the mirror."
"There's a point where they will probably desire help," Langos said, noting that peer counselors build relationships better than anybody else. "Ninety percent of the people that I've met that have an addiction are the finest people you'd ever want to meet," he added. "They just fell on hard times or something triggered it."
About a mile down the road, Langos sat thoughtfully at a red light. His blinker clicked in the background. This is a second life of sorts for Langos. He retired to do this after building up a successful business and selling it. So, he doesn't think he's here in this particular role by accident. He believes that God has him and this team here for a reason, and that helps because some days are just hard.
"I think every human being is important to God whether they are believers or not."
And with that, Langos turned onto the next Dayton street. It's onto the next visit.
This article is the fifth in an ongoing series about the opioid crisis. Read the first four installments: 
Part 1: The Opioid Epidemic Is 'Every Single Christian's Problem'
Part 2: 'She Belongs to Jesus': Fighting for Loved Ones Overcome by Opioid Addiction'
Part 3: Newborns, Mothers Navigate Opioid Crisis
Part 4: Jesus Is Only the Beginning as Churches Unite to Find Hope Over Heroin