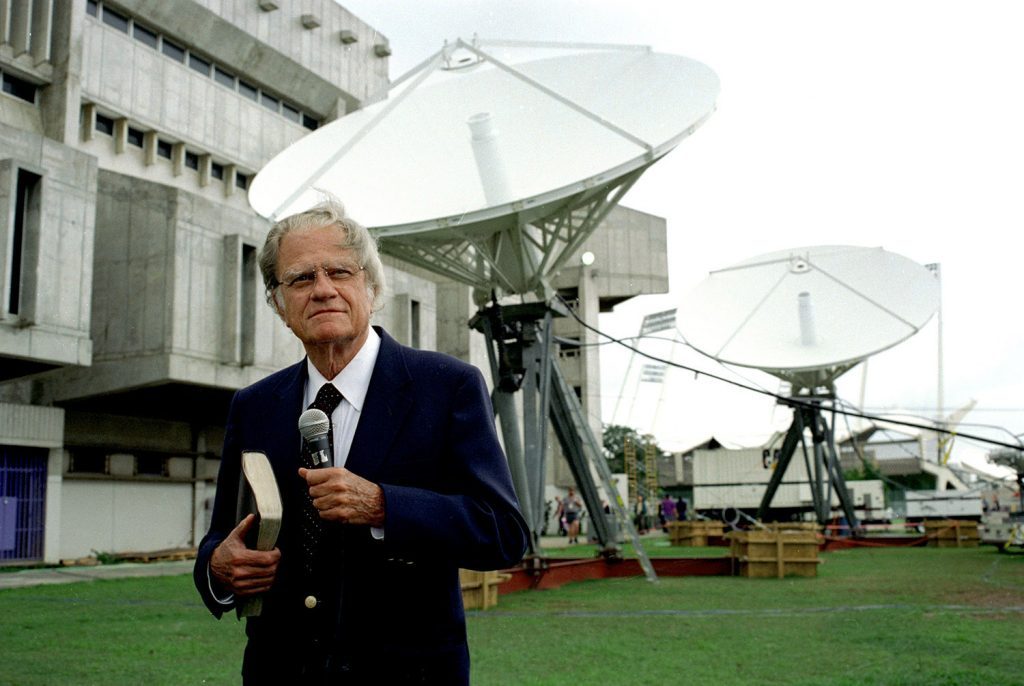 "Billy Graham has been preaching to me more since he went to glory then he ever did while in this world," Bill Traer wrote six weeks after Mr. Graham's death. Bill is one of many to express gratitude for The Billy Graham Channel, which aired on SiriusXM in the weeks following the evangelist's home-going. The temporary channel introduced a new generation of listeners to the Gospel message Billy Graham preached around the world for seven decades.
Below are five short stories of how God recently used channel 145 to reach men and women with the hope of Christ. While the channel is currently available only at certain times of the year, you'll be able to listen again soon. The next time is scheduled for May 25–June 17. There are also plans to bring the channel back in late summer and again near what would have been Billy Graham's 100th birthday this November.
If you appreciate The Billy Graham Channel and want to tell SiriusXM, you can email listenercare@siriusxm.com or write to: Scott Greenstein, Chief Content Officer, SiriusXM, 1221 Avenue of the Americas, New York, NY 10020.
'I Was Alone in My Truck'
On Feb. 25, four days after Billy Graham passed away, a truck driver named Stephen contacted BGEA to say he was listening to The Billy Graham Channel on SiriusXM and renewed his commitment to Christ. After listening to Mr. Graham's message, Stephen didn't want to keep his decision to himself. "I think he [Billy Graham] said this should be done in public," Stephen said. "I was alone in my truck."
It Was 'Directly Responsible for Bringing Me to Christ'
On April 17, Ted A. left the following comment on BillyGraham.org:
"Here's another vote to continue The Billy Graham Channel on Sirius radio. The short period it was on was directly responsible for bringing me to Christ on April 3, 2018." Billy Graham would have said, "Praise the Lord!"
'It Was as Though Billy Graham Was Talking Directly to Me'
On Feb. 27, Stephen Farris left this comment on Billy Graham's memorial website: "I needed help and asked God for direction. The next day my radio said to tune to Billy Graham on Sirius. It was as though Dr. Graham was talking directly to me about my problem. He gave me what I needed to overcome what I was facing. Thank God for Billy Graham, truly a great man."
'My Marriage Is in Shambles'
A woman was listening to The Billy Graham Channel in her truck and heard Mr. Graham's Gospel message. She decided to contact BGEA to connect with a trained online chat coach. She talked about the difficulties of being a full-time truck driver with little time off. "It feels so alone in this truck," she typed. "I am hoping they keep Billy Graham on channel 145 on Sirius radio. Truck drivers need this so bad. I need it so bad. My marriage is in shambles. Thank God I stumbled onto channel 145 and heard Billy Graham."
'I Never Want to Get Out of My Car'
Catina Kelley wrote the following comment on April 4: "I've always listened to sermons or worship music in my car, but when I discovered Billy Graham on SiriusXM, it was completely different. It goes way beyond 'feel good' preaching. It's challenging me, a believer, to ask myself some real questions. I really hope this channel stays. Only problem is I never want to get out of my car when I arrive my destination."
Check back with BillyGraham.org for updates on The Billy Graham Channel on SiriusXM, and tune in to channel 145 on May 25–June 17 to hear Billy Graham's timeless message of God's truth.
Here are three other ways to hear inspiring messages right now:
1. Listen to a classic Billy Graham message in our searchable audio archives. There are more than 1,600 messages available.
2. Hear the latest podcast from the BGEA, featuring true stories of God's amazing power.
3. Tune in to 106.9 The Light, the radio station founded by Billy Graham.