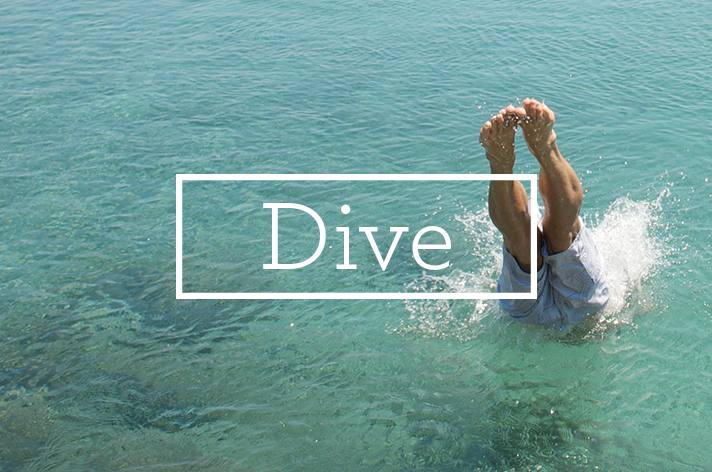 You're reading part 2 of a 6-week Summer Soul Refresher series from BGEA. Read part 1: 5 Ways to Replenish a Burned-Out Soul.

And you shall love the Lord your God with all your heart, with all your soul, with all your mind, and with all your strength. —Mark 12:30 (NKJV)
God's love for you is deep, wide and more intense than you can imagine. But it can be a struggle to love Him back the way we should—with all our heart, soul, mind and strength. Read on for some practical ways to dive deeper into your relationship with God through prayer, reading the Bible and relationships with others.
---
Prayer
Pray without ceasing. —1 Thessalonians 5:17, NKJV
You can't have a deep relationship with God unless you spend time with Him, and one way to do that is through prayer. But how should you pray in order to draw closer to God? Here are some practical ideas.
Pray often. Sometimes we fall into a habit of praying only when we want something from God. Most of us have whispered a desperate, last-minute prayer: "Help me, God!" But the Bible says we should "pray without ceasing." That means going to God throughout the day to thank Him, praise Him and make requests for ourselves and others.
Pray in a quiet place where you can focus on God. Jesus said, "But

when you pray, go into your room and shut the door and pray to your Father who is in secret. And your Father who sees in secret will reward you" (Matthew 6:6).

Don't focus on fancy words and long prayers. Jesus also said,

"And when you pray, do not heap up empty phrases," thinking God will hear you better if you talk more, "

for your Father knows what you need before you ask him" (Matthew 6:7-8).

Use the Lord's Prayer as a guide. The words known as the Lord's Prayer are found in Matthew chapter 6. If you can recite it by heart without even thinking about it, take time to look at the words with a fresh perspective to see how Jesus is telling you to pray.
Remember the word ACTS. Some people find it helpful to use the letters A-C-T-S to remember how to pray.

A stands for adoration. Tell God you adore and praise Him. Spend time worshiping Him.
C stands for confession. Confess your sins to God and ask Him to forgive you.
T stands for thanksgiving. Thank God for His Son, Jesus, and the blessings in your life.
S stands for supplication. Ask God to supply your needs and the needs of others.
More resources to help you pray:
>> What is prayer, and why is it possible?
>> Turn to God in Prayer: A 10-minute audio message from Billy Graham—recorded in 1970—that's relevant today.
>> What does it mean to have a personal relationship with God? Billy Graham's Answer.
>> If God loves us, why doesn't He answer all our prayer requests with "yes"? Billy Graham's Answer.
---
dive | dīv
(v.): To intentionally jump or plunge headfirst
---
Scripture
Man shall not live by bread alone; but man lives by every word that proceeds from the mouth of the Lord. —Deuteronomy 8:3b, NKJV
Do you ever wish God would speak to you? Give you some direction?
Maybe there are a lot of things you'd rather do than read the Bible, yet that's one of the best things to do for one-on-one time with God. The books of the Bible are His words to you. It's full of wisdom, life lessons, truth and encouragement. If you commit to reading the Bible daily, you just might find that you look forward to it. Here are 8 tips and ideas to get started.
Think of the Bible as food for the soul. A daily dose can bring peace and balance to your life, and help you think and act in ways pleasing to God.
Get into a routine. Set aside at least 10 minutes a day to read the Bible. It might mean getting up a little earlier or finding a quiet spot away from everyday distractions. Maybe you read it with a cup of coffee, during your lunch break or before bed. Set a time and stick to it.
Don't worry if understanding the Bible seems hard at first. Before you begin reading, pray and ask God to help you understand what you're about to read. Ask Him to show you what He wants you to learn. Study Bibles are also helpful in giving you context.
Keep these 3 questions in mind as you read. What does this passage mean? What is God saying to me in this passage? And how can I apply this to my own life?
Ask a friend to read along with you. Maybe you can go through a reading plan together or meet each week to talk about what you've read. Text or email Bible verses to each other, or use a Bible app to "friend" each other and share notes.
The Bible can be overwhelming. Where should you begin? See if your church has a printable Bible reading plan or search for one online. You can also aim to read a chapter a day (try one Proverb a day for each day of July). Joining a Bible study group is another good option.
Read by topic. The book of James is all about Christian living. The Psalms, a book of worship, can enrich your devotion to God, and Proverbs is full of wisdom to strengthen your relationship with others.
Don't beat yourself up if you miss a day. Renew your commitment and pick it back up the next day.
More resources to help you read Scripture:
>> How do you know which Bible translation to use? Billy Graham's Answer.
>> Find Bible studies by Anne Graham Lotz.
---
Relationships
Above all, keep loving one another earnestly, since love covers a multitude of sins. —1 Peter 4:8, ESV
We've all had moments where we put tasks over people. Maybe you've found yourself engulfed in deadlines at work; barely coming up for air to chat with coworkers. Or perhaps you spent so much time prepping food during the dinner party that your guests had to entertain themselves. Whether with your spouse, children, friends or even complete strangers—we're each involved in some type of relationship. And the Bible says we should take them all seriously—whether we want to or not.
The secret to strengthening relationships that have weakened over time or never really gained ground is to love. But not just half-hearted, shallow love. We are to love others earnestly, meaning with purpose and ambition. Here are three ways to be intentional with your relationships:
Show your love. Saying "I love you" is meaningful, but can resonate deeper with action behind it. Make a greater effort to pay attention to those around you and do something to communicate your love in a way that's special to them. Even small gestures and quality time can leave a lasting impression.
Forget about yourself. God's love for you is the greatest example of how to love and care for others. There is no struggle we've had that Christ did not experience, yet He unselfishly gave His time to meet the needs of others. In your relationships, strive for this deeper connection that leaves people changed for the better. Listen carefully. What's important to them? How can you join them in prayer? Do you have a solution to something they need?
Extend grace. Can you think of a few individuals you're not on good terms with? Difficult people aren't excluded from our relationship building. Broken relationships are perhaps the most important to mend and improve. Love is not easily angered (1 Corinthians 13:5) and if you find yourself holding a grudge or avoiding someone because of the past, it may be time to extend grace. Forget who started what and reach out with genuine forgiveness and an open heart.
More resources to help your relationships
>> Billy Graham Devotion: Loving Others
>> Billy Graham Devotion: How to Love
This funny clip from the upcoming film, War Room, includes a valuable lesson on giving all or nothing:
Want more of our Summer Soul Refresher series?
Part 3: 9 Ways to Grow in Your Faith
Part 4: 'A Time to Laugh': 5 Ways to Add Laughter to Your Life
Part 5: 3 Keys to Sharing Your Faith
Part 6: How to Shine Your Light for Christ