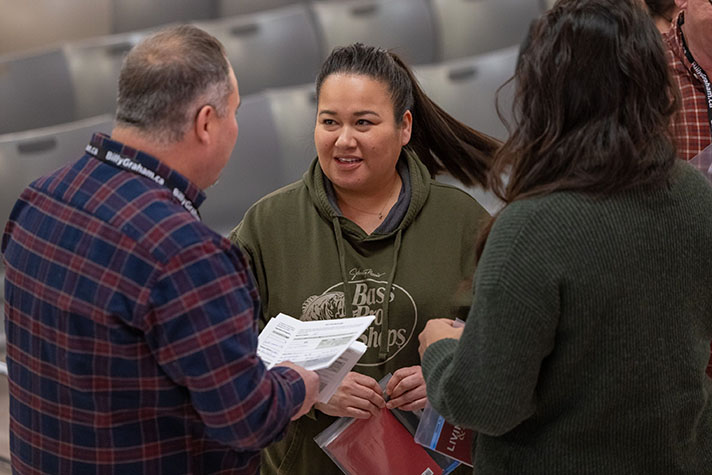 Fort Chipewyan may not be the "end of the earth" (Acts 1:8, ESV), but it kind of feels like it.
A remote settlement of just 800 people, it is only accessible via air travel, with the exception of the winter months when an ice road makes driving possible. Bone-chilling cold, long nights, beautifully untouched winter landscapes, and whirlwinds of powdery snow are ever-present as November turns to December.
Situated on the western edge of Lake Athabasca, the community holds a historic place in Canadian and European history.
"Fort Chipewyan is the oldest European settlement in Alberta, Canada, founded in 1788," said Pastor Rick Kirschner, one of the local leaders who spearheaded the community's participation in Will Graham's Northern Canada Christmas Tour, which kicked off Wednesday night in Fort Chipewyan. "It was the home of the Hudson's Bay fur trade, so it's an international community that's really been the heart of the fur trade in Canada and North America."
The majority of the residents of Fort Chipewyan are Cree, Dene, or Métis, representing First Nations.
[PHOTOS] A Heart for Sharing Jesus in Remote Places: Will Graham's Northern Canada Tour
As with any community, large or small, the people here are searching. "We see a lot of our community members seeking fulfillment, seeking earthly desires, always seeking something greater," said Darren Mercredi, who grew up in Fort Chipewyan before moving to Fort Smith (which happened to be Friday's stop on the Northern Canada Christmas Tour).
"I think a lot of people are interested and hungry for the Lord, which fulfills that desire of His love, His presence. I see a lot of community members hungry for faith, seeking answers in their lives."
The First Christmas
Following music by award-winning artists George Canyon and Brooke Nicholls, Will Graham shared a Christmas message at Fort Chipewyan's Mamawi Community Hall. In doing so, Graham sought to make sure that everybody in attendance truly understood what Jesus—whose birth we celebrate at Christmas—did for them by coming to Earth.
"For some of you, it may not feel like a merry Christmas—old memories, deep scars, brokenness," Graham said. "You've heard all the beautiful Christmas songs. You've seen the wonderful Christmas movies. But that's not what's going on in your life."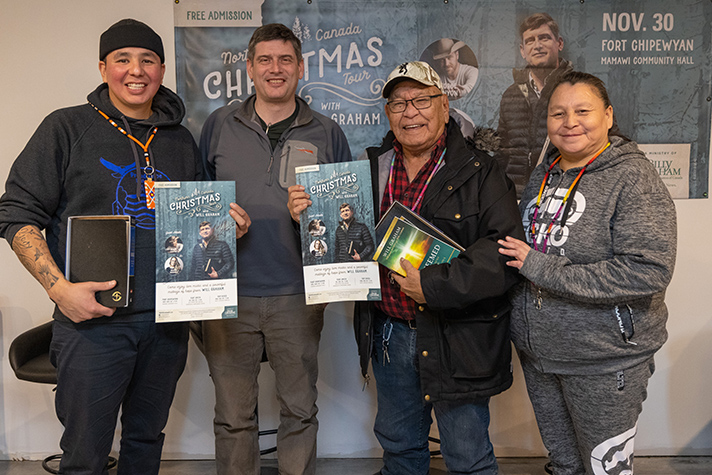 He continued by sharing how some of the participants that first Christmas—such as the innkeeper, King Herod, and the religious leaders of the day—completely missed Christ's arrival, because they were too busy, too jealous, or too indifferent. Others, including the shepherds and wise men, recognized the magnitude of Jesus' birth and ran to worship Him.
Graham then encouraged the audience to respond and begin a relationship with Jesus this Christmas season.
"God loves you so much that He came to take your brokenness and pay your debt. He can change your life tonight if you come to Him."
In response to the Gospel message, one-third of the attendees came forward to surrender their lives to Christ.
'A Full Heart'
Among those who walked forward was a young woman named Vivian.* Her mom grew up listening to Billy Graham, so when she heard that Will Graham—Billy Graham's grandson—was coming to town, she knew she had to go.
"I loved it. It was so nice. The whole meaning of Christmas, it brought so much happiness and left me with a full heart," Vivian said.
When Will Graham gave the invitation, Vivian rededicated her life to serving Jesus.
"It was sort of like a redirection," she said. "I fell off from [my faith] for a bit, but I want to make my way back. Towards the end, Will said when you're lost, you're brokenhearted, open your heart [to Christ] again. I want that."
When asked what the future held, Vivian beamed: "From here on out, I see it going up. Lots of happiness, new adventures, and reconnecting my faith, of course!"
'Revival, Brother!'
After the opening night of the three-stop Northern Canada Christmas Tour, Darren Mercredi took a moment to consider what had just taken place.
"We saw the presence of the Lord, the Holy Spirit. I'm floored. It's such an overwhelming feeling. Seeing how many of our brothers and sisters accepted Jesus in their lives tonight was amazing, amazing, amazing," Mercredi said.
"It was an opportunity to witness many lives being set free. I'm so excited for Fort Chip. Praise the Lord!"
Pastor Rick added, "My personal conviction is this is exactly what's needed. We've been sowing seeds of hope, cultivating, stirring up—we need a spiritual awakening. I'm aware of revival, and I've studied revival. Fort Chipewyan needs revival. Canada needs revival. And I believe this being one of the oldest communities in the entire country, this is where it's going to start."
Mercredi agreed. "Revival, brother! Revival! Revival here in Fort Chipewyan," he proclaimed. "We need it."
*Name changed for privacy.