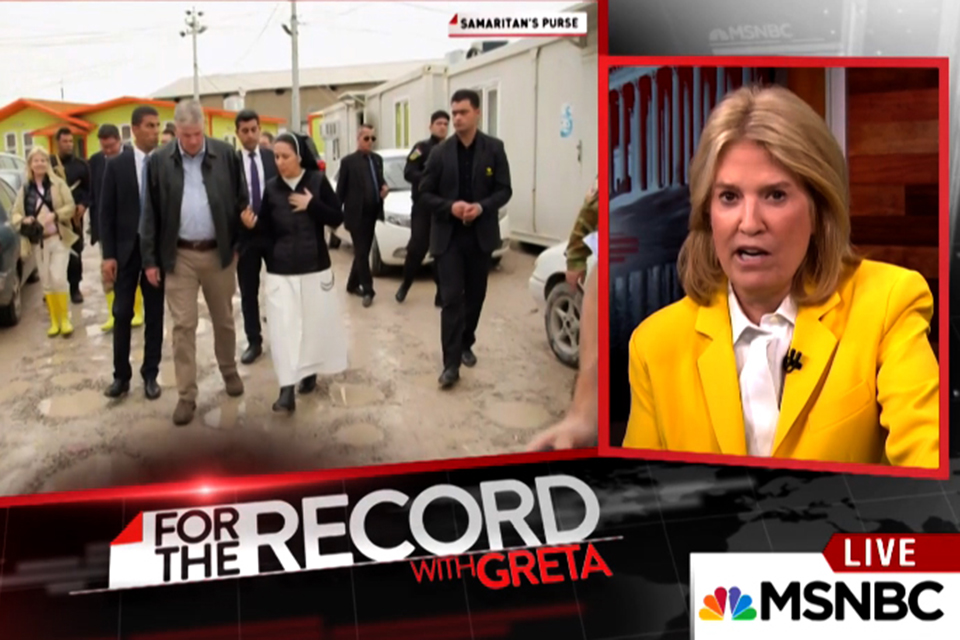 Greta Van Susteren spent her Easter vacation gaining more insight into what she calls a "neglected story"—the persecution of Christians in Iraq. During her "For the Record" broadcast on Monday (full video below), she focused specifically on the horrors befalling persecuted Christians in Mosul after visiting the war-torn area with Franklin Graham. Samaritan's Purse has built a field hospital near Mosul to care for the victims of violence at the hands of the so-called Islamic State.
"ISIS has slaughtered so many innocent people in and around the Mosul area, which used to have many Christian villages, some as large as 50,000," she said. "They're now ghost towns. ISIS killed or threatened the Christians for being Christians, and those who survived fled while ISIS seized their homes and looted everything inside, including copper wiring in houses to make (improvised explosive devices) to maim and kill."
Global watchdog Open Doors ranks Iraq seventh on its list of the 50 countries most hostile toward Christians, but the persecution of Christians is on the rise worldwide. For that reason, Franklin Graham is holding a World Summit in Defense of Persecuted Christians this May. He wants to raise awareness and advocate for change.
"Christians are under attack," he has said. "Not just throughout the Middle East but around the world, and we need to show solidarity."