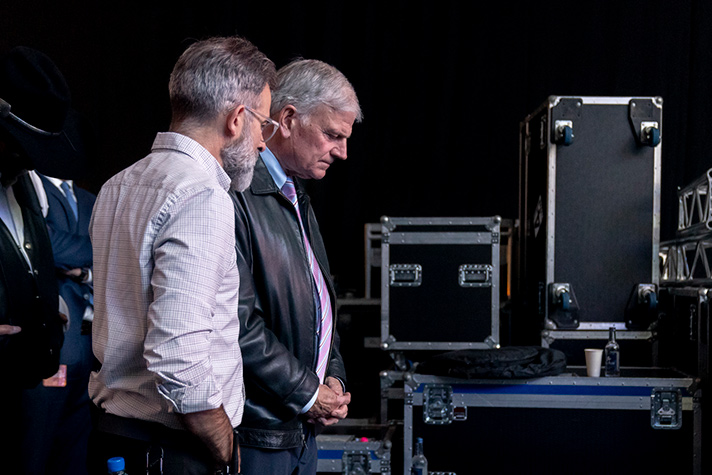 This past weekend, thousands came out to the God Loves You Tour stop in Newport, Wales.
But what led them to spend a beautiful spring evening at the evangelistic event?
Well, there are lots of possibilities.
Some heard about Franklin Graham's visit through Facebook. Others saw a billboard advertising free, live music from the Newsboys. But many were personally invited by local believers.
The Goal: Supporting Local Churches
That's why mobilizing local churches is so essential to the Billy Graham Evangelistic Association's (BGEA) outreaches around the world.
"We're not trying to build a new church. We're trying to support the existing ones," explained Toyin Onabowu, a God Loves You Tour associate.
In each of the four cities where Franklin Graham is preaching, the team has stirred up a passion for evangelism among local churches—and offered tools to share the Good News in their communities.
It was at one of those training events—called Christian Life and Witness Courses—that Onabowu was inspired to get more involved—even though she lives 120 miles from the next stop in Sheffield.
"In 2020, everybody just got knocked. Everybody suffered," said the Nigerian woman who moved to the U.K. in the 1990s. "It's been so good to talk with pastors about how they've journeyed through COVID, to encourage them, and to offer an opportunity to rebuild."
The Vision: Sharing Christ in Sheffield
But, just like the U.K. weather, it hasn't been all sunshine and rainbows.
In the many months leading up to Wednesday's evangelistic event, Onabowu admitted she's been discouraged at times. Some pastors were hesitant to commit—referencing pandemic weariness and dwindling congregations.
But then she'd notice them signing up later. The same churches that originally turned her down were catching sight of the vision—to share Christ's light in Sheffield.
"I know that God's been doing some work behind the scenes," Onabowu said with a smile.
Another tour associate, Abigail Taylor-Lewis, shared that if church leaders were hesitant to get involved, she'd ask them to pray.
"It changes their mindset, and [I can hear] a little bit of conviction … in their voice when I'm like, 'Can you just pray that lost ones will come and hear that God loves them?'" said Taylor-Lewis, who's originally from Scotland.
The Prayer: Seeing People Enter the Kingdom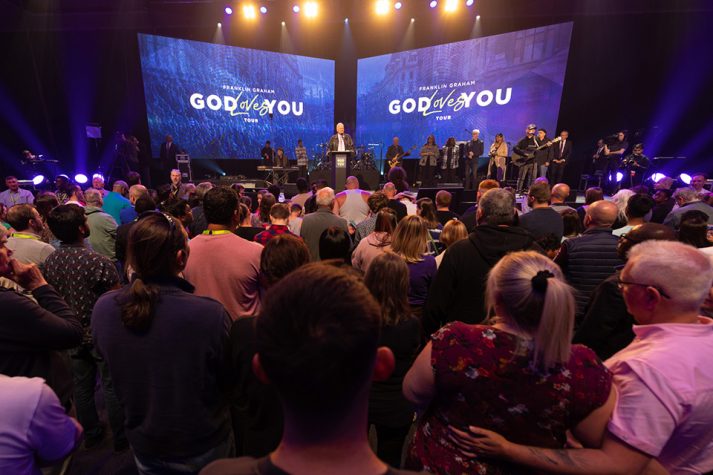 Now, over 300 churches in the Sheffield area are involved and excited about the God Loves You Tour.
"We believe the revival fires are being released through these tours, and it's again helping the local church catch that vision for the lost," said Taylor-Lewis.
And even as she eagerly shared about God's work leading up to the evangelistic event, she added, "I'm more excited about the aftermath of watching what God's going to do."
Excited is an understatement for Onabowu's reaction to the last tour stop in Wales. Watching live on her phone from home, she audibly yelled, "Praise God!" when hundreds of people walked forward to commit their lives to Christ.
"It was a picture of people entering the kingdom of God," said Onabowu, who has never attended a BGEA event before. "I can't wait for Wednesday."