Saturday night, 87-year-old Pam Hawkes watched history repeat itself in Great Britain. 
A sea of people came to the front of the stage at the International Convention Centre Wales, responding to the Gospel message that Franklin Graham shared on the second stop of the four-city God Loves You Tour.
During the peaceful melody of "Just As I Am," a young woman went forward with two friends, tears streaming down her cheeks. A mother and son walked up the far left aisle. Two girls in secondary school with beaming smiles responded to the Gospel—along with hundreds of others.
>> See photos from the God Loves You Tour stop in Newport, Wales.
It took Hawkes back to 1954. That's when she made the decision to follow Christ while the same song played at a Billy Graham Crusade in London's Harringay Arena. She was just 20 years old.
"The Gospel is forever new, whether it's 68 years ago or now when people are responding to it," the white-haired woman offered with a sweet smile. "I needed to come today to pass on what I have to someone else."
Not far from her hometown in Cardiff, Hawkes was one of over 200 counselors to serve during Saturday's event. The tour stop marked Franklin Graham's first visit to Wales, a nation that's about the size of New Jersey.
With over 600 centuries-old castles appearing between its seaside towns and green, rolling hills dotted with sheep, much of the region appears straight out of a fairytale. But residents have endured a lot over the past few years.
"This [tour] has been a long time coming. Nobody was counting on the pandemic—and the pandemic has changed the world," Franklin Graham said, noting its result of widespread hopelessness.
"But the Gospel hasn't changed," he continued. "It's the same for every generation."
Reading from the book of Mark in chapter 10, Franklin Graham said there's always a reason to hope. He told the story of Bartimaeus, a blind man who was healed after calling out to Jesus for help.
In the crowd of 3,200, Alicia listened intently. She had experienced the hope of Christ about six years ago, which led her to faith. But since then, she's grown distant from God, falling into sin and constantly condemning herself.
Sitting toward the back of the auditorium, she looked at her dad and boyfriend when Franklin Graham called people to come and make a decision for Jesus. They all looked at each other and asked, "Should we go up?"
But Alicia was the only one who walked forward. She was crushed, but prayed from the front, asking God to change their minds. At one point, the primary school teacher looked back and saw they did.
In the meantime, she met a counselor named Aleena, a college student who attends the University of South Wales, the same university she did. The virtual strangers became fast friends, laughing together but also getting serious about their faith. It almost seemed like they were sisters—because now they are—through Christ.
"Anyone can call themselves a Christian, but that doesn't necessarily mean they have a relationship with God," said Alicia. As the women chatted, Aleena spoke truth to her, whipping out her Bible to point out verses.
Although Aleena didn't grow up in a Christian home, she said, "God transformed me through the Bible. That's why I believe in evangelism so much. I want other people to experience the joy that I have.
"He's a kind, loving God who always has open arms ready to receive you."
On Saturday, her new friend Alicia decided to walk back into God's loving embrace—and to be more bold in her faith.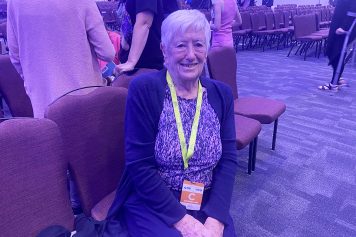 "I don't want to worry so much about what people think, even just putting Bible verses on social media," Alicia said.
She doesn't have many Christian friends, but her connection to Aleena was instant. Towards the end of their conversation, a man interrupted them.
"Congratulations on the best decision of your life," he told Alicia. "Nothing else matters. You're very brave coming forward. You're obviously friends, just keep talking. Christian friends are so important."
The women agreed. "I think we were meant to meet," Aleena said.
Nearby, 87-year-old Hawkes prayed the Lord would direct her to the person He wanted her to meet. Last week, she felt a strange urge that God had someone particular in mind for her to talk to during the tour. Down front, she started a conversation with Sophia, a teenager who had just given her life to Jesus.
>> Read about the first tour stop, which kicked off in Liverpool, England.
"I found the young lady that the Lord wanted me to bless," she explained afterward. Their interaction was short, but pivotal. Just a few minutes can change eternity.
Hawkes first helped Sophia fill out a form that would help her find a local church. Then, Hawkes gently held Sophia's face in her hands, prayed with her and said, "God bless you on your journey."
"[It was] brilliant," Hawkes recalled. "God is so good." 
While Hawkes doubts she'll see Sophia again on this side of eternity, she knows the teenager is now equipped with the Holy Spirit to guide her through life—and Hawkes realizes just how crucial that is.
"I have had a very sad life, but God has been so faithful," said Hawkes, who has no living relatives. Her husband passed away and she later lost her daughter to a 17-year battle with anorexia.
"There's always hope," Hawkes continued. "I've lived life on my own, but I'm not alone. Through deep sorrows and mountain tops, He's been my constant. I just knew I had to [come tonight] from my point of view. It was to say 'thank you' for 68 years of faithfulness. He's been my Rock, my Friend, my Savior."
It was yet another mark of history.