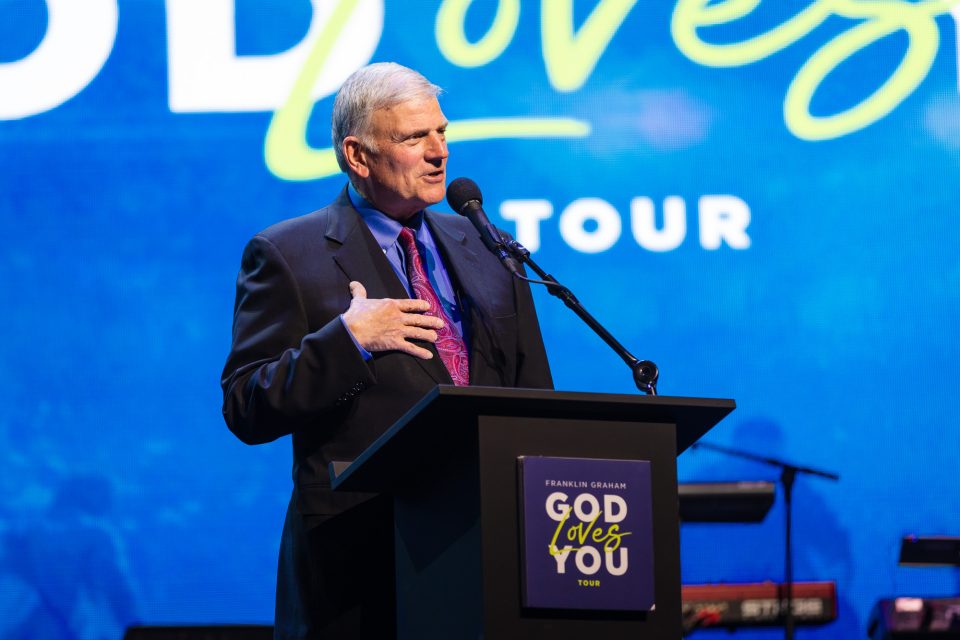 This spring, Franklin Graham will travel to six regions along the East Coast for the God Loves You Tidewater Tour. These one-night evangelistic events will feature a hope-filled message from Franklin Graham and live music from popular Christian artists Newsboys and Marcos Witt.
"I'm grateful that the Lord has opened the door for another God Loves You Tour—this time in Maryland, Virginia, and North Carolina," Franklin Graham said.
>>Get details on the upcoming Tidewater Tour.
During the Tidewater Tour, Franklin Graham will preach the Good News of Jesus Christ across four regions of Maryland, before heading south to the Hampton Roads area of Virginia and closing out the tour in the Albemarle Sound region of North Carolina.
"The God Loves You Tour is preceded by months of working closely with pastors and churches by encouraging prayer and training believers to simply share Jesus," said Steve Rhoads, vice president of church ministry for the Billy Graham Evangelistic Association.
Watch a video of the 2022 God Loves You Tour:
Thousands of volunteers across the tour route are participating in the the lead-up to the outreach, key to that preparation are the Christian Life and Witness Courses held in each city.
"Every Christian is called to be an ambassador of Jesus Christ. But to be an ambassador, you need to know what to say, and how to say it. We offer the Christian Life and Witness Course so that anyone can simply share Jesus. No one likes the feeling of being awkward and anyone can learn to share Christ," Rhoads said.
As past tours in recent years have crisscrossed the country, it's been evident every community needs the hope of the Gospel.
"People are hungry for something that is real, dying to see if anything has lasting value and will make a difference," Rhoads said. "Over and over we hear 'Is this all there is? Does life just consist of living and working and going through the motions? Isn't there more to life than this?' And the answer is yes! God is real and Jesus still saves. And when Franklin stands to preach, that is what he will offer—Good News."
Tidewater Tour Dates
Saturday, April 29: Southern Potomac River Region (La Plata, Maryland)
Sunday, April 30: Baltimore Region (Timonium, Maryland)
Tuesday, May 2: Tri-State Region (Elkton, Maryland)
Thursday, May 4: Eastern Shore Region (Salisbury, Maryland)
Saturday, May 6: Hampton Roads Region (Portsmouth, Virginia)
Sunday, May 7: Albemarle Sound Region (Edenton, North Carolina)
How You Can Pray for the God Loves You Tour
1. Pray for the church. Ask God to give pastors boldness, wisdom, and discernment on how to lead and encourage their congregations.
2. Pray for Christians in these six regions, that they will be equipped and inspired to simply share Jesus.
3. Pray for God to bring a spiritual awakening to each of these communities and a revival in the church.