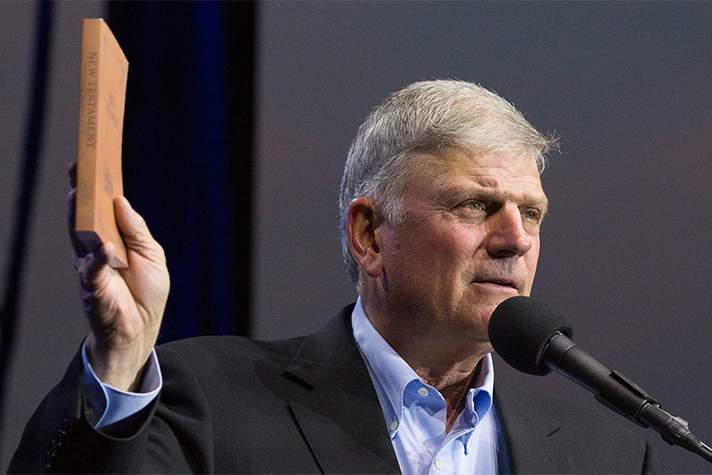 Dear Friend,
Your prayers and gifts are helping take the love and comfort of Jesus Christ to people in distress all over the world during this COVID-19 crisis, and we thank you for your partnership.
24-Hour Prayer Line
Alyson* called when she saw the television ad. A recovering alcoholic, she wanted the strength to stay sober. The trained volunteer talked with Alyson and shared the Gospel with her. Alyson indicated she wanted to receive Jesus Christ into her life, and she prayed over the phone with our volunteer to give her life to the Lord and put her hope in Him.
*Name changed for privacy
We recently created a new ad to air nationwide on television, radio, and the internet—this was our second ad during the pandemic. In it, I share the Gospel and invite people to put their faith and trust in Jesus Christ—and to call our prayer line. These spots seem to have struck a chord in many hearts during this time that has been marked by fear for so many people.
Bob,* an 89-year-old, called that phone number after seeing the TV spot. Though a religious person, he did not understand how to know he could go to Heaven. When our team member carefully shared the Good News with him, he responded, "I have never heard it explained this way."
For the first time, he understood his need to have Jesus Christ personally come into his life, and he prayed to repent of his sins and give his life to the Lord.
We rejoice in God's goodness and patience in drawing this man to Himself.
>> Overwhelmed by fear? Call our 24-hour prayer line at 1-888-388-2683.
Bob's story reminds me of Nicodemus, a religious leader who did not yet understand his need of a Savior.
The Lord Jesus told him, "Truly, truly, I say to you, unless one is born again he cannot see the kingdom of God" (John 3:3, NASB).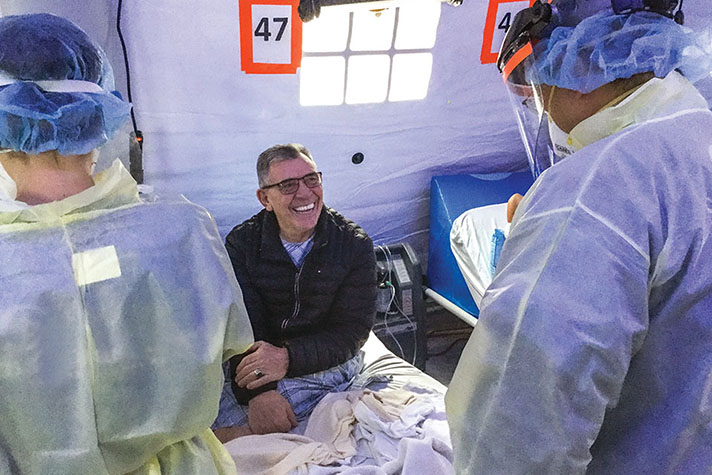 God at Work in Italy
In northern Italy, Marco,* a photographer who was taking pictures at the Samaritan's Purse field hospital, stopped and began talking with one of our Billy Graham Rapid Response Team (BG-RRT) chaplains.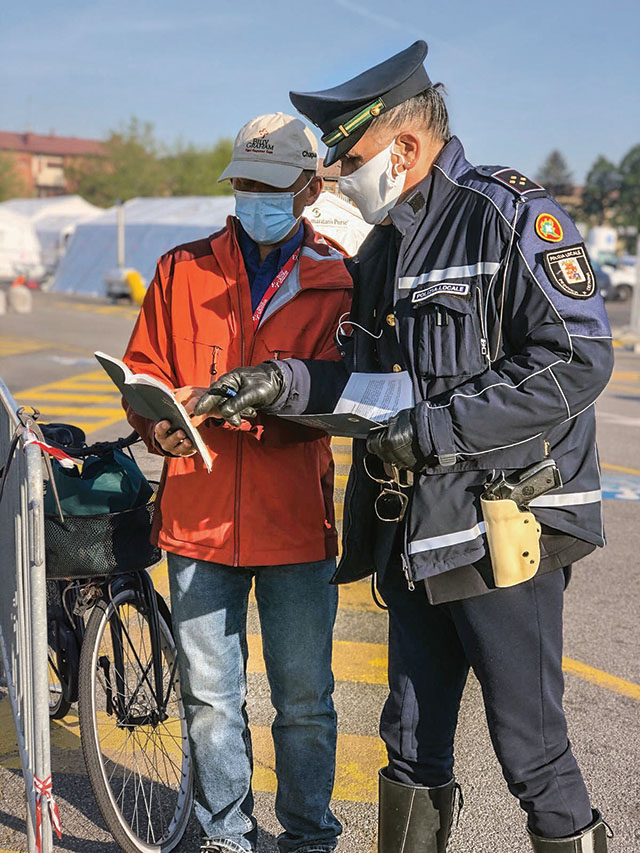 Immediately, the chaplain recognized God was moving in this man's life. The photographer wanted to know more about the Gospel, and the chaplain had the opportunity to share the Good News with him. We praise God that Marco prayed to accept His gift of salvation.
Another chaplain brought a cup of coffee to a police officer working at the discharge gate of the field hospital in Italy. After a few minutes, the chaplain began asking the officer about spiritual things. He wanted to know the way to Heaven. The chaplain explained how he could have peace with God, and he invited Jesus Christ into his life right there.
Sharing God's Love in NYC
BG-RRT chaplains also ministered alongside the Samaritan's Purse field hospital that was in New York City for several weeks. One day while visiting COVID-19 patients in the ward, our chaplains met a patient who works as a doorman at a local apartment building. He warmly invited them over to his bed, wanting to talk about spiritual things. When the chaplains shared the Good News, explaining God's love and sacrifice, tears welled up in his eyes as the Holy Spirit moved in his life. The patient then made the decision to accept Jesus Christ as his Lord and Savior. They all praised God for His work!
As much of the world may feel confined due to the pandemic, the Gospel knows no restrictions. The love of Jesus Christ that pursues men and women knows no bounds—it is never quarantined!
Your prayers and gifts are at work around the world, as together we put into practice the Apostle Paul's challenge, "Devote yourselves to prayer, keeping alert in it … praying … that God will open up to us a door for the word, so that we may speak forth the mystery of Christ … . Conduct yourselves with wisdom toward outsiders, making the most of the opportunity" (Colossians 4:2–3, 5, NASB).
Finding Hope Online
We continue to receive much traffic on our Gospel-centered web pages speaking directly to COVID-19. More than 215,000 people have visited these sites, and over 13,000 indicated decisions for Christ.
While many social gathering restrictions are still in place, my son Will recently co-hosted the National Day of Prayer live stream from the Billy Graham Library. More than 100,000 tuned in as Will and other Christian leaders from across the country led people in praying that God would grant wisdom and strength and cover the earth with His glory. Our nation and world are filled with problems, and we have the privilege to pray for the Lord to work in people's lives during this time.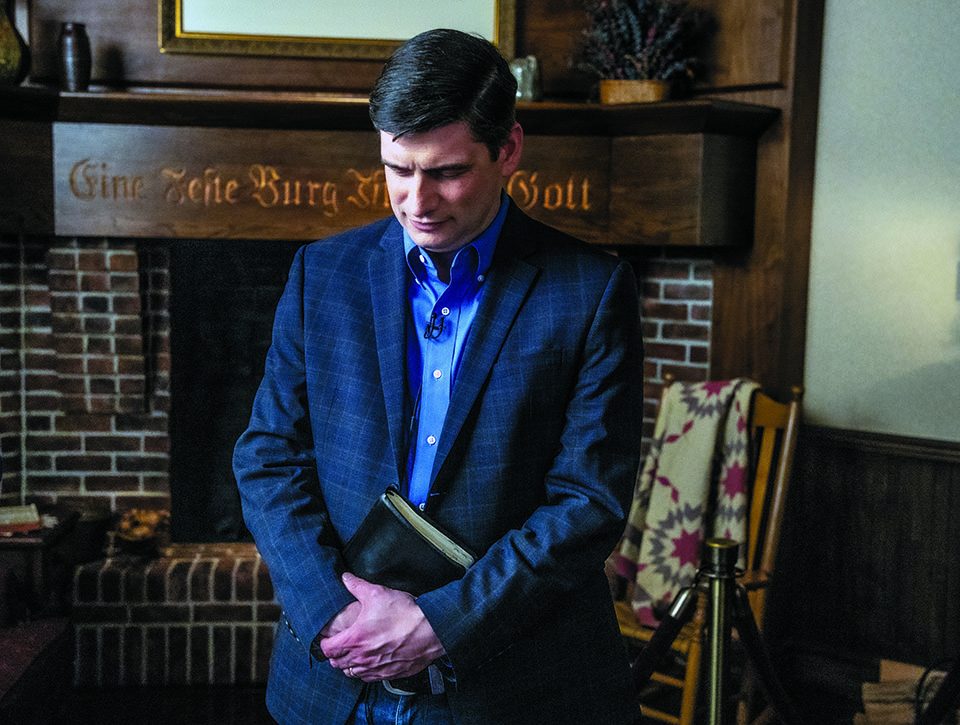 Seizing Opportunities in an Unpredictable Time
As Christians, we have the ultimate answer for the needs of humanity—a relationship with God through His Son, Jesus Christ. We can offer love, a listening ear, comfort, and hope. And the Bible says, "Hope does not disappoint, because the love of God has been poured out within our hearts through the Holy Spirit who was given to us" (Romans 5:5, NASB).
The Billy Graham Evangelistic Association exists to offer that hope to the world, and today we are seizing the opportunities in front of us to proclaim the Gospel. In an unpredictable time, we are adapting and finding new ways to reach out to people and meet needs. Thank you for your prayers and financial gifts—we can only do this work with the help of friends like you.
May God richly bless you,


Franklin Graham
President
Where to Give
God works through people like you to change the world by the power of the Gospel.
Give to the Billy Graham Rapid Response Team to make it possible for crisis-trained chaplains to bring comfort in Christ's Name to hurting communities and broken lives. >>Give Now
Give to internet evangelism to keep sites like PeaceWithGod.net effective and available for people everywhere who search for truth, even where the Gospel cannot be openly shared. This ministry is active worldwide in English, Spanish, Portuguese, Arabic, Chinese, and Korean. >>Give Now
Give where most needed to support immediate ministry opportunities and needs, including the personnel, resources, materials, equipment, and support services vital to carrying out our work of sharing the Gospel around the world. >>Give Now