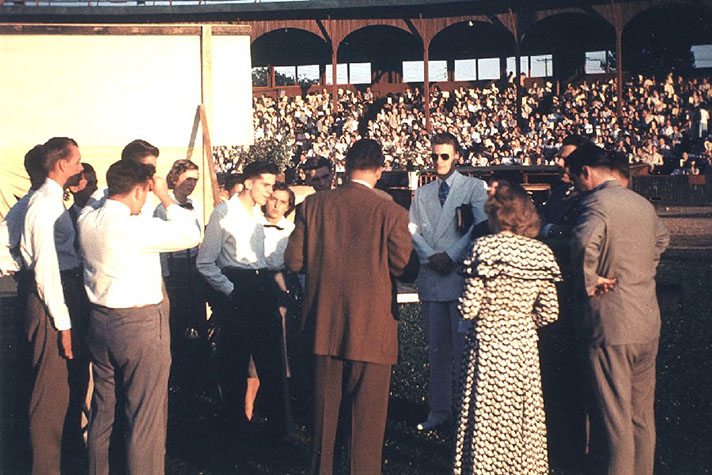 "God's really doing some supernatural things in Des Moines."
These were Will Graham's words during a visit to Iowa earlier this year to meet with pastors in preparation for the Iowa Celebration with Will Graham set to take place next weekend.
The three-day event, which will be held October 1-3 at Wells Fargo Arena in Des Moines, is free and will feature music from Aaron Shust, CeCe Winans, The Afters, Skillet and Flame, as well as messages of hope from Will Graham.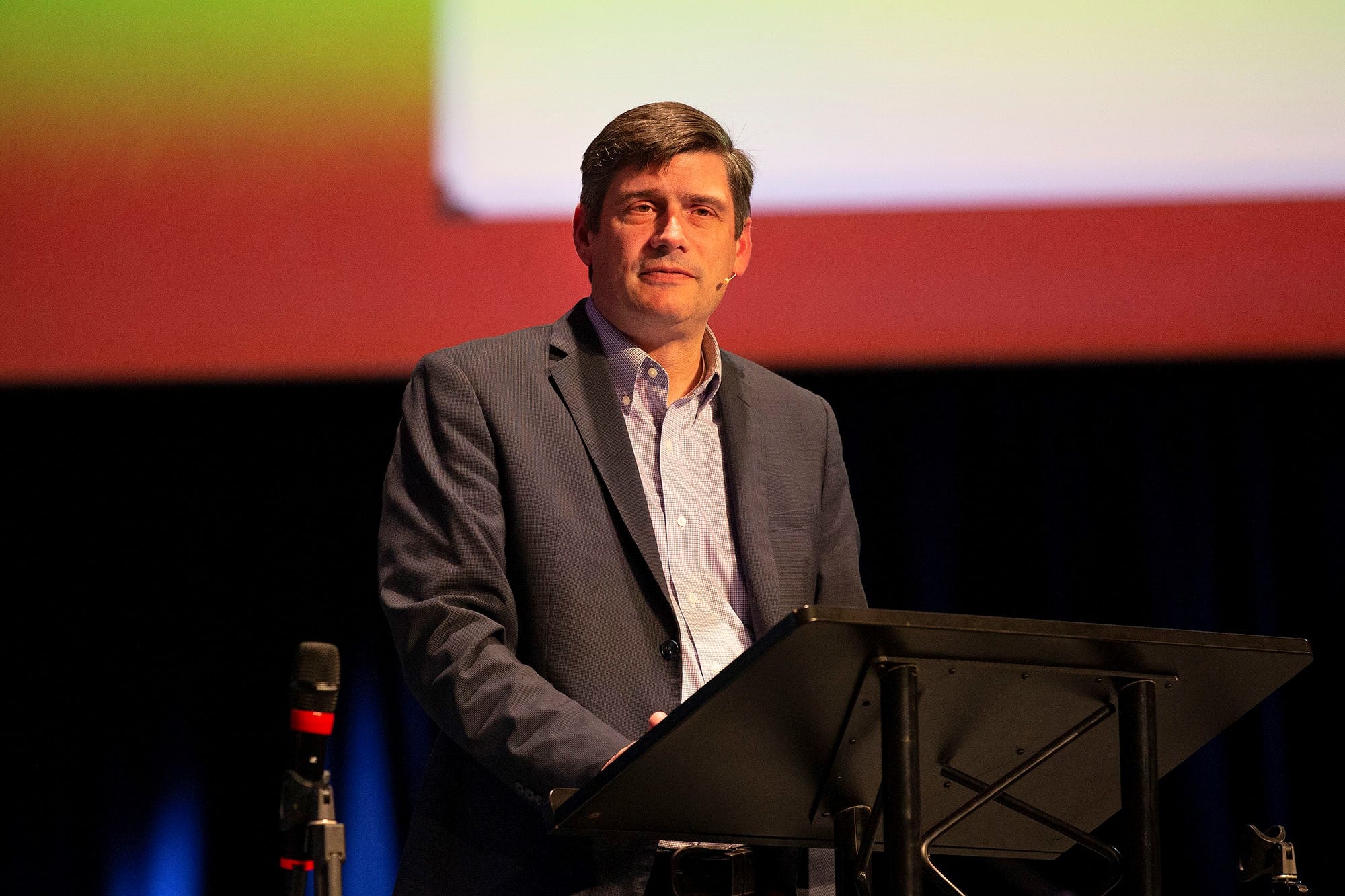 "There's been a huge undercurrent of prayer going on before we even got here," Graham added. "It's spiritually exciting to see what God is doing in this wonderful state."
And local leaders would agree. With final preparations under way, prayer and excitement are common threads.
"This is an answer to the prayers of many," said Nicholas Venditti, who is serving as a key team leader for the Iowa Celebration. "The unity among churches and leaders is a sign of God's approval and blessing."
"For the past several months, the leadership team has had the opportunity to interact with many churches, denominations and ministries here in Central Iowa," added Mike Schreurs, who is leading the local Celebration planning teams. "In fact, there is a growing momentum around this unity for revival via the Iowa Celebration."
BGEA's History in Des Moines
In January, Christian leaders braved a heavy snow storm to attend the Iowa Celebration launch event—held in Des Moines at the same venue where the local Youth for Christ chapter hosted evangelistic events decades ago.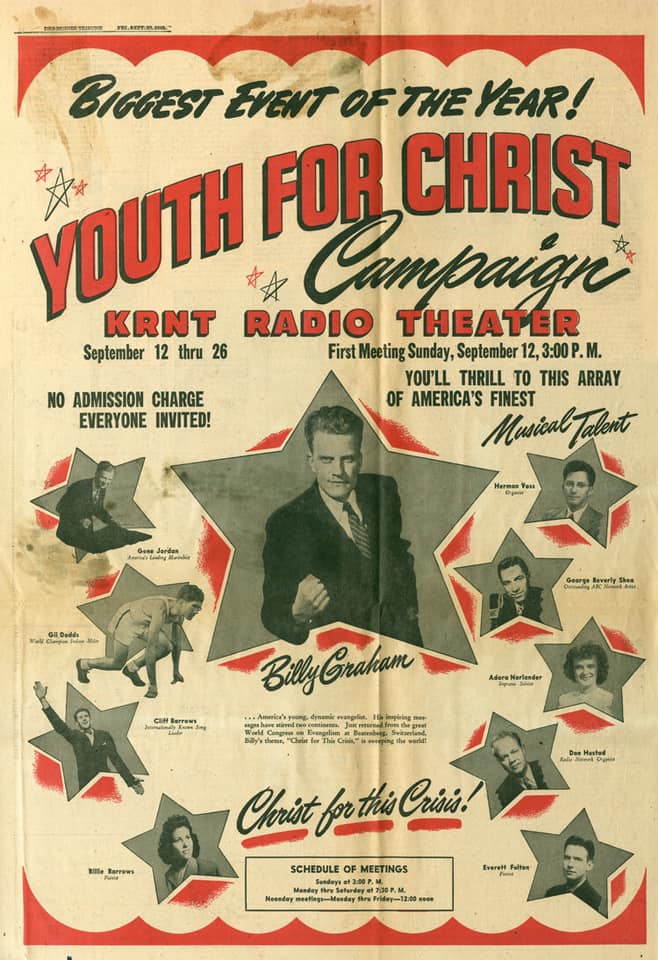 Billy Graham served as the first full-time evangelist for Youth for Christ and visited Des Moines for two weeks of meetings in September 1948 to share the Good News (Billy Graham went on to preach in Des Moines many times after this).
Although the meetings were held under the banner of Youth for Christ, they were the beginnings of what would be known as Billy Graham Crusades. Daily events were held in the afternoon and evening, with Graham doing the bulk of the preaching.
"We believe that the only hope of the world today is the Gospel of Jesus Christ," Billy Graham said during a 1948 event. "We do not believe that there will be permanent world peace until Jesus Christ has been put in His rightful place in the hearts of men."
This message is being carried on in Iowa through the work of Franklin Graham, who stopped to preach the Gospel in Des Moines as part of his 2016 Decision America Tour, and now Will Graham through the Iowa Celebration.
How You Can Pray
There have been a series of outreach and training events in the last few months to spread the word about the upcoming Celebration and ensure churches are ready. Over Labor Day weekend, more than 100 people joined together for the Iowa Celebration's Love in Action outreach, serving the Des Moines region through 28 community projects.
Prayer events have also been held throughout the year, with the final gathering held this past Sunday. Now, it's time to see what God will do with the various seeds that have been planted.
"The whole world is looking for hope, looking for peace—and for some they still can't find it," Will Graham said during the Celebration launch event.
"There's a world that's crying out for help, and I believe God has brought all of us together for a time such as this, to see the people cry out and see God hear their cry and answer their cry and fill them with goodness."
Please join in praying for the Iowa Celebration with Will Graham happening October 1-3:
Pray for Will Graham and the BGEA team, as well as all the leaders, volunteers and churches involved in the Celebration. Pray for their strength, protection and safety.
Pray for lives to be changed for eternity as a result of the three-day Celebration.
Pray for the children and families who will attend

KidzFest; that many youth will be touched by the interactive presentation of the Gospel.

Pray for every music artist performing during the Celebration; that God would move supernaturally through them to touch the hearts of the people.
Pray for the work that will be done after the Celebration is over; that churches would be dedicated to disciple those who make decisions to follow Christ.