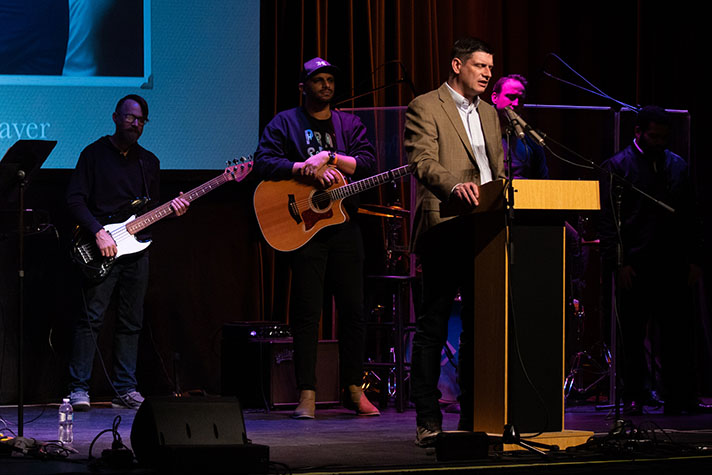 In a city with a metro area population of about 700,000, in a state that barely tops 3 million, praying to reach a half-million people with the Gospel of Jesus Christ is almost farcical.
But that didn't deter a small remnant of believers who braved a fierce winter storm Tuesday morning to join together at Hoyt Sherman Place in Des Moines and launch the upcoming Iowa Celebration with Will Graham, scheduled for October 1-3.
As he spoke at the event, Mike Schreurs, a Des Moines businessman serving as the local team chair for the outreach, shared a story about his late wife Linda, who passed away in 2018.
"On August 4, 1996, she was praying to the Lord at the reservoir out southeast of town, and the Lord spoke to her and said, 'Ask me for 500,000 souls in Iowa.' And Linda was a little bit dumbfounded by that," shared Mike.
"She said, 'Well that's just impossible. That's just incomprehensible. That's too much, Lord. How about 5,000 souls? Would that be good enough?' She was negotiating the wrong way, but she knew that she heard from the Lord. That became her prayer the rest of her life. It's been the prayer of many others, too."
The cry for 500,000 souls in Iowa became a theme which was repeated multiple times throughout the program. Many people—including Donna Johnson, who is helping lead the Celebration prayer effort—interceded, "Together in faith, we pray for salvation for 500,000 souls in the state of Iowa."
Will Graham expressed the same vision for what God can do in the Hawkeye State.
"My friends, we may be meeting at a time that's not convenient because of health reasons, because of weather conditions. It's not convenient. But we're going to pray that God would give us 500,000 people," Will Graham said.
"Now I know they aren't all going to show up for the Celebration, but I believe this could be the beginning of it. We're going to pray—and guess what—God's going to answer our prayer! By faith we pray, by faith we ask, by faith we lift it up before the Lord. God's going to answer our prayers. In the worst of times, this is when God answers prayers."
The coming months in Des Moines—and across Iowa—will be filled with an ongoing calendar of evangelism classes, prayer gatherings and planning meetings. Churches from the metro area and beyond will be engaged and unified in reaching their communities with the hope of Jesus.
It will all culminate with three straight days of Gospel proclamation the first weekend of October.
"The whole world looking for hope, looking for peace, and for some they still can't find it," said Graham, highlighting the importance of sharing Jesus.
"There's a world that's crying out for help, and I believe God has brought all of us together for a time such as this, to see the people cry out, and see God hear their cry and answer their cry and fill them with goodness."
Lord willing, it may be the start of a revival that will one day reach 500,000 souls in Iowa.
Before the Iowa Celebration this fall, Will Graham will be in Tifton, Georgia, to give a message on overcoming fear. Watch his message live from Tifton on February 6 starting at 7 p.m. ET.